Out and over
Arsenal's shambles of a season ends on Saturday if they lose to Sunderland, says Jeff Stelling.
Last Updated: 16/02/12 12:44pm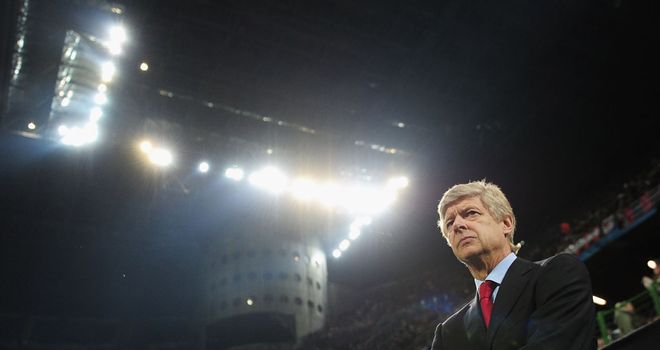 Arsenal were a shambles in Milan.
The truth of the matter is that the game showed how good they are - and the answer is not good enough.
The defeat was another blow in a disastrous season that has already yielded eight league defeats, putting the title well beyond them.
True, they might qualify for next season's Champions League (almost by default) but I'm sure Arsenal fans aren't exactly drooling over that prospect any more.
They are out of this year's competition; let's not kid ourselves. I can't imagine how they will pick themselves up for the FA Cup game against Sunderland but they have to.
Their season will end on Saturday if they lose.
Control
Should they beat Sunderland and go on to win the FA Cup (they are fourth favourites with Sky Bet after all), the danger is that the success simply papers over the cracks - just as bringing Thierry Henry back for a couple of weeks has.
Inevitably there has been huge renewed criticism of Arsene Wenger who, for the most part, has been largely above criticism during his time at the club.
He has been wonderful for Arsenal - and I'm certainly not on the 'Wenger Out' bandwagon (if one even exists) - but he is a Louis XVI type of figure.
Louis' reign was one of absolutism; he never doubted his right to be king and Arsene, in football terms, has operated in a similar way at Arsenal.
This has been Arsene's project and he has been allowed to run it as he chooses, so if anyone is to blame for Arsenal's current position it is the powers that be around him, the Stan Kroenkes of this world, who have never taken full control.
Consequently players like Cesc Fabregas, Samir Nasri, Gael Clichy, Emmanuel Adebayor, Kolo Toure - even Eduardo at his best - have been allowed to leave without ever being replaced properly.
We all know that the players Wenger has brought, whether it be Mikel Arteta, Gervinho, Laurent Koscielny, Per Mertesacker, Andre Santos, aren't good enough. Park Chu-Young and Marouane Chamakh didn't even travel to Italy, which shows what sort of purchases they've been!
Guide
Arsenal bought in haste last summer before the transfer window closed to repent at leisure.
Wenger missed the opportunity then to bring in the likes of Gary Cahill and Scott Parker - what a couple of buys they would have been!
Somebody has got to get a grip of Wenger and tell him that it is not his club.
He needs a restraining influence, someone to guide him and show him the beauty in a holding midfield player who can tackle or a rugged central defender. Otherwise Arsenal look like a club that is going nowhere.
I hope Arsene and Arsenal fans don't believe that 'the answer' is Jack Wilshere.
He's a talent, no doubt, but he isn't going to single-handedly turn Arsenal's fortunes around. To take on the mantle of Fabregas or Nasri with so little experience is asking too much.
Dwindle
The longer that Arsenal go nowhere, greater becomes the risk that Robin van Persie goes somewhere.
He must have been bewildered by what was going on around him on that field last night.
Milan are an ordinary side by their standards, although I must admit Zlatan Ibrahimovic was terrific. But Kevin Prince-Boateng, Robinho? These are players who couldn't make it at all in this country!
Milan were not impressive in beating either Plzen or BATE Borisov in Group H and Van Persie must really be thinking 'am I really going to stay here for the rest of my career because we are further away from winning anything than we ever have been?'
There will come a time when he will have to take a broader view and contemplate what else he wants to achieve before his career ends. Will he really want to dwindle away in a declining Arsenal side?
There are no signs of the decline stopping as far as I can see. Maybe Sagna and Gibbs were a bit ring rusty last night, but they were given an absolutely torrid time nonetheless.
Arsenal were unlucky to lose Koscielny and while Arteta and Aaron Ramsey are decent players, they are not world class.
Premier League sides have got to have strength in depth to challenge for the title. I just don't see enough of it at Arsenal. The future does not look great unless some drastic changes are made.
Catch Jeff and the boys on Gillette Soccer Saturday at 12pm this Saturday on Sky Sports News HD, channel 405.
Find out how to get tickets for Gillette Soccer Saturday Live - the show's first ever live tour - by clicking here.