Pearce for our time
Jeff Stelling explains why he can envisage stop-gap Stuart Pearce managing England at Euro 2012.
Last Updated: 09/02/12 2:38pm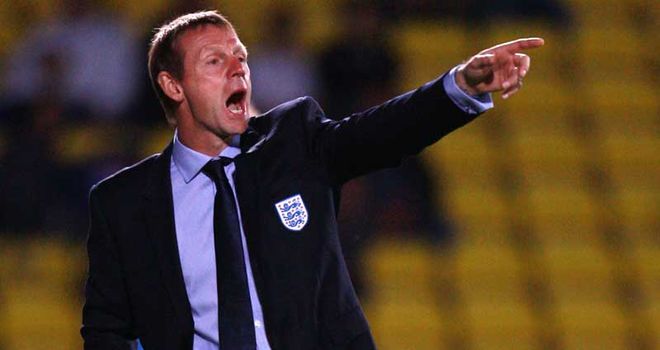 There won't be too many tears shed over Fabio Capello's departure.
Had he produced success, it might have been okay to pay him the vast amount of money he was on.
But I remember those forlorn times when we reached the depths of despair in the World Cup, when we were drawing against the Americans and the Algerians - two of the most abysmal performances I can ever recall from an England team - and can't fathom why he hung around after the tournament.
Fabio should have resigned after the World Cup; I tend to agree with Henry Winter, who wrote in today's Telegraph that the best decision Fabio made as England boss was to resign.
The FA makes great play of Fabio's qualification record, but you must be fairly awful if you don't qualify for the finals of the European Championships these days.
Look at England's group, which included Montenegro, who we couldn't beat home or away; look at the World Cup qualifying group before that when we were drawn against Belarus, Kazakhstan and Andorra.
There are so many pitifully weak international teams around today that inevitably we are going to have a good qualification record.
So all this fanfare about Fabio having the best win-rate of any England manager is absolute tosh because other England managers didn't have the chance to play against the Kazakhstans of this world.
Grit
There was plenty of English stiff upper lip on display at the FA's press conference today which is hardly surprising, I guess, given that four months away from the Euros, we have no manager, no captain and no Wayne Rooney - at least for the first two games of the tournament.
This state of affairs could, of course, have a galvanising effect on the team but only if the FA get the right man in as Fabio's replacement. The main difficulty is getting that man in before the Euros.
Adrian Bevington made the point that this is not just about Poland and the Ukraine, it's a long-term strategy, and to me that's the way they have to approach it now.
If the right man isn't available right now, then let's have a stop-gap until that right man does become available.
Stuart Pearce is in for the Netherlands game and I can definitely see him being in charge of England for the Euros. I'm not saying it's what I want, but that's what might pan out.
Stuart is a true Brit with true grit but his management record is patchy - and I include his time with the England U21s in that, even allowing for the 2009 Euro Championship final appearance. But he is more than capable of holding the fort for now.
What would happen if England won the Euros under him? We'll leave that one for now - partly as it feels like a barking mad idea and because Harry Redknapp, not Stuart, is absolutely the right choice to do the job long-term.
Drained
Unfortunately, the England vacancy has come about at the wrong time for Harry.
Spurs are still in with a chance of winning the title and they are certainly in with a chance of a Champions League spot. Can we really expect him to turn his back on Tottenham now?
I'd imagine he is in mental turmoil over what to do because I know he wants to be England manager, but he is a good and honourable man who doesn't want to let Spurs or his country down.
The FA says it is open-minded about employing a part-time manager but ignore the fact that managing Spurs is a full-time job. Plus, Harry has just been through a mentally and physically exhausting trial, which looks to have left him drained.
I'm sure Harry is aware that he can't take on too much and the FA have to be aware of asking too much of him.
Graciousness
There aren't a great number of other candidates around. Arsene Wenger (an honorary Englishman) and Martin O'Neill are the only realistic options that I can think of and both of those are contracted, like Harry, to other jobs.
We definitely don't want some hugely expensive, over-rated, overseas manager coming in.
Let's be clear about this. I've heard some people mention the likes of Pep Guardiola - come on! He's not going to leave Barcelona to become a part-time manager with England.
To me Harry stands out like a beacon as the obvious choice.
You don't get more English than Harry and I'm sure the nation will love him. Everybody will be behind him.
I saw him being door-stepped this morning as he left his home after the manic few weeks he's had and the graciousness with which he answered everybody's questions was beyond belief.
At the end he asked if his family could have some privacy because his wife, Sandra, isn't feeling too good. I could see he was almost embarrassed to ask that - a request that he had every right to make - but he didn't want to offend anyone.
I can imagine the first time that an England team runs out under Harry at Wembley; the atmosphere will be sensational.
If things didn't go too well thereafter, he would have some latitude to put things right because of who he is and what he's done.
The numpties who ring up radio stations and say: 'But what's he won?' need to take a look at themselves. That's not a measure of a manager. You judge a manager by what he has achieved. In Harry's case that's taking Spurs into the Champions League and winning in Milan, challenging for the Premier League title with a minimal amount of spending.
Harry's achievements are the envy of most in the football world.
Future
He would have his work cut out as England boss, no doubt, because contrary to what the FA says I don't believe we are over-blessed with the amount of young talent emerging in our game.
To think otherwise is pie in the sky.
I like Bevington a heck of a lot but where is all this wonderful, young talent at the moment?
Yes, players like Jack Wilshere, Alex Oxlade-Chamberlain and Kyle Walker are making a name for themselves, but every nation always has a certain number of young players coming through. We have fewer than we'd like.
That's because of the huge percentage of overseas players in the Premier League.
We can point to our moderately-successful Under 21 team under Pearce, but he'll be the first to tell you that it doesn't follow that players necessarily make the step up to the full international side.
There are no guarantees of success for the future - for England or any other nation, and I include Spain in that. Everyone says we must copy them but let's see where they are in 10 years, shall we?
However, if we make the right appointment on this occasion, at least in the short-term, we'll have half a chance of enjoying greater success and we'll have a lot of fun along the way as well.
Catch Jeff and the boys on Gillette Soccer Saturday at 12pm this Saturday on Sky Sports News HD, channel 405.