Tale of three Cities
Jeff Stelling blogs on Liverpool's priorities, Cardiff's concerns and Mario Balottelli's ban.
Last Updated: 26/01/12 4:07pm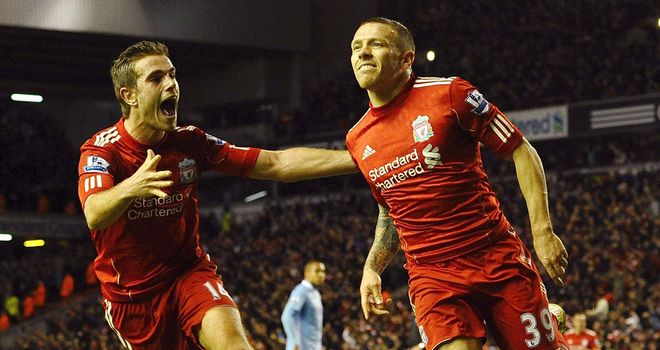 Amid all the fanfare of Liverpool reaching Wembley, it's worth pointing out that in years gone by the League Cup would have been so low on the agenda at Anfield that it would have been not worth considering.
Even now I don't think it is Liverpool's - or John W. Henry's - top priority; the money the club has spent means that qualifying for the Champions League is a must. At present that looks unlikely although it's just possible that they can use the Carling Cup as a springboard.
Liverpool's recent home record remains a concern and it's probably just as well they didn't have to beat Manchester City to go through. So Liverpool supporters shouldn't get too carried away but it's great that their club has finally made it to the new Wembley.
Cardiff await them - another club with a higher priority, as the success of Swansea means it is even more essential for Cardiff fans that they reach the promised land of the Premier League.
Manager Malky Mackay has done a fantastic job so far, guiding the team to third in the Championship and with Southampton fading (or so it would seem), Cardiff are sitting pretty.
I hope the final doesn't distract them from their league ambitions. I don't think it will - from their perspective it is a wonderful opportunity to win a trophy. It should be a great occasion for them.
Cardiff have nothing to lose and people certainly shouldn't write them off - Liverpool most of all.
I'd point anyone who does in the direction of Arsenal, who were massive favourites to win last year's final against Birmingham, but came up short.
I expect Cardiff, who are 9/2 to win, to give a good account of themselves. I don't think the result is done and dusted; I'm expecting a close game and a terrific one too.
Special
Liverpool's best signing in the summer by a million miles was Craig Bellamy; Jose Enrique has done well but Bellamy is the one who lights the red touch-paper when he's performing.
As Kenny Dalglish rightly said after Wednesday night's game, if City have got any more like Bellamy that they don't want then send them along!
Bellamy has been a terrific player at every club he's played for; of course he can have an argument in a telephone box, but it's the fact that he is such a powder-keg that makes him so explosive on the pitch.
Now he has the chance to play against his hometown club (had circumstances been different he might have been playing for them) and it's bound to be a very special occasion for him indeed.
Bellamy hasn't played every game for Liverpool this season by any means; I dare Kenny not to start him on February 26!
Malky Mackay was watching the game for Sky Sports at Anfield last night and I'm sure his biggest concern now will be 'what the heck do we do about Bellamy?'
Flak
I wonder what Andy Carroll was thinking this morning?
He finally appeared on the pitch in added-on time and this is without Luis Suarez in the team! Meanwhile Dirk Kuyt can't hit the proverbial barn door at the moment.
Kuyt hasn't scored in the Premier League since May and still Carroll can't get on for more than a handful of minutes.
It must be a very depressing time for him. Sometimes we forget he's still a young man who is away from home. He desperately needs a run in the team, ideally in front of Steven Gerrard.
He's unlucky in the sense that he's not the only one underperforming for Liverpool. Charlie Adam should thank his lucky stars that people are pointing the finger at Carroll because after a bright start his form has tailed off dramatically. I could say the same of Stewart Downing recently.
Instead it is Carroll who seems to take all the flak. I might be in the minority but I'm one of those who believes he will score goals - whether he does at Liverpool or not, that remains to be seen.
Yes he's a bit raw but if you asked most centre-halves in the Premier League if they would rather play against Kuyt or Carroll, most of them would say Kuyt.
Appalled
My sympathy doesn't extend to City's Mario Balotelli, who missed the game as his four-match suspension began. I heard his agent say beforehand that Balotelli might leave the country if he received such a punishment; well, so be it.
Balotelli has done a lot of charming things while he's been here - a lot of great stories not to mention the eccentric incidents. Without a doubt he makes great copy.
But I thought the incident with Scott Parker was absolutely horrendous. The second I saw it, I was appalled because Parker could have ended up seriously hurt.
Of course, City should have been down to nine men by the time Balotelli stroked home the winning penalty. People keep saying Balotelli is a fantastic player but I've yet to see much evidence of that on a consistent basis.
I wouldn't be surprised if City off-load him at the end of the season because they need someone who is more reliable.
Referee Howard Webb said he didn't see the 'stamp' and consequently the FA banned Balotelli retrospectively but in my view it shouldn't matter whether the referee sees the incident or not.
We have to change this ridiculous ruling that a referee's decision stands if he sees an incident and reacts there and then, because when a decision is blatantly wrong it should be changed!
The game shouldn't be about protecting referees - it should be about having a fair and reasonable outcome to football matches; cynical, malicious, foul play must be properly punished whether or not the referee has seen it on the day or not.
The fact that Joleon Lescott has escaped a ban for what, to my mind, was a clear elbow makes me think I must be watching different matches to everyone else!
Catch Jeff and the boys on Gillette Soccer Saturday at 12pm this Saturday on Sky Sports News HD, channel 405.