Welsh wonders
Jeff Stelling talks Swansea's rise, Darlington's fall and the attacking prowess of Jermain Defoe.
Last Updated: 19/01/12 2:42pm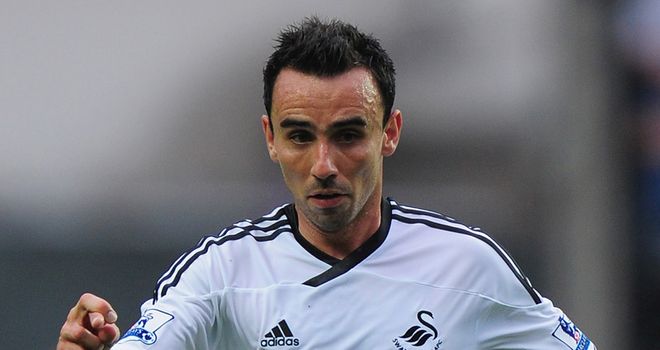 It's unthinkable what has happened to Swansea in the last decade.
Ten years ago they were losing 7-1 to Hartlepool in League Two, while on Sunday they outplayed Arsenal and won 3-2 in the Premier League.
Swansea passed Arsenal to death at the Liberty Stadium and a host of players caught my eye, as they have done all season.
Leon Britton - a mainstay of the Jacks side when they were in the bottom tier - never gives the ball away, while 21-year-old midfielder Joe Allen is the Welsh David Silva.
Scott Sinclair, meanwhile, is looking more comfortable than ever, while Danny Graham has been a revelation and never looks like missing in a one-on-one situation in front of goal. The loan signing of Chelsea's Josh McEachran will only enhance them.
It was just a shame that it was Arsenal's demise that was focussed on more than Swansea's success; Arsene Wenger's comments about fixture congestion and an imaginary penalty detracted from a terrific performance from the Welshmen.
Swansea are sitting in the top half now. The board and the chairman deserve huge credit for that, and so does Brendan Rodgers.
I remember interviewing him a few years ago on Soccer Saturday when I didn't know him at all. All the papers had given him the moniker 'Buck' Rodgers. I told him that and with a huge steely smile on his face he said: 'You can ask me anything you want, Jeff, as long as you don't call me Buck'!
His mantra is that you can't score without the ball, so even if the possession is 70 per cent in Swansea's half he's happy. Rodgers' players protect the ball like it is a precious stone, which in turn makes it very difficult for the opposition to score - as their nine clean sheets will testify.
Rodgers has evolved Swansea from the base that Roberto Martinez and the more defensively-minded Paulo Sousa established and their play is a joy to watch. I desperately hope they stay up.
Four of their next seven games are away from home and if they can get a reasonable haul of points from them, things will be looking rosy.
Rescue
Swansea last played Darlington seven years ago and suffered a 2-1 defeat. How the clubs' fortunes have changed since then.
The Quakers looked to be going out of business on Wednesday afternoon but a rescue package was launched meaning they are safe for the next three games, starting at home to Fleetwood on Saturday.
The match in a way is an irrelevance because their long-term future still looks bleak. You have to feel for the supporters but also the players, who are not well-paid, made-for-life professionals.
Some of the players who were made redundant last week have refused to go back and you can't blame them. Would you join a club when it could fold at the end of the month?
Darlington are in the mire principally because of one-time chairman George Reynolds, a man who once described himself as 'Britain's third-best safecracker'. He built Darlington's stadium in the same way that an Eastern European dictator would have: as a tribute to his own works for the club.
He was responsible for the 25,000-seater, white elephant which has dragged them down into the quicksand ever since. The town is now suffering because of the actions of one unsavoury character.
I sincerely hope the club is not liquidated, even though they are Hartlepool's arch rivals, but their plight is a good example of why the fit and proper person test must be adhered to when it comes to running football clubs.
People have criticised Bill Kenwright for dragging his feet over selling Everton but the sale has to be to the right calibre of person. We saw what happened to Manchester City prior to Sheikh Mansour when Thaksin Shinawatra was there. The Darlington situation shows why we have to be wary.
Annoyed
I am really looking forward to Super Sunday when Man City entertain Tottenham. Roberto Mancini's men look they have hit a little bit of a wall so if Spurs go there with self-belief, I think they can nick it.
Tottenham won't be able to field on-loan City striker Emmanuel Adebayor. That is a blow because he has been pivotal to the way they play their game.
I know he hasn't scored goals in recent weeks - which has annoyed me because he is in my fantasy Football Football team! - but he has been a real attacking focal point.
However, I still fancy Jermain Defoe to cause City's back four - which will again be without the suspended Vincent Kompany - plenty of problems.
Defoe is a fantastic player and is understandably frustrated at sitting on the substitutes' bench most weeks. He would be a regular England starter, for me, because he's a livewire, full of tricks and a proven goalscorer. He will be champing at the bit to make the most of his chance.
I expect the hosts to begin the game pretty cautiously. They are more fluent this season but they remain pretty circumspect early on. Even in the 6-1 game at Old Trafford, they were very much on the back foot until they scored the opening goal.
The process of starting cautiously and gradually taking control of games has worked for them so far. However, if Spurs can shackle the creative David Silva on Sunday, it could be the Londoners' afternoon...
Catch Jeff and the boys on Gillette Soccer Saturday at 12pm this Saturday on Sky Sports News HD, channel 405.