Eyes on the demise
As diminished as the FA Cup is, Newcastle should go all out to try and win it says Jeff Stelling.
Last Updated: 05/01/12 2:43pm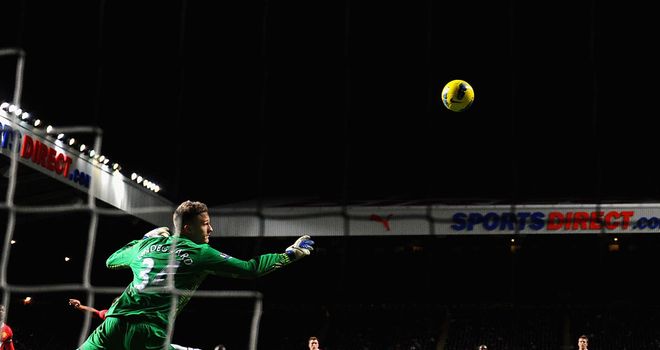 I used to think that FA Cup third round weekend was the greatest weekend of the year - even in the early days of Soccer Saturday - and I wasn't alone in holding that view.
The competition was one of the major priorities in our national game and I'm sure every fan can recall the buzz that used to surround the ties, not to mention some of the shocks we've seen over the years.
Hereford beating Newcastle in a replay in 1972 is one that instantly springs to my mind.
Sadly, though, these days the FA Cup simply isn't a priority for many sides - including some in the lower leagues.
Yes, there will be a raised eyebrow or two if one of the 'big boys' loses but in a few weeks' time the result will be all but forgotten. It seems such a shame.
There are some potentially glamorous ties this weekend. Spurs against Cheltenham being one - but I hope the Robins fans who will be travelling to White Hart Lane aren't hoping to see Gareth Bale, Luka Modric and Rafael van der Vaart on the pitch.
Harry Redknapp, like every Premier League manager, is going to be thinking 'how can I get to the next round while risking as few of my first-choice players as is humanly possible?'
Some lower league managers will be asking the same question, too.
Take Chris Powell for example; his team selections for Charlton's FA Cup and Carling Cup games so far this season suggest that neither competition is a priority for him and, to be brutally honest, I'd expect him to rest players for the trip to Fulham - particularly with games against Sheffield Wednesday and Sheffield United on the horizon.
Statement
The demise of the FA Cup means that any club that does take it seriously has a fantastic chance of going a long way. I'd include Newcastle in that group.
As impressive as Newcastle's victory over Manchester United was, Alan Pardew knows his side is not going to win the league, nor are they going to be relegated so why not make a statement and go all out to win some long-awaited silverware?
I imagine Martin O'Neill will play a strong side as well this weekend but if he does, he will definitely be in the minority because money has changed the footballing landscape to such a large degree.
If you want to be an elite club, it is financially imperative to play in the Champions League; if you're one of the clubs just below that level, it is absolutely crucial that you finish as high up in the Premier League as you can. Down the bottom it is vital that you stay in the Premier League and if you do get relegated, it is essential that you get back before the parachute payments run out.
There is money to be made from the FA Cup, but most clubs are unlikely to have a Cup run every year, whereas a side like Wigan have been in the Premier League for seven seasons in a row and have made fantastic money from it.
By the way, Wigan are one of the sides I fear for this weekend! I think they might well lose at Swindon but I guess if they do they will shrug their shoulders and look towards their next Premier League game.
For all that, I don't buy into the idea suggested by some that winning the FA Cup should guarantee Champions League qualification simply because I don't think winning six games in a row stacks up against 38 in the best league in the country.
There are some things that can be done to spice up the FA Cup.
I know traditionalists will despise this idea but the competition could do worse than follow in the footsteps of the FA Cup and do away with replays.
Deciding a fixture on the day, whether it is by extra time or penalties, does increase the drama.
Such a move would deny smaller clubs the chance to earn a replay at a major ground but I think that's one of the prices that needs to be paid.
Confidence
Returning to Sunderland, it's worth remembering that their fantastic run of form (13 points from six games) has come even though they've had a sack full of injuries.
But in a curious way, that might have been a good thing for them because maybe Martin O'Neill has been forced to look at some players who otherwise he might not have necessarily looked at quite so closely.
I'm thinking of someone like Matthew Kilgallon, who maybe thought he'd never pull on a red and white shirt again but suddenly finds himself in the heart of Sunderland's defence.
James McClean is another; I know that Martin had seen him in the reserves but he has started probably much sooner than O'Neill would have imagined.
What it shows me is that Sunderland always had a decent squad but it was lacking in confidence.
Lee Cattermole is a decent player, but hadn't been performing and the same goes for David Vaughan. That is what Martin O'Neill and his backroom staff have changed.
Wherever he has gone, Martin has made players feel seven feet tall.
Magnificent
Over in Newcastle, celebrations are no doubt still going strong.
I'll be honest - at the start of the season I had Newcastle in my bottom three. I could not see how they could earn sufficient points.
In my European ignorance I'd never heard of Yohan Cabaye, I didn't rate Fabricio Coloccini at the back and I didn't think that Demba Ba would stay fit for long, let alone score as many goals as he has.
Thankfully I'm not alone - a lot of people predicted tough times ahead for Newcastle.
Instead, their season has been magnificent and every time they've looked like they've nearly hit the wall they've responded, and all credit to Alan Pardew for that.
I love the passion he shows on the touchline and the way he celebrates the goals; tactically he's very astute, too, and the signings have turned out fantastically well.
The harbingers of doom and gloom will now say that they'll struggle without Demba Ba when he leaves for the African Cup of Nations and I have to say I agree with those harbingers of doom and gloom, but as I've been so wrong up to this point I'm sure Newcastle fans won't be too worried.
I'd like to be proved wrong, as well, because they've been a breath of fresh air this season and long may it continue.
I had a school playground debate with Paul Merson on Soccer Saturday a couple of weeks ago about who is the bigger club - Aston Villa or Newcastle.
Merse said Villa because of their history but I feel that history takes you only so far; Newcastle have got rabidly fanatical support and pack out home games.
You never see a Manchester United or a Liverpool shirt in Newcastle - everyone has the black and white stripes. Football is a religion there even though they haven't won anything for such a long time.
I just get the feeling though that if Pardew receives a little, little bit of financial support that Newcastle could win some silverware and the FA Cup would be a wonderful, wonderful place to start.
As diminished as the FA Cup is, it is still one hell of a day out if you win it.
Catch Jeff and the boys on Gillette Soccer Saturday at 12pm this Saturday on Sky Sports News HD, channel 405.