Paltry offerings
Would a manager with a proven track record want to work for the Venkys, wonders Jeff Stelling?
Last Updated: 22/12/11 4:25pm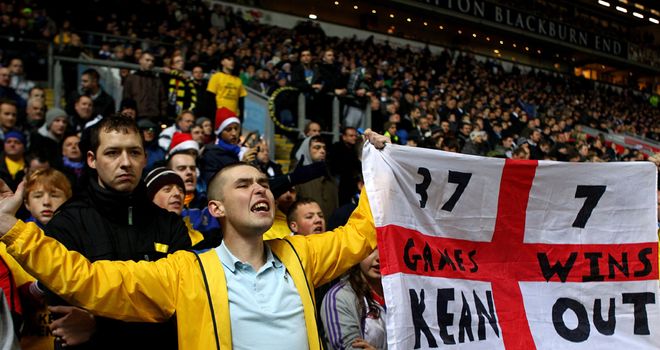 It won't be a merry Christmas for Blackburn fans and the prospects for a happy New Year don't look much better.
We all know what it means to be bottom of the Premier League at this time of year - unless you are West Brom, of course!
Someone within football (who shall remain nameless) suggested recently that I've got it in for Steve Kean because of the amount of criticism the Rovers boss has received on Soccer Saturday.
Let me say categorically here and now that there is simply no truth in that charge. I have no personal agenda whatsoever against Steve.
The truth is I felt desperately sorry for him as Rovers went down to Bolton on Tuesday; I watched the game and you could feel his agony.
The last thing I want is to see anyone out of a job - whatever their profession - but it seems to me that the owners have put him in an impossible situation.
There are so many negative stories surrounding the Venkys that I fail to see how Steve can get the fans back on side unless Rovers win a ton of games in succession. Given the sort of injury problems they've had of late, that seems unlikely.
Quality
Every manager buys some turkeys and Kean - in his first manager's job - is no exception but it hasn't been all negative.
Steve has given Junior Hoilett a regular run in the first team and the striker is now a valuable commodity for them.
He's brought in Yakubu and while the Nigerian may not be the most mobile or hardest-working forward, he knows how to put the ball in the back of the net. I also like the look of Scott Dann, Mauro Formica and Ruben Rochina - all of whom are good quality players.
But Steve didn't help himself on Tuesday night. It was a game Rovers had to win but Hoilett began playing behind Yakubu (everybody knows he is a threat on the wing) and Rochina, probably the most skilful player at the club, didn't start.
Those decisions contributed to the side's downfall on the night.
Expectation
It all seems a far cry from the early days of the Venkys ownership when all of the talk was about Ronaldinho and Beckham.
The owners built the expectation levels up so high that Steve's position was practically untenable from the start unless the club put together a run of brilliant results.
Now is not the time for any more unrealistic expectations. After all, which manager with a proven track record will work under the sort of regime imposed by the Venkys?
Who is going to be willing to go out to India for meeting after meeting after meeting? Steve says it's ok because the flights are overnight but could you see Mark Hughes, for example, putting up with that?
Throw in the scary stories currently doing the rounds about the state of the club's finances - stories that the owners deny - and things seem grim indeed. It is not as though they have plunged a fortune into the club so far.
Christopher Samba and Hoillet will almost certainly leave in the January transfer window because of the club's plight; the owners will probably be quite keen to see them go because it boosts the coffers.
I can only urge the fans to be patient; I don't see what alternative there is under the current owners.
If you know better, Tweet me @JeffStelling2
Twitter is not a form of communication I am particularly fond of but there are about half-a-dozen fake 'Jeff Stellings' out there, so I felt it was time to put the record straight!
Favourite
One final word to the wise - don't miss our Soccer Saturday Christmas Special at 10am on Christmas Day.
The show features some of our favourite escapades from years gone by, including 'Seniorstars' - our take on Superstars and 'the Y-factor', our spoof X-factor. There was also the time the boys did their level best to impress Gino D'Acampo. 'Masterchef' it wasn't!
Plans are already afoot to stage a Soccer Saturday panto next year, with 'Snow White and the Seven Dwarves' currently the show of choice.
However, we still need to find six dwarves!
A merry Christmas to one and all,
Jeff.