A battle of wills
Jeff Stelling blogs on how Fernando Torres and Mario Balotelli are handled by their respective bosses.
Last Updated: 15/12/11 1:18pm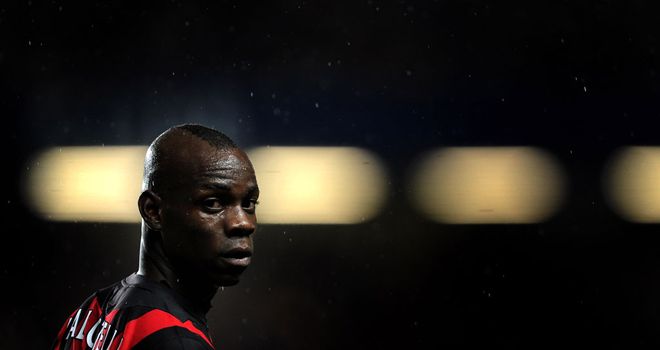 I found myself sitting less than 10 yards from the dug-out at Stamford Bridge on Monday and, peering through the torrential rain, was fascinated to watch Roberto Mancini at work.
I'd say the Manchester City boss spent roughly 85 per cent of his time trying to attract Mario Balotelli's attention and get messages through to his striker, who seemed well-practiced at 'copping a deaf 'un' to his manager.
"Mario, Mario, Mario" became a well-worn cry as the game progressed and finally Mancini, when Balotelli came within range, marched out of his technical area until he was right up against him and told Balotelli in no uncertain terms which areas of the field he should be playing in.
The cry of "Mario" became even more strained after Gael Clichy was sent off and Balotelli tried to get back in defence, where he was a total liability!
This battle of wills was my abiding memory of what was a great game for the neutral.
Mancini clearly has a special relationship with his striker but the whole episode made me wonder how the hell he concentrates on the rest of his side and the overall pattern of the game when his focus is so firmly on trying to get the best out of his man.
It's a bit like having a puppy. Balotelli needs constant care and attention - he can't be left alone for a moment!
Fascinating
In fairness, perhaps Mancini feels he needn't worry too much about the rest of the side and I wouldn't blame him. For the first half-hour of that match City were in total control and Chelsea couldn't get the ball off them. It looked like being a matter of not if they would add to their opener but how many.
Then, for some reason, they lost their focus a little and with it some of their control. Players began to hit longer and longer balls and they surrendered more possession as a result. From there on it was a completely different game and Chelsea had just about got the upper hand before Clichy's red card.
In the end Chelsea ground out a victory and that was probably what they deserved.
The most encouraging thing from their perspective was the form of Daniel Sturridge who was pretty much unplayable even if he doesn't always make the right decision about when to play the ball or when to shoot. I was also impressed with Oriol Romeu in midfield, who did everything that Mikel has done for Chelsea in the past, but has the ability to play the ball forward too.
Still, my eyes couldn't help but be drawn to the benches. Kolo Toure immediately warmed up when Clichy was sent off and took off his bib, ready to come on but then there seemed to be a change of heart because the bib went back on and the substitution was delayed.
Mancini, Brian Kidd and David Platt were locked in a little huddle and I'd love to know what the thinking was there. The next six minutes were like the clothes show! Kolo Toure had his bib on, then off, then back on again before he eventually did come on for Sergio Aguero!
The Chelsea bench was equally fascinating. Towards the end they told the fourth official who was coming off and Sturridge began to come off once his number went up. But by that time Andre Villas-Boas had had a change of heart - or the wrong message had been conveyed - and the number was hastily changed.
Unfortunately Sturridge didn't spot it and, happily taking the applause of the fans, reached the touchline before he was sent back into the fray!
Opportunity
I was surprised that Fernando Torres didn't make an appearance off the bench before Frank Lampard's winner because Didier Drogba was pretty ineffectual for much of the night. Drogba's best spell of the game came in the last five minutes when he took the ball into the corners to retain possession.
But it's not as though he has got anything to complain about because he's had his chances to impress and hasn't taken them. If he did look disillusioned or miserable as Lampard scored from the spot (I couldn't see from where I was sitting), he's only got himself to blame for that.
Now, with Nicolas Anelka departing for Shanghai Shenhua and Drogba heading off to the African Cup of Nations next month, he still has the chance to turn things around particularly as Chelsea don't seem to think that Romelu Lukaku is ready yet.
However, I don't get the feeling that Torres is at Chelsea for the long term. If he is, then he should be getting more of an opportunity than he is now so maybe we will see him depart in the January transfer window.
He won't go for as low as £20m but there will be clubs that will be prepared to pay reasonable money for him. Villas-Boas says Torres is not for sale but the fact of the matter is he has a £50m substitute on his books who doesn't even get on as a substitute!
Mistakes
In the end the game was defined by penalties - one that City (wrongly) didn't get and one that Chelsea (rightly) did.
City fans, I feel your pain after Hartlepool's defeat to Brentford last week, which was decided by another spot-kick. I didn't see it myself (I was on Soccer Saturday duty) but I have it on good authority from a Brentford fan that it was never a penalty!
Jamie Redknapp said this week that referees are trying to referee English football in the same was as continental football - in the sense that they seem to make no allowance for the cut-and-thrust for the English game - and I think he's got a point.
I would say that Mike Dean, Mark Halsey and maybe Mark Clattenburg and Lee Mason are among our top referees but even they are making mistakes. If the best we have are prone to error, then there isn't much hope for the rest!
I don't believe we are seeing more bad decisions than we have in previous seasons - each year there is always a spell when all we seem to do is talk about referees on Soccer Saturday - but there are still too many and in many ways the players are the ones to blame.
I've seen umpteen incidences this season of players diving, behaviour which makes the job of a referee close to impossible. How often do managers criticise their players for diving? Absolutely never!
Bloopers
I, of course, am not immune to mistakes and you can see a few of my best on Friday's Countdown.
It's my last appearance on the programme, so there are a few tears in the studio and there is a bit of fun at the end of the show too.
The crew have helpfully put together a package of my bloopers, so if you do tune in don't expect to go to bed before midnight!
Join Jeff and the gang for Soccer Saturday this weekend at 12pm on Sky Sports News HD, channel 405.