Pause for concern
Jeff Stelling wonders how long it will be before Man Utd challenge the best in Europe again.
Last Updated: 08/12/11 4:54pm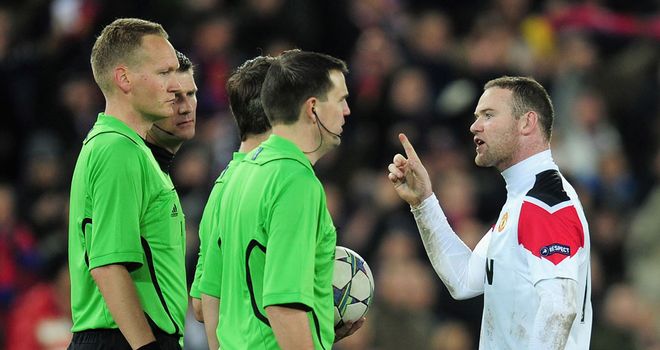 Clubs with Champions League title aspirations are celebrating across Europe today after the early exits of Manchester United and Manchester City.
Last night was one of the great, great nights for Barcelona, Real Madrid, Bayern Munich and Milan as two huge potential stumbling blocks on the road to next year's final at the Allianz Arena were removed from their path.
But from an English point of view it was a desperate, desperate night.
United's failure to reach the last 16 for the first time since 2005/06 was a shock of seismic proportions and it brought back some raw memories for Gary Neville, one of our studio guests.
It was on December 7 2005 - six years ago to the day - that Gary captained United for the first time, away at Benfica. United lost 2-1 and failed to make the Champions League knockout stages for the first time since the 1995-96 season. It's fair to say it's a date Gary's not fond of!
Concern
At the start of the season we were all talking about a bright, new Manchester United side that looked capable of closing the gap on Barcelona.
Come December it is Basel - a side from the land of yodeling, yoghurt and cuckoo clocks that in times gone by United would have brushed aside with the minimum of difficulty - who have delivered the decisive blow to United's Champions League aspirations.
Suddenly that gap looks wider than ever.
With all due respect to Benfica, Basel and Otelul Galati, United could not have received a better draw yet in six matches they haven't produced one good Champions League performance.
There are so many areas of concern if you compare this side to the ones that reached three of the last four Champions League finals that it's hard to know where to start.
The spine of the team seems the most obvious point.
Stuttering
I've no wish to pan David de Gea again (I'm sure he will improve) but can you imagine Edwin van der Sar going for the cross that led to Basel's first goal with his feet rather than his hands?
Nemanja Vidic's injury robbed United of a commanding presence at the back and United missed the type of midfield drive that Paul Scholes used to generate.
You always expect United, even if they are playing badly, to get out of trouble late on but this side's stuttering dynamism was untypical of so many of Fergie's teams.
I listened to a lot of phone-ins after the game and fans were queuing up to point out (correctly) that a number of players were missing.
Dimitar Berbatov is much maligned, but nevertheless is capable of putting the ball in the back of the net. Antonio Valencia and Javier Hernandez were also notable for their absence, while United are asking Ryan Giggs and Rio Ferdinand to do things no-one should expect them to at their age!
Nani looked desperately out of form and Wayne Rooney was a ghost of his former self. Worryingly he looked the striker we saw at the last World Cup - a player we never wanted to see again.
Several callers mentioned Tom Cleverly - a player with a cracking future ahead of him but United can't look to Cleverly alone to turn it around, just as they can't expect Ji-Sung Park to play just behind Rooney.
Park will give everything, of course, but he's no Luka Modric or David Silva in that position.
Bolstering
I asked Gary whether he thought (as many people do) that United must buy two or three players in the January transfer market.
He pointed out that it isn't always a quick fix. Often players (including ones like Vidic that go on to become successes at United) need the rest of the season to settle in, so in a way the January window becomes as much about planning for next season as winning in this.
United will have to pay premium prices if they buy in January but I'm not sure they have any other option after last night's outcome.
The side that looked so bright and new at the start of the season, rejuvenated by players like Phil Jones and Ashley Young, plus the emerging Danny Welbeck and Cleverly, now needs bolstering.
Fergie is driven by many things but I'm sure he wants to win the Champions League again with a side that's as good as Barcelona are right now, if not better.
When he does decide to call it a day - and I hope it is no time soon - he will want to go out on a high. The question as things stand is 'where is that high coming from'?
Yet United could well be closer to City in the Premier League come the time the two teams play each other in the FA Cup in January than they are at present.
They have a fantastic run of fixtures coming up - Wolves, QPR, Fulham, Wigan and Blackburn - and in days gone by you'd expect them to take 15 points from those five games. It will be fascinating to see if they can.
Unsatisfying
Across the city, Roberto Mancini said going out of the Champions League was tough to take after winning 10 points in Group A but I thought Joe Hart nailed the truth of the matter after the win over Bayern Munich.
The goalkeeper said he hadn't enjoyed the campaign because City hadn't played well enough.
I know people will seek to excuse City by saying that this is their first Champions League campaign but it's hard for a layman to understand how players who have performed well for other clubs at Champions League level and who carry such high price tags, struggle to do it in Europe in City blue.
Yes, City beat Bayern Munich but Bayern fielded a weakened side and having already qualified for the next phase they didn't show the same passion or the drive that they normally do.
All in all I felt 10 points was a pretty unsatisfying Champions League campaign despite what Mancini said and now he has the unsatisfactory prospect of Thursday night football to look forward to.
I expect both City and United to field shadow squads in the Europa League - although judging by City's bench last night (Balotelli, De Jong, Johnson, Milner, Kolo Toure...), they should still go far in the competition.
Change
But if you are a United or City fan and you feel bad, spare a thought for us Hartlepool fans.
Our lot have now lost seven consecutive home games. We have scored one goal in that time - an 89th minute penalty when we were losing 3-0 to Wycombe.
Having had the best start to a season in our history (thanks to our away form), we have now parted company with our manager. In short, all of the wheels have come off at the same time.
While I feel sorry for Mick Wadsworth, something had to change. Mick was there as a coach and didn't want to be the manager but he was thrust into the job and for a while did a great job but sadly he couldn't continue it on.
Over the past few weeks Hartlepool fans have felt more pain than Manchester United fans and feel that Mick's departure is the right thing.
Brentford have seen us coming and slashed their prices in a bid to get a crowd of 10,000 along on Saturday. Micky Barron and Ritchie Humphreys - two Hartlepool legends - will be in charge.
For the first time in a little while, I feel good!
Join Jeff and the gang for Soccer Saturday this weekend at 12pm on Sky Sports News HD, channel 405.