Gone two soon
Jeff Stelling says Steve Bruce deserved the chance to put things right against Wolves and Blackburn.
Last Updated: 01/12/11 1:01pm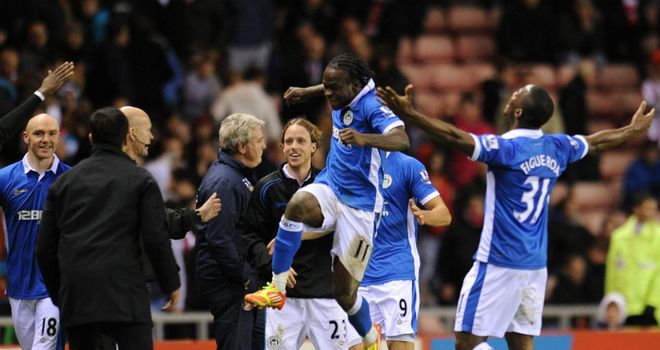 Ellis Short wrote in last Saturday's programme notes that there was no need to panic about Sunderland's form.
One very unfortunate defeat to Wigan later, the chairman appears to have done just that and sacked Steve Bruce.
After 25 minutes of that game, Paul Merson said Sunderland should have been 5-0 up. They battered at the door but didn't get what they deserved.
Now, I know that two wins in 13 league games is nowhere near good enough - and the frustration has been building for quite some time - but Short's change of heart seems quick - even by chairmen's standards!
Frustrations
I'm been quite surprised at how many people have come out in the last 24 hours and said Steve was too old-school or tactically naïve.
Sunderland were impressive at Bolton in October and very unlucky to lose at Manchester United last month; ok, home draws against Aston Villa and Fulham weren't quite what the fans wanted but they weren't disastrous results either.
Surely a man of Steve's integrity deserved at least the chance to put things right in the upcoming games against Wolves and Blackburn?
This time last year Sunderland beat West Ham with a goal from Jordan Henderson.
That side included Darren Bent (sold), Asamoah Gyan (loaned out), Danny Welbeck (back at Manchester United), Henderson (sold), Nedum Onuoha (back at Manchester City), Anton Ferdinand (sold). Craig Gordon was in goal - he's yet to play this season due to injury.
Decent
Any side would feel the loss of a striker of Bent's quality, especially given Gyan and Welbeck have disappeared and Fraizer Campbell's injury problems, and struggle to deal with so much upheaval in the space of a year.
Steve has spent big bringing in new players and, while some haven't worked out, his critics seem a little harsh.
Connor Wickham was always going to be one for the future - he showed enough promise before he was injured - and Stephane Sessegnon has been a good signing. Keiren Westwood is decent in goal.
The players who have let him down are the ones that most Premier League fans would have thought great signings; for example, Craig Gardener has scored once in five league starts. Nicklas Bendtner continues to divide opinion.
I'm sure most football fans would have said that Gardener and David Vaughan were good purchases but it hasn't turned out that way - so far.
Blood-letting
Plenty of people's names are being bandied around as potential successors to Bruce, including Mark Hughes, but I say be careful what you wish for.
Mark is a friend of mine and his name is right in the frame but last season he guided Fulham to just two wins in their first 13 league games. Sound familiar?
I'm not saying Mark wouldn't do a great job for Sunderland; he probably would. I just wonder how much of a difference there is between Hughesy and Steve.
Steve's sacking - 109 days into the season - might just be the start of the blood-letting. I'm certain that other Premier League chairmen will take note of Short's decision and perhaps those with similar thoughts will decide now is the time to follow suit.
I guarantee that by the time December is over at least one other Premier League manager will be relieved of his job.
Grappling
One of my little bugbears resurfaced this week when Mario Balotelli was sent off against Liverpool.
Balotelli picked up his first booking for tugging Glen Johnson's shirt, much as Bolton's Ricardo Gardener fell foul of the officials against Swansea.
That's all well and good but why is it that referees are so willing to give yellow cards for a tug back in any area of the pitch outside of the penalty area but not in the box, where they turn a blind eye to every grappling match that goes on?
Surely the same rules have to apply all over the field? I'm not saying that pulling on the shirt is such a cardinal sin that it merits a booking but if it does, then it's about time that referees had the bottle to start handing out bookings and penalties for the same sort of thing in the area.
Join Jeff and the gang for Soccer Saturday this weekend at 12pm on Sky Sports News HD, channel 405.