A league of their own
Jeff Stelling asks if Arsenal - the only English club in the Champions League last 16 so far - can go all the way.
Last Updated: 24/11/11 2:26pm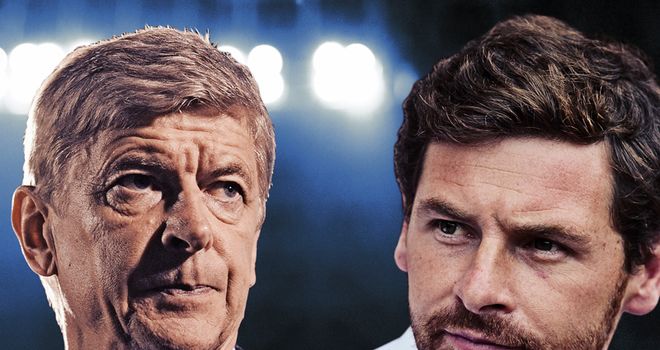 Gianfranco Zola joined us in the Champions League studio on Tuesday to watch Napoli's game against Manchester City.
Early on in the coverage we ran a couple of Napoli pieces and you could see the smile drift across his face as he recalled fond memories of his time there.
He had many happy days at Chelsea, of course, so I'm sure his mood would have been rather more downbeat had he been with us to watch their defeat to Bayer Leverkusen.
The consensus is that Andre Villas-Boas is looking over his shoulder after last night's loss in which case the home games against Valencia and Manchester City (on December 6 and 12 respectively) could well define his future - as well as Chelsea's season.
A lot was made of Villas-Boas' age when he arrived at Stamford Bridge but I'm sure he got plenty of respect from the players because his record in Portugal, all be it brief, was exceptional. Roman Abramovich had recruited a fine, young coach.
But as the season has gone on and things haven't gone well (Chelsea have now lost four games in seven and their only wins in that time have come in Carling Cup at Everton and in the league at Blackburn), I suspect that respect has started to drift away.
Effect
I wonder if one or two players in the camp are now saying 'what has he ever won? What level did he play at?' If so, that feeling will intensify with every 'wrong' decision he makes.
There is also the suggestion, of course, that none of the players who made up the spine of Chelsea's successful teams of recent seasons - Didier Drogba, Frank Lampard, John Terry, Petr Cech - are not quite as good as they were. That's not a criticism because it all catches up with us in the end!
All four of those players have been fantastic servants and will continue to be so for Chelsea. I would never, ever suggest that they are finished by any means. Terry, for example, is only 30 and has a lot of good years ahead of him.
Players don't need to drop their level of performance much for it to have an effect on the whole team. If the manager hasn't quite got it tactically right either (there are no greyhounds in Chelsea's back four so playing a high defensive line would seem risky) then that effect is compounded.
Telling
Chelsea's chances of joining Arsenal in the knockout stages must now be in the balance but they do at least appear better than those of Manchester City who, I'm afraid, have already shot their bolt.
I expect Manchester United to progress - they are in a different class from Basel, after all - so English football should have at least two representatives in the next phase of the competition.
All credit to Arsenal and, in particular, Robin van Persie - who continues to lead Hartlepool Reserves with distinction - for making it through so quickly.
Very few people gave them a hope of reaching the last 16 after their somewhat fortunate 1-0 win over Udinese in the first leg of their Champions League qualifier back in August and even fewer following that 8-2 defeat to Manchester United.
But despite being drawn in a difficult group they have done brilliantly.
It's worth pointing out that Wojciech Szczesny has been outstanding throughout, Thomas Vermaelen has made a difference on his return, Aaron Ramsey has gradually got back to his best and Laurent Koscielny has quietly got on and done what he's been asked to do. Arsenal fans could be forgiven for having a slightly different perception of him this season than last.
There have been a lot of plusses but, of course, Van Persie's goal contribution is the most telling. Quite simply, he's in the form of his life.
Our reporter Andy Burton asked Arsene Wenger whether Van Persie, given the number of goals he has scored, should now be considered in the same bracket as Lionel Messi and Cristiano Ronaldo.
When Wenger, slightly reluctantly, agreed that could be the case in the future I could see in the corner of my eye there was quite a lot of head-shaking going on from Messrs Hoddle, Gullitt and McClaren because he's a different player from the other two.
Moreover he has matured in recent years, which means he doesn't get himself involved with referees as much as he used to, and for the first time in a long time he's truly fit.
I said last night he's exactly the sort of guy any team would be proud to have; he's the captain, the goal-scorer, he takes all the corners, he takes the free-kicks when he possibly can, he probably washes the kit as well!
So much has been expected of Arsenal in the Champions League in the past, with their style of football drawing comparisons to Barcelona in some quarters. This year no-one expects them to go all the way but who knows?
The Champions League has had some surprise winners in recent years: Porto in 2004, Liverpool in 2005 and Inter in 2010 to name but three. You may think I'm barking mad, but could this be Arsenal's turn...?
Magical
Neither of Van Persie's two goals against Borussia Dortmund could quite match Kevin Prince-Boateng's strike for AC Milan against Barcelona, which was simply outstanding.
There was no shortage of talent on the pitch - Messi, Xavi, David Villa, Zlatan Ibrahimovic,Clarence Seedorf - and yet it was Kevin Prince-Boateng who produced the most magical moment of football.
Portsmouth fans must thought they were watching his twin brother!
I felt Gerry Armstrong was very harsh to say on commentary that it had to go down as a goalkeeping error!
Ruud and the guys in the studio were absolutely lit up by 'Prince's' effort. Ruud called it the goal of the night and it certainly was.
Apoel Nicosia also caught my eye; congratulations to them for becoming the first Cypriot team to reach the last 16. It's a wonderful achievement on their part and while everyone will want them in the next phase, I don't think teams will find it easy in Cyprus.
Legend
Finally, it was great to read that Middlesbrough are rallying around club legend Gary Parkinson.
For those of you who don't know, Gary has locked-in syndrome after suffering a stroke, which means he can't move his body or speak even though he is mentally alert - a truly horrific position for anyone to be in.
Tony Mowbray has been to see Gary and given him a scouting role, which I thought was fantastic.
It just goes to show that football - despite some of the headlines - is indeed littered with nice guys.
Join Jeff and the gang for Soccer Saturday this weekend at 12pm on Sky Sports News HD, channel 405.