Naming and shaming
Jeff Stelling says the 'hideous decision' to rebrand St James' Park raises plenty of issues...
Last Updated: 14/11/11 8:15am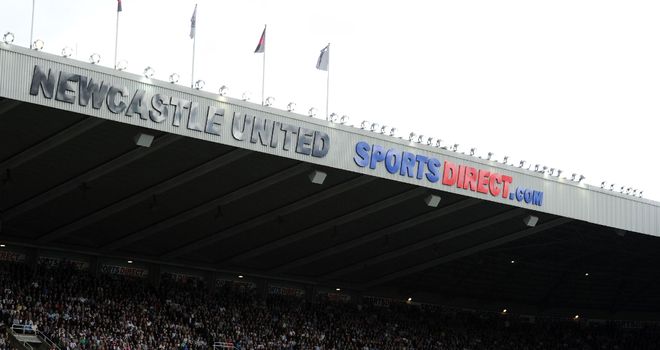 The hideous decision to rename Newcastle's ground has well and truly got my goat!
Although the caption on Soccer Saturday will refer to whatever the stadium's official name now is, I for one will do my utmost to call St James' Park just that.
Trust me; I've got history in this area! I remember when Wycombe's Adams Park became the Causeway Stadium in 2003. I religiously refused to call the ground by its new name and we ended up in 'discussions' with the club for some time.
I must admit that I felt a small triumph when the name eventually reverted to Adams Park.
Heritage
I'm not being deliberately difficult; I feel that it is wrong for owners to change the name of a stadium that is steeped in tradition and history - one that people can identify with - when they don't own that heritage.
It's a different matter when you are naming a new stadium, of course; in that instance the sponsors should be able to call the ground whatever they like.
But people all over the world recognise St James' Park as Newcastle's home. To destroy that affinity is abject nonsense and I'm sure that every true Newcastle fan will abhor this name change.
I'm sure football people and anyone with an appreciation of history know exactly where I am coming from.
Tarred
Newcastle say the rebranding gives them the chance to show future investors what they could get for their money, which in itself could lead to the farcical situation where the stadium is renamed every couple of years.
But if I was a potential sponsor, I'd be wondering what I'll get back for my money and the answer I'm sure is 'not much'.
The newspapers are unlikely to refer to the ground as anything but St James' Park - and the same is probably true of most television and radio companies - and the new sponsors will be tarred with the same brush as the current owners are.
Will this really help them sell more products? There are much better ways to increase brand awareness.
A sponsor's name doesn't tend to stick unless they are right in there when the ground first opens although it's interesting to see how the Etihad Stadium is hanging around.
I much prefer Eastlands but the day that I hear the bulk of City fans calling their ground The Etihad and the bulk of Newcastle fans calling theirs whatever the new name is, I'll be happy to fall into line.
Choice
On a different note, I'm relieved that a compromise has been struck in the great poppy debate.
It has taken way too long but we got there in the end. Ludicrously the Prime Minister had to get involved before common sense prevailed, but as we all know too well, common sense and international footballing bodies don't usually go hand-in-hand without a struggle.
The key thing is that the poppy is on display during England's friendly with Spain; that's the best way of showing that you remember. Armbands are fine. It doesn't have to be stitched into the shirts.
I will always choose to wear a poppy but I truly believe that everybody should have the choice whether to or not. I don't think it should be compulsory.
If one of my panellists chose not to wear one, for example, that would be fine by me; I'd respect their right to make that decision.
TV companies all over the globe would disagree but my personal feeling is that forcing someone to wear a poppy dilutes the strength of wearing one; it becomes the 'thing to do' rather than a genuine act of remembrance.
Staggering
It has been an emotional week so far for me in a different way because I've been filming my final episodes of Countdown.
Rachel Riley, Susie Dent and I have spent the last three years filming the show together and over the years we've become fantastic friends so it was a wrench to leave them and all the background people as well.
I also spent the week in the company of two sporting greats - Robin Cousins and Bumble - and Jon Culshaw off the Impressions show, who does a mean Fabio Capello. His Arsene Wenger isn't bad either!
Countdown seems to attract a staggering number of football fans as contestants so I hope they understand the reason for my departure - I simply want to be able to concentrate more on football.
My last show will go out in mid-December and it rounds up with a series of my gaffes, of which there are quite a few! I'm sad to go but trust me, there's enough football to keep me busy!
Jeff has a rare day off this weekend but don't miss Soccer Saturday for all the FA Cup scores from Sky Sports News HD.