Ahead of his time
Jeff Stelling says veteran Sir Alex Ferguson doesn't get enough credit for his forward-thinking.
Last Updated: 04/11/11 8:00am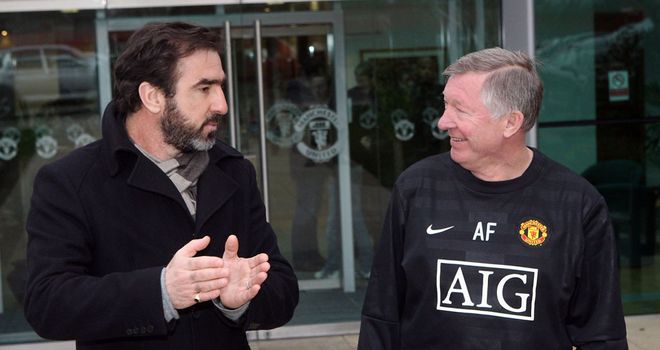 Earning respect in football is one thing, to be revered quite another.
Sir Alex Ferguson unquestionably belongs in the second category in the eyes of this week's Champions League panel.
Gary Neville, Steve McLaren and Glenn Hoddle have observed Sir Alex from different perspectives, as player, assistant and opposing manager respectively but on Wednesday they were united in their admiration of the Scot.
It is staggering to see how much Sir Alex has achieved in his 25 years at United since that 2-0 defeat at Oxford in his first game in charge.
He has since made some fantastic decisions in the transfer market - signing Roy Keane, Gary Pallister, Paul Ince, Eric Cantona, Cristiano Ronaldo and Wayne Rooney to name but a few - and his record of selling players at the right time is equally phenomenal.
But it is his unerring ability to play the best young players at the right time that has been the key to United's prolonged success.
That applies as much to the likes of Danny Welbeck, Phil Jones and Chris Smalling as it does to the 'class of '92', which boasted such luminaries as David Beckham, Paul Scholes and Neville.
Sir Alex's man-management is legendary and it was interesting to hear Gary say that Fergie will know his team for a game three or four matches in advance.
That meant that there were times in the latter days of Gary's career when he would know that he wouldn't be playing for three weeks; he reckons Ryan Giggs is in a very similar position right now.
Stamp
Fergie may be approaching his 70th birthday, but he remains every bit a forward-thinking manager.
Gary recalled how the manager was a driving force behind the club's move to Carrington in 2000 because he wanted his players to have ultra-modern facilities and the best medical and sports science support available to ensure United remained at the forefront.
So where would United be now had he retired when he said he was going to in 2001/02? Would they still be top of their Champions League group, would they still be pushing for a 20th league title? I have to say it's questionable.
There are certainly no guarantees that United would be the defending champions they are.
Fergie has always maintained that he will carry on so long as he is in good health but United fans must be worried about what will happen when he does call it a day. It will be a nigh on impossible task to follow him.
Everything and everyone at Old Trafford has Sir Alex's stamp on it, whether it be the tea room or car park, the attendants and stewards or the dressing room and players. It is a proper club that is run professionally at every level.
After Sir Matt Busby retired in 1968-69, United kept the job internal and gave it to Wilf McGuinness (who was just in his early thirties at the time) but he was sacked after just 18 months at the helm.
If you ask United fans today who they would want to take over, you'll get tens of different names and no overall consensus.
Some people will mention Jose Mourinho, but that would be an inappropriate appointment for many United fans - partly because of the style of football he has encouraged over the years.
I've met Sir Alex a fair few times socially and while I wouldn't say I know him, I can say he's wonderfully entertaining raconteur who has strong opinions and some great, great stories and never fails to make people laugh.
Gary assures me he gets his point across a different way in the United dressing room, and that his man-management and motivational skills are second to none.
Fergie has already turned the hurt of that 6-1 defeat to Manchester City into three clean sheets and appears as in control as ever. It seems there really is no substitute for experience.
Gap
I've just one Champions League footnote this week.
I know the pro-Genk lobby will be on my back following their 1-1 draw with Chelsea but after four match days I'm prepared to stand by my guns and say there has to be a better way to make the group stages more competitive.
Yes, Genk (a club I have absolutely nothing against) were the best side in Belgium last season and deserve their place under the rules as they stand.
But Milan and Barcelona have already qualified for this season's knockout stages, while Dinamo Zagreb and Otelul Galatia still have 'nil points' to their name in their respective groups. The gap in quality is too large.
Either qualifying standards have to be tougher or maybe the group stages should only be opened up to sides who have good Europa League records from the year before.
The Champions League is a fantastic competition and I don't want the overall standard to be diluted any further. I want it to be even better.