In shock and awe
Jeff Stelling foresees a football calamity and reveals what left the great Ruud Gullit speechless.
Last Updated: 20/10/11 2:02pm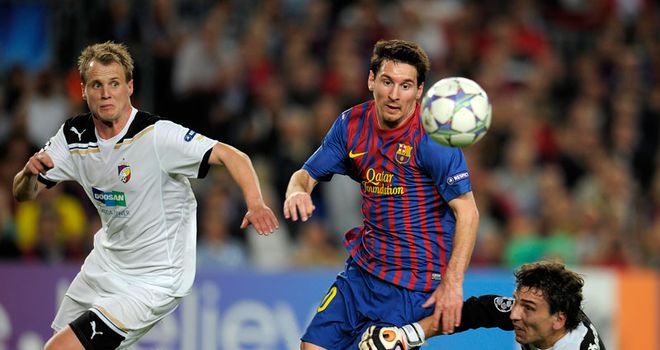 Scrapping promotion and relegation would be the death of football.
I hope it doesn't happen in my lifetime - and I don't believe it will - but I wouldn't want English football to let its guard slip.
I've been banging on about this on Soccer Saturday for five years and judging by the comments of LMA chief executive Richard Bevan not without good reason!
In these days when football is such big business it's only natural to expect owners to try and ring-fence their investments and we shouldn't be narrow-minded and think this only applies to foreign owners because there are British ones who would unquestionably support such a move.
But to do so would be to ignore the best interests of the game and supporters. It is putting self-interest first and would be calamitous for our game.
How many fans would still go and watch a match if it didn't matter whether their team won or lost? As unlikely as that scenario may seem I am still concerned that it could happen one day.
While it's reassuring to hear real football people like Harry Redknapp and Sir Alex Ferguson support my view, there will always be those who love the rewards that football can bring rather than the game itself.
That for me is the real worry, particularly if a sizeable number of owners group together, sidestep the FA's power of veto and set up a new competition.
Plot
Equally, I detest the notion that in time we will see teams play some league matches overseas.
People in favour of a 39th Premier League game point to the strength of support for English football abroad but what about the fans over here?
To me it is purely another financial ruse to swell the coffers; for goodness sake, supporters are detached enough from Premier League games as it is at the moment.
Apart from anything else, playing a game thousands of miles away is another match they won't be able to get to. I find it hard enough to watch Hartlepool games as it is!
In some respects it would also be to the detriment of the game in developing countries because it will tempt fans away from watching their local clubs in their local leagues.
All in all I think it's a hideous, money-making plot and I struggle to see why any football fan would support it in any way, shape or form. It's just a nonsense.
So many football teams now, whether they be in the Premier League or otherwise, complain about the amount of games they play and how much travelling they do already - so I struggle to see how anyone other than the owners benefit. Rant over.
Relief
On reflection, it has been a good week for English clubs in Champions League without any of them being overly impressive.
Manchester City's first victory in the competition was a huge, huge moment for the club but it was another game that indicated just how far away they are from being real contenders for the trophy.
They are going to have to learn and learn mighty quickly what is required at this level because Villarreal are a very ordinary side indeed and they were missing Nilmar, one of their best players.
It was fascinating to see players like David Silva and Nasri - outstanding Premier League players - struggle to stamp their authority on a mediocre Spanish side.
The footballing layman must wonder what the difference is between playing week in, week out in the Premier League and playing in the Champions League because clearly there is one; Vincent Kompany said as much afterwards and admitted that City are struggling to come to terms with it.
I heard Jason Cundy say to a caller on You're on Sky Sports the other day that City are looking good in the Premier League and appear to be on track to qualify for the next stage of the Champions League - but I'm not so sure about the latter.
There's no guarantee they will win at Villarreal and there is certainly no guarantee that they are going to get anything in the hostile environment that they will find in Napoli, so they still have a long way to go.
You could tell as much from Roberto Mancini's display of relief following Sergio Aguero's late winner. Without that goal it would have been enormously difficult for City to reach the next stage and goodness knows what the implications of that would have been.
It was also an important goal in terms of swelling confidence ahead of Sunday's Manchester derby; if City had flopped again in the Champions League, then they would have gone to Old Trafford very much on a down.
I'm sure Mancini will be only too well aware that his side has conceded the first goal in each of their Champions League games so far - it's as though they can't get out of the blocks - and he'll have to set that straight.
For their part, United have looked flat for a few weeks now; they were poor against Basel, fortunate against Norwich and not great at Anfield so winning Sunday's derby is anything but a foregone conclusion as far as they are concerned following that display against Otelul Galati.
Wayne Rooney seems very much back in the groove but United's defensive vulnerabilities make me think there should be goals in the game.
Ability
Anyway, back to the Champions League because it's worth reflecting on an amazing night at the Nou Camp.
Ruud Gullit is without doubt one of the greatest players of all time but even he had his head in his hands at times in our studio, unable to believe Lionel Messi's level of ability.
A couple of times Ruud said 'this is the greatest move I have ever seen in football'; this is a man who has played against Maradona but here he was in awe of Messi's play.
The incredible thing about Messi is that we all know how good he is yet just when we think he has produced something that he'll never top, he does just that.
His part in the Andres Iniesta's opener was just incredible. It took Ruud's breath away - he was virtually speechless - and that in itself was something to behold!
You have to wonder if there is anything he can't do and the answer has to be a resounding 'No'!
Devalues
Finally a word on our London contingent; I was pleased to see Aaron Ramsey score the winner for Arsenal, who have taken another small step in the right direction.
It was a tough night for the Gunners but at Stamford Bridge Chelsea played the equivalent of Belgium's 'Dog and Duck' XI.
Chelsea were absolutely brilliant at times in the first half - their one-touch passing was exquisite on occasions - but unfortunately Genk's presence on the pitch indicated everything that is wrong with the Champions League group stages because they simply aren't good enough.
It is like going to a boxing match and knowing the outcome beforehand; you know which of the fighters is going to get knocked to the canvas, it's just a question of which round it happens in. That's not real sport.
For me the presence of Genk - and they are not alone by the way - devalues the Champions League and is a classic case of expanding a competition to generate more revenue.
If you want to look further ahead, check out the number of teams who will qualify for the 2016 European Championships. For goodness sake, the qualifying competition will be a joke - it is going to be harder to get knocked out, than get to France because there simply isn't the depth of quality there.
Somehow we've got to get back to the idea that 'less is more' or risk alienating greater number of fans.
Hopefully the administrators and money men will start listening before people stop watching.
There have been plenty of sports who have suffered like that over the years - snooker for one. Look at the state the sport is in now. Twenty-odd years ago, when we were watching some of the great finals of our time, no-one could have imagined that it would go the way it has.
There's a warning there somewhere.