Football over finance
Players have all the power, but Manchester City can make an example of Carlos Tevez, says Jeff Stelling.
Last Updated: 20/10/11 1:11pm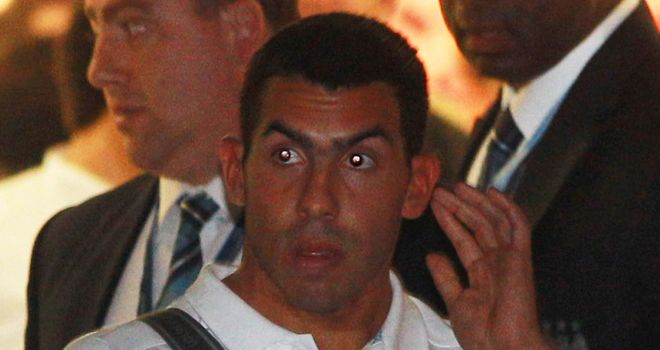 It's always eventful covering the Champions League, but Tuesday night took it to a whole new level.
In any normal week Manchester United throwing away a two-goal lead and conceding three goals at home would have got all the headlines, but everyone's focus was on the blue half of Manchester and on one man in particular.
If I refused to do my job on a Saturday, as Carlos Tevez allegedly did against Bayern Munich, there would only be one outcome, I would be shown the door and pretty swiftly, too.
And although I'm not earning £250,000 a week (not quite anyway!) it would no doubt be a lot easier to get rid of me. The same goes in any walk of life; if you're not doing your job, you will get the sack.
We all know about his gripes with the club, but there are ways to go about it and his apology the next morning really didn't hold water with me. He said it was all a misunderstanding, but that was in contradiction to his comments immediately after the game when he said his head wasn't in the right place to come on.
I was in the studio with Graeme Souness, Mark Hughes and Dwight Yorke and although we didn't know what was going on initially, it was clear something major was happening.
Graeme was particularly passionate on the subject because I think he simply couldn't get his head around how somebody could be so selfish. Take away how much Tevez is getting paid because players got paid well, relatively speaking, in Graeme's day, too.
I think what he couldn't grasp was how he could let his team-mates down. In Graeme's day you were a tight-knit unit, all pulling in the same direction and you would go and put your body on the line for each other, for your mates.
But maybe the Argentine's actions are just indicative of today's game.
Power
Players tend to hold all the power these days but Manchester City are one of the few clubs in the world, because of their financial backing, that could show that players don't hold all the cards. They can do that by taking the appropriate action - whether that be by sacking him or making him play in the reserves.
That said if he won't play for the first team what chance have you got of him playing in the reserves!
It's a real shame though because since he arrived in England, Carlos Tevez has given me fantastic pleasure and enjoyment. He's a terrific footballer and when he played he would never give anything but 100 per cent.
Up until Tuesday we thought that no matter what his issues were with the club you could rely on him on match day, and no matter how unhappy he was personally he would go on the pitch and give everything.
I think when he does leave the country now - which seems inevitable with what's happened - he will be remembered by the fans for all the wrong reasons and that is very sad.
Attention
What Tevez also did was take away any attention from Edin Dzeko, whose actions were hardly praiseworthy either.
He's come in on big money, he's had one-and-a-half good games and he walks off the pitch shaking his head when he gets substituted, having been totally ineffective throughout the game.
That sort of open dissent really undermines the manager and he was fortunate that Tevez took all the headlines.
The sideshow on the touchline also distracted us from what was a very good performance from Bayern, who really took control after the first 30 minutes when City looked the better side.
There's no doubt that City are in one of the toughest groups and it looks like they will have to go and beat Villarreal home and away if they are to qualify for the knockout stages. I think they're capable of doing that, because the Spaniards are a shadow of the team they used to be.
Gamble
With all the drama of Tuesday night it's easy to forget that there were three other English teams involved in the Champions League this week.
Chelsea and Manchester United both came away with a point a piece from their games and while Arsenal came away with all three, I thought Arsene Wenger took a huge gamble when he decided to sit Robin van Persie and Aaron Ramsey on the bench against Olympiakos.
In the end it proved to be a calculated gamble because they ran out 2-1 winners, but I was hugely surprised all the same because had they lost to the Greeks, qualification for the next stage of the competition would have been incredibly difficult and that would have been a financial hammer blow to the club.
Olympiakos were neat and tidy and surprised a lot of people, including me, but they are far from one of the best teams in Europe and at times Arsenal were in danger of being overrun by them, so the gamble could easily have backfired.
It was however, Arsenal's third win on the spin so there is encouragement there, but there is still a lot to be concerned about as well, especially with the prospect of Tottenham and the North London derby next.
Sol Campbell was in the studio with us on Wednesday night and he believes if Tottenham can keep Emmanuel Adebayor motivated he will be a handful against any team, including his former employers.
He really has started the season well and the little and large combination with Jermain Defoe up front really looks a threat. A few players left Spurs this summer but Harry Redknapp has amassed a fantastic squad.
Luka Modric appears to have his mind on the game again and is playing at his best; Scott Parker has been every bit as good as we all knew he was; Ledley King is playing games again; and then you've got Gareth Bale who appears to have overcome all his niggling injuries and is really flying at the moment. He's definitely back to his best and I'm not sure if Arsenal will be able to cope with him.
If Spurs get an early goal I really do fear for Arsenal and I can see this turning into a very long afternoon for all their supporters.
Join Jeff and the gang for Soccer Saturday this weekend at 12pm on Sky Sports News HD, channel 405.