Napoli ever after?
Jeff Stelling says Man City have their work cut out to make their Champions League fairytale come true.
Last Updated: 22/09/11 3:16pm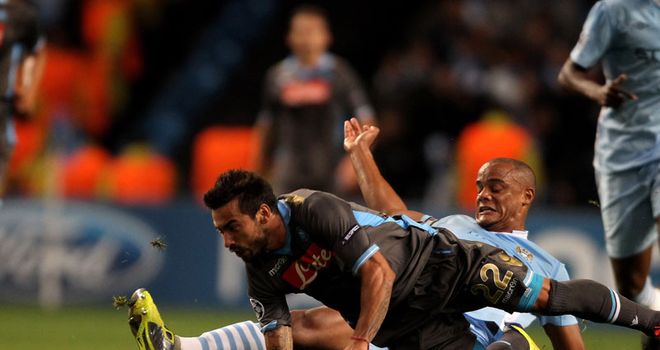 Rarely can there have been so much expectation on a team making their Champions League debut as there was on Manchester City this week.
There was plenty of talk in the press - and the Sky Sports studio - before City's opener against Napoli on Wednesday about whether Roberto Mancini's side are capable of going the whole way at the first attempt.
Even now after their 1-1 draw, Sky Bet have City as 10/1 fifth favourites behind Barcelona, Real Madrid, Manchester United and Chelsea to lift the trophy and so the pressure builds and builds on the world's richest club.
In that respect, the result was a reality check; for all their glittering array of players, City were probably grateful to end up with a point on the night after coming up against a side that was supremely well-organised, that counter-attacked brilliantly and that clearly possesses some excellent players of their own. This was a match that City could easily have lost.
Napoli look like they are going to be real contenders in Group A after spending near enough £43m in the summer - serious money by Serie A terms - and while Villarreal aren't the force they once were, the same can't be said of Bayern Munich.
Manchester City are 15/8 to win their Champions League group.
It's all well and good for Mancini to say bullishly after the match that 'we'll go to Bayern and win' but trust me that is easier said than done.
Sometimes you get one or two sides in the group stages of the Champions League who really aren't worthy of taking part in Europe's top competition, so inevitably there are some mismatches, but City don't have that luxury.
Mind you I'm pleased to say, with apologies to all Inter fans, that Trabzonspor did the tournament some good by showing it is not as predictable as it sometimes can be.
City are more than capable of winning at home and away against Villarreal but their three other games will be incredibly tough for them now even though Mancini has enough quality options in his squad to contend with the twin demands of Champions League and Premier League football.
Maturity
On the other side of Manchester, Sir Alex Ferguson is rarely short of options and now he has an interesting goalkeeper dilemma on his hands.
I was intrigued to hear him say that David de Gea will return to the side to face Chelsea this weekend because I felt Anders Lindegaard had a real maturity about him in United's draw against Benfica.
The Dane looked confident despite the phenomenal atmosphere created by 60,000 baying fans in the Stadium of Light and gave us with a great quote afterwards - "I have said one thousand times before - I am not here to pick my nose".
Unfortunately for him it looks as though he is going to have plenty of time to do just that on Sunday if he wants to!
Sir Alex will see in training exactly what type of keeper de Gea is - and those qualities are presumably why he bought the Spaniard - and he is absolutely right to stick with the boy at the moment because if de Gea doesn't take part in the big games it could shatter his confidence.
But Sir Alex will also know that everyone who is not a Manchester United fan will be sitting in judgement to see how de Gea gets on against Chelsea because he has had a shaky start and there is extra pressure on him now after missing out in midweek.
Strong
The spotlight will also be on Chelsea's Fernando Torres if he plays at Old Trafford because if he plays against United as he did against Bayer Leverkusen his next goal may be some time coming yet!
As far as Andre Villas-Boas is concerned, the only thing that could have made Chelsea's 2-0 home victory better was a Torres strike. He went very close early on in the game and his all-round play was very good again and, of course, he provided both goals.
It must have been ever so tempting for Torres to go for goal himself in those dying seconds when the game was to all intents and purposes already won, but he didn't and unselfishly laid it square for Juan Mata who took the glory. I thought Torres booked his Old Trafford place with that performance.
Fernando Torres is 9/1 to score the opening goal at Old Trafford.
Villas-Boas has already shown that he is an incredibly strong character; he left Torres out of the game against Sunderland and while he did so with the intention of playing him in midweek, it also sent out the message that the striker with the £50m price-tag is not untouchable. Villas-Boas got a response on Tuesday as a result, if not the goal.
On reflection, Villas-Boas made a pretty brave selection for his first Champions League match.
Already without Didier Drogba, he left John Terry out and started Frank Lampard on the bench. Things could have gone pear-shaped without those real Chelsea stalwarts, but he made a brave call and got the result.
I will be interested to see who starts in defence on Sunday. I imagine that David Luiz is being drafted into a fair few Fantasy Football teams up and down the country as I write, but I don't think there is any way that he will play at Old Trafford.
Going forward Luiz attacks like a Brazilian but unfortunately he defends like one too - not what you want from your centre-half in what is likely to be a tough, tight away game.
Question
Finally just a thought on Arsenal, who I think would have settled for a draw if they'd been offered it before going to Borussia Dortmund.
In the end it was a great point for them because they looked very, very vulnerable at times - particularly in the first 20 minutes of that game, when they could have fallen a couple of goals behind - but to their massive credit they kept playing.
Plenty of question marks remain against Arsene Wenger's side, in particular whether his new signings can blend in effectively.
It's still very early days but Mikel Arteta and Yossi Benayoun in particular have got to show that they are the real deal and going to Blackburn this weekend is going to be a really interesting test for them.
Rovers are under huge pressure at the minute and while they are not the physical team that they used to be, I think they could pose a problem or two for Arsenal.
Blackburn are 100/30 to beat Arsenal on Saturday.
The Gunners' next European fixture is Olympiakos at home - a match in which they might have scored six or seven in the past and no-one would have raised an eyebrow - but right now I'm sure they would take a 1-0 win and the three points if it was on offer.
Join Jeff and the gang for Soccer Saturday this weekend at 12pm on Sky Sports News HD, channel 405.