Guillem Balague blogs on futures of Suarez, Villa and Higuain
Guillem Balague looks at which stellar names could be heading in and out of La Liga this summer.
Last Updated: 03/06/13 4:47pm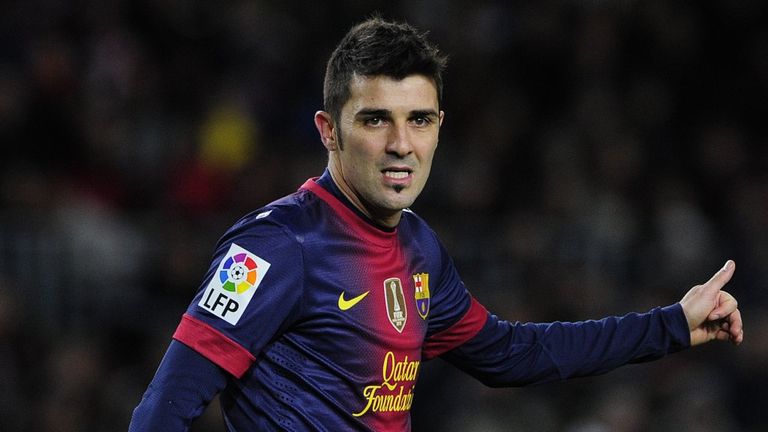 The returns from illness of Eric Abidal and Tito Vilanova stick in my mind, as does the guard of honour newly-crowned champions Barcelona received at the Vicente Calderon and the fact Lionel Messi scored against everyone in the first leg of the season.
But the most defining memory was as early as week 13 when Real Madrid lost at Real Betis and Barcelona crushed Levante 4-0 to effectively end the title race.
There is plenty more to discuss, though, so read on for my thoughts on some of the big La Liga stories and what is sure to be a busy summer in the transfer market...
BARCELONA
The arrival of Neymar has had its first consequence.
There were strong rumours that Cesc Fabregas wanted to leave Barcelona and that Barcelona would consider selling him - but despite interest from Chelsea, Man City, Man United and Arsenal and Arsenal, the Catalans have no intention of letting him go.
They will have to say this publicly, though, to calm everybody down and reassure Fabregas about his position, but his buyout clause of 200million Euros for everyone accept Arsenal - it is 40million for the Gunners - means he will wear the Barcelona shirt next season.
David Villa could have gone to Arsenal on a four-year deal in January but now has an offer on the table from Atletico Madrid, as well as a two-season deal with Tottenham. Arsenal are delaying an approach for now, but Villa would prefer to go to the Premier League.
Thiago Alcantara is also seriously considering leaving Barcelona; nobody is telling him what his role at the club will be next season, and the interest from Man United and Man City will continue with the 22-year-old's buyout clause being 18million until August 1.
Tito Vilanova's future is not totally clear, either, and a Barcelona director has said that the future of the club is in the hands of Tito's wife as she and his family have to decide whether the Barca boss is strong enough to continue.
If Tito is not, the club is preparing a plan B and both Luis Enrique and Ernesto Valverde, amongst others, have been contacted, and there doubts in the players' minds about whether Vilanova will lead them next year.
Victor Valdes, meanwhile, has explained why he will leave the Camp Nou in 2014: he wants a new life somewhere else. The real reason? He has never felt looked after, protected and recognised by the club and fans and media.
Pepe Reina and Borussia Monchengladbach goalkeeper Marc-Andre ter Stegen have had the call from Barcelona and the club has to decide whether one, or both, of those players will come in - and if Valdes leaves.
REAL MADRID
Real's problems this year stemmed from pre-season when the players came back with the wrong attitude and did not have the same hunger and commitment as in their title-winning season of 2011-12, while the signings of Luka Modric and Michael Essien did not help.
Madrid, who had lost the same number of games by the end of November as they did in the whole of the previous campaign, want to replace Mourinho with Paris-Saint Germain boss Carlo Ancelotti - but the French club are not making it easy.
Florentino Perez - who should be the only candidate in Real's presidential elections - won't wait forever and Jupp Heynckes' is Real's second choice - but everybody expects Ancelotti to be Madrid's next manager as PSG have an agreement with Laurent Blanc.
On the player front, the message I am getting from Luis Suarez is that he has no agreement with Madrid... yet. However, Real are willing to pay his buyout clause (£40million).
He doesn't want to go back to Anfield, but I don't totally believe the excuse of the media behaviour.
He has become the villain of the piece but I think his efforts to move have to do with him wanting to play the Champions League - and the intelligent Liverpool fans (the majority), even though they are hurt, seem to understand that.
Gareth Bale, meanwhile, will be the saga of the summer. Real Madrid will try to get him, Spurs will demand £80 million. The player doesn't want to force his way out a la Modric, so we are going to hear a lot about this one.
Gonzalo Higuain, meanwhile, has said he wants to leave the Bernabeu and is in advanced conversations with Juventus; the Italians are also interested in Suarez but the Uruguyan is almost double the price of the Argentine.
OTHER STORIES
Athletic Bilbao boss Marcelo Bielsa's cycle is over and he will not continue at the club; he is so demanding and after two years he has left everybody physically and mentally exhausted. Bielsa is an extraordinary coach who can get the best out of any squad, especially a modest one, but he will probably not work at a club where there are egos.
Valencia manager Valverde has said goodbye to his players and could be replaced by Real Vallodolid coach Miroslav Dukic, but striker Iago Aspas (pictured) will be saying hello to Liverpool if he completes his move from Celta Vigo.
Aspas who has lots of talent but perhaps not the consistency just yet, could be joined at Anfield by Sevilla youngster Luis Alberto, but depends on whether his current loan club, Barcelona B, activates a clause in his deal.
If Alberto does go to Liverpool, though, the fans will see an offensive midfielder/forward that can play in two out of the three positions in a 4-3-3, behind the striker or as a false nine.
Plus, Sevilla's Jesus Navas could go to Man City to for £25million, plus £5 million in variables. Watch this space...