Guillem Balague analyses Jose Mourinho's impact at Real Madrid
Guillem Balague says Jose Mourinho will not be remembered fondly at Real, should he leave now.
Last Updated: 20/05/13 1:05pm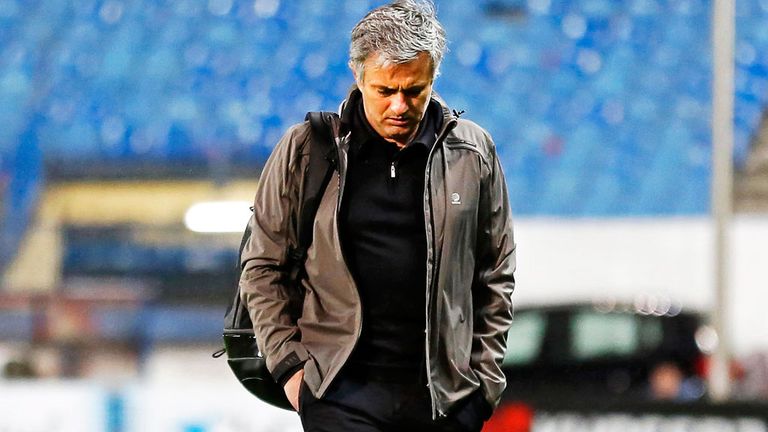 One is, as he said himself, that this year is a failure and some people will even extend it to the whole reign because at three years at Madrid he hasn't won the Champions League, and that was what he was brought in for.
Every year he has won one title - the Cup, the League and then the Super Cup. In that period, the fact Barcelona scored eight titles suggests that he has failed to finish the Barca era. The Catalans have won four leagues out of the last five.
In the history of Real Madrid, any manager who has been there for three years on the trot has won more titles than Mourinho. The problem is that if he doesn't win, there's not much left behind. It's not like he's prepared a bunch of youngsters to get into the first team.
He's made a lot of noise. By that I mean accusations. He's divided the country and the media. It's part of his strategy but people say there's too much noise and not enough results. He's had more authority than any manager in the history of Real Madrid but it still wasn't enough.
The fact that the players went for lunch before the Cup and didn't include him is confirmation what we've thought for a while - that the players are not with him any more. For somebody whose story, according to his journalist friends, includes leaving clubs with a lot of love from his players, it's clear this hasn't happened at Real Madrid.
Viewpoints
Another way to explain it is that even though he's been given such authority, there are one or two massive problems at Real Madrid. One is that the influence of the president is too big and another is the influence of the players is too big. The contact with the media makes heroes out of players and forces managers to have them in the team. Mourinho found it was difficult to get rid of Iker Casillas when he wanted more competition for the goalkeeping spot.
Mourinho tells a lot of truths, hurtful truths. He said the players from the lower ranks are not good enough because the academy is not being run properly. They are truths and should be heard, but the way he delivers those truths distract people from them. Also, his finger in the eye of Tito Vilanova and refusing to take his runners-up medal in the Cup mute his points.
There are two opinions of Mourinho but generally the impression is that he will not be missed in Spain. He would have liked to get more titles and for the first time he's leaving a club in a way that makes it impossible for him to return. It's not like he'll be able to flirt with them like he has with Chelsea and Inter.
Guillem answers your questions...
Got a question for Guillem? Then send it toskysportsclub@bskyb.com or use the feedback form below, and then look out for his answer next week.
MANAGER MERRY-GO-ROUND
Hi Guillem Do you think there is any chance of Rafa Benitez going to Real Madrid in the summer? Would Jose Mourinho go to PSG instead of Chelsea? Thanks. David, Fulham
GUILLEM SAYS: Carlos Ancelotti has already told PSG that he wants to go to Real Madrid. Generally when you do that, you end up going. However, Real don't want to pay any money for him. He's expected to be confirmed any way, but Rafa Benitez will be Plan B if it doesn't happen.
REAL RETAIL THERAPY
Hey Guillem, if Ronaldo does not renew his contract with Real Madrid, and Barcelona get Neymar, is acquiring the likes of Gareth Bale going to be Madrid's response? Javier Pineda
GUILLEM SAYS: Madrid's response will be to get a top player. They're trying to get either Gareth Bale, Neymar or Edinson Cavani. It looks like Cristiano Ronaldo will not renew his contract so it looks like Real will go for a traditional 'Galactico'.
THIAGO TO GO?
Hi Guillem, Thank you for a consistently great article at this forum, I am an eager follower. I live in spain and today saw the headline: Thiago on the market - now being a Barcelona fan this horrified me and more so that it was on mundo deportivo. I am of the belief that Thiago is the future of the Barcelona midfield and was hoping you could shed some light on this rumor - surely if they cannot see that Thiago has the talent to match Xavi & Iniesta, then they are the ones who should leave. Agreed Thiago hasn't had the best season, but he has not seen much faith from Tito who failed to rotate the squad until it was too late. Personally I would prefer Cesc out and Thiago staying if it came to that. Hope you will consider this. Thanks in advance and keep up the good work. Christian
GUILLEM SAYS: I don't believe Thiago is in the market but I do believe his progression is not at the stage it should be. He's still looking for that extra technical gesture that keeps him apart from Xavi or Andres Iniesta. He's still young, though, and he adds something different to the midfield, so I think he'll stay at Barca.
MEXICANS CAN
Hello Guillem, I am Mexican and have noticed that this season four Mexicans in the Spanish league have done very well (Giovani dos Santos, Carlos Vela, Hector Moreno, and Andres Guardado). What do the Spanish media think of him? What does the future hold for them? Which one is your favourite? And why have Vela and Giovani succeeded in Spain when they did badly in England? Thank you. Jose Pablo Hayaux du Tilly
GUILLEM SAYS: The key example is Carlos Vela. He doesn't like London. He doesn't like the country and doesn't feel comfortable there. It's so different to Mexico. He went to Spain, where they have the same language and, although Arsenal can take him back to The Emirates, he wants to stay in Spain. The rest of the Mexican contingent have also done well.