Man Utd have improved against Spanish teams, says Guillem Balague
Guillem Balague blogs on Man Utd's improved form against Spanish sides and the rise of Real Sociedad.
Last Updated: 11/03/13 4:41pm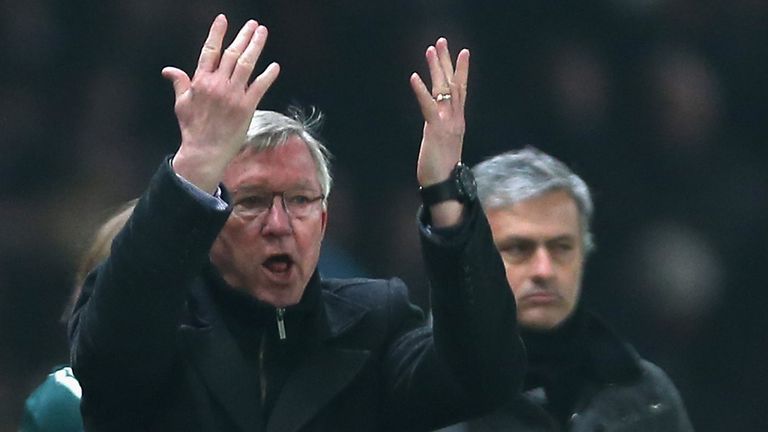 There's no doubt in my mind that Manchester United were playing better than Real Madrid before Nani's sending off.
That was very pleasing to see because there is always a question mark whether United can cope tactically with Spanish teams - or, to put it another way, if they can be solid enough for long enough.
Take, for example, the 2011 Champions League final when United lost their shape when Barcelona changed their tactics after 10 minutes.
This time, though, the answer this time was 'yes' - United answered the question until the sending off changed the complexion of the game.
The matter of whether Nani deserved a red card has been discussed extensively but here's my view: if you endanger a player you don't need to include intent in your conclusions, so I agree that it was a red card.
It was a shame to see Sir Alex Ferguson so incensed when perhaps he should have realised that by protesting so much he would affect the team.
It would have been better to focus on the job in hand; for 10 minutes the team was in shock, which was understandable but they recovered well and finished really well too, to give credence to Mourinho's post-match statement.
It was cheeky of Ferguson - who met Mourinho for an hour in the changing rooms after the game - to come out and say that Iker Casillas wouldn't have stopped what Diego Lopez managed because it was a comment that was obviously based on a conversation with Mourinho.
Remember that Mourinho will leave Real Madrid - he and the club have agreed a pay-off of 10m Euros at the end of this season and he will move on.
That was Mourinho's way of paying Casillas back. I think what Ferguson did was just give a little favour to Mourinho. In fact, Casillas deserves a lot of respect.
On the up
It was very pleasing to see Real Sociedad beat Atletico Madrid because it was a very hard test.
They are a club on the way up because they do it sometimes with Imanol Agirretxe up front and sometimes with no No 9.
Carlos Vela is having a consistent season - he is probably their best player - while Antoine Griezmann can play as a fourth striker and do a good job too. Xabi Prieto is fantastic on the right-hand side and sometimes he plays in the centre of midfield too.
So they vary their tactics and they are now solid at the back. I like both centre-backs but especially Inigo Martínez - he's definitely going places - and I like the right-back, Carlos Martínez, as well. Moreover, I think Asier Illarramendi could play for Barcelona - he's that sort of player, he's a bit like Xavi.
All in all, this really is a team that I think is going to make it into the top four and it's important they do so because I've made a bet that they will with Scott Minto and our Revista producer, Stevie Rowe!
Guillem answers your questions...
Got a question for Guillem? Then send it toskysportsclub@bskyb.com or use the feedback form below, and then look out for his answer next week.
GO WITH TELLO?
Do you think that instead of Barcelona playing Villa or Iniesta out wide it's time to start playing the young guns that they have e.g. Tello and Deulofeu as they have more pace and more hunger to win trophies? Nicolas Dusabe
GUILLEM SAYS: I don't agree with that, Nicolas. I think Tello is too one-directional and Iniesta should play in the centre. The best 'Villa' was the one who in 2011 managed to do so much damage from the left-hand side. I just think that he needs to play regularly. He's lost confidence now but I still think he's got it in him to run in behind defenders and do the kind of things you have to do on the left. In my view, Gerard Deulofeu is too young.
PEREZ TOO POWERFUL?
Hi Guillem, has there been any news on the presidential elections at Real Madrid in the summer? Will there be anyone to rival Florentino Pérez and what are the candidate's mandates on players, managers, running of the club etc? Also, do you think there is any possibility that Jose Mourinho will stay on next year at Real? Gracias! Michael Mcaree
GUILLEM SAYS: As I said in the article above, I think Real and Jose will part ways at the end of this season. The message sent by the club at the moment that he will stay is a clear message to keep everyone on board and not undermine Jose's authority. Florentino Perez does not have a big rival. A bunch of former players are trying to get something together but it is too late for this one; after this election they may start a campaign to gain some space and challenge Florentino Perez but it will be very hard because Perez has a lot of authority and personality and he will always have friends in the media defending his position at the club.
TITO HAS TIME
Hi Guillem, Are the Barca Board considering bringing in short-term, experienced cover for Tito? I know they remain loyal to Tito as we all do and feel for Jordi Roura but the next two months are crucial and there must be one or two suitable candidates? Thanks Neil Parry
GUILLEM SAYS: Barcelona are not considering any sort of cover. They have decided 'we are a club with a long history - and our history is based on respect for the people at the club', so no matter what happens they will keep Tito in charge because in their view, it's not all about winning games.