Going, going...gone?
Guillem Balague says Mourinho is near the point of no return at Real, and blogs on Pochettino's exit
Last Updated: 27/11/12 9:29am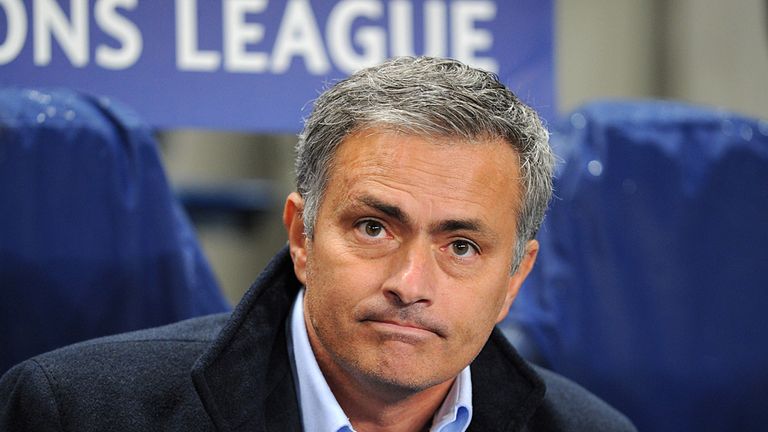 Thirteen games into the season the club is rooted to the bottom of La Liga and the 2-0 defeat to Getafe sealed his fate.
The board held a meeting and came to the conclusion a change was needed. Names that have been mentioned as Pochettino's replacement include Unai Emery, who has been sacked by Spartak Moscow, and Javier Aguirre, who used to be at Osasuna.
This turn of events is what happens when a club takes value out of its squad every year to pay debts.
You cannot hope to succeed by fielding a team of players near the end of their contracts and filling in the gaps with players from the lower ranks who have not matured.
It's only a matter of time before young, promising players realise that they won't become better at Espanyol.
In that sense the club has lost its focus - although I do think it is more of an institutional problem than a coaching issue. But there's no doubt that we do find ourselves in a bit of a crisis!
Tired
Meanwhile, Real Betis' 1-0 victory over Real Madrid suggests the disintegrating relationship between Jose Mourinho and the club could be at the point of no return.
Mourinho bases his football in the intensity, velocity and the speed with which everything is done.
That's fine if you have players who have enough quality to do everything at 100mph; football like that is very difficult for any opposition to stop, but you need the whole team to be switched on.
If the whole team isn't switched on, then you need players on the bench who can actually make a difference and come on and bite.
That has been the case until recently. Real Madrid were clearly tired against Betis but even so it was clear that they lack that kind of sharpness and bite that the club has possessed in the past.
What people call the organised attack of Real Madrid is not being worked on as much as it should and I think they struggle for it. So unless Mourinho switches the team on again, the end could be close.
For more details watch Tuesday's Revista de la Liga...
Guillem answers your questions...
Got a question for Guillem? Then send it toskysportsclub@bskyb.com or use the feedback form below, and then look out for his answer next week.
JOSE POSER
Hi Guillem. When you talked about Mourinho possible leaving you mentioned the likes of PSG, Man City and Chelsea being candidates, but why not Manchester United? I get the impression this could be Ferguson's last season in charge and is it not a known secret that Mourinho wants the Manchester United job more then any other? Have you heard or know anything that might suggest otherwise? Thanks, Joel Mesherghi
GUILLEM SAYS: The reason that I don't mention Manchester United that often in relation to Mourinho is that, yes, we know that he would like to go to United, but I keep hearing two conflicting stories. One says that Sir Alex Ferguson is going to stay (and Rafael Benitez's return to the Premier League may spur him on), while I've also heard from coaches and players that they feel this will be Ferguson's last season at United. As we know, Ferguson and Guardiola met. Apparently Ferguson's future was not discussed but in any case Ferguson has played that kind of game with other managers, where he suggests to them that they could be his successor at some point. I think Jose Mourinho must have heard similar things and so has David Moyes. So it's not a clear-cut situation about when Ferguson will go and if Mourinho will replace him. But in any case with the doubt surrounding Ferguson not leaving, I'm veering towards Mourinho if he leaves to actually go to PSG.
BATTLE OF THE BEST
Hi Guillem, Question on the competitiveness of the Spanish league in general. It is definitely a two horse race for many years to come between Barcelona & Real Madrid. It is disappointing when I watch La Liga, in comparison to the English Premier League where even the smaller teams have a fighting chance in every game and makes for a great spectacle. I personally feel there are better quality footballers in La Liga overall, but the style of play is very limited (not including Barcelona & Real Madrid of course). To tell you the truth, I wouldn't watch La Liga if it wasn't for Falcao, who has been the only player outside the big two teams worth watching. What can the other teams do, to make La Liga more competitive and entertaining like the EPL? Ziggy Chaudry
GUILLEM SAYS: It's actually a one-horse race, at the moment, not two because Barcelona is doing so well! If Barcelona and Real Madrid were in any league in the world (and by that I mean last season's Madrid, not this season's) they would be right up there, without doubt. In that sense La Liga suffers from having the two best club sides in the world. However, I find the Spanish league far more tactically diverse than that in England - although there are as many surprising results in each, for example Betis beating Real Madrid. So I don't know if you're trying to wind me up, Ziggy, but perhaps the best way to judge who is the best is to look at how each country's teams fare in Europe when they meet each other and in the last decade. On that basis the Spanish league is better! However, it's fair to say that more teams have a chance of winning the English league.
CESC'S ROAD TO SUCCESS
Hi Guillem, I was wondering what the future holds for Cesc and Thiago? So far at Barca, Cesc has played the Xavi, Iniesta and even sometimes the False 9 position. I feel that his performances this season have been more settled, but I am intrigued to see how he will develop. Does Tito see him as the eventual Xavi replacement, or does him want him to continue as the direct player he is and give Barca another dimension? For Thiago, how do you think he will be used after he's recovered from his injury? Bradley Reagan
GUILLEM SAYS: I think Pep Guardiola found it difficult to find space for all the midfielders that there are at the club, including Thiago and Cesc. Tito tried to play with a more 'free' Cesc, where he could move around a little bit. What's happened is that Barcelona have driven towards that direction - the one that Cesc offers, which is much more direct football. At the beginning of the season every player wanted to sort out all of the team's problems - the lack of fluidity; there was not as much of a collective effort as there used to be and Cesc himself was perhaps to blame for that too, because he felt that his 'anarchy' was helping the team. But now what we find is a team that has gone a little bit down a road inbetween Xavi and Cesc. The second-half against Levante showed that this is definitely a new route but based on the foundations that were already in place. It's another route or diversion on the same motorway, if you like.
PEP TALKS
Hi Guillem, Although all the media is full of Pep's next destination rumours one issue that has not been raised in the media is the issue of the length of contract Pep Guardiola would accept if he is going to accept a job next season at one of the top clubs being mentioned. At Barcelona he had a rolling one-year contract and decided each season, during the season, whether he would renew for a further year. I cannot see Mr Abramovich or Sheikh Mansour for example, allowing him this luxury. Would he accept a two, three year contract? Kind Regards, James Taylor
GUILLEM SAYS: No-one will talk about how long he will stay because he hasn't decided where he is going. But if he comes to London or Manchester, my impression - and it is only an impression - is that he will want a couple of years' contract because he will have more work to do at the club as he tries to take the players in the direction that he wants.