Are Cristiano Ronaldo and Jose Mourinho eyeing an exit from Real Madrid?
Guillem Balague blogs on Mourinho and Ronaldo posturing in Madrid and Man City's PR campaign.
Last Updated: 21/11/12 10:45am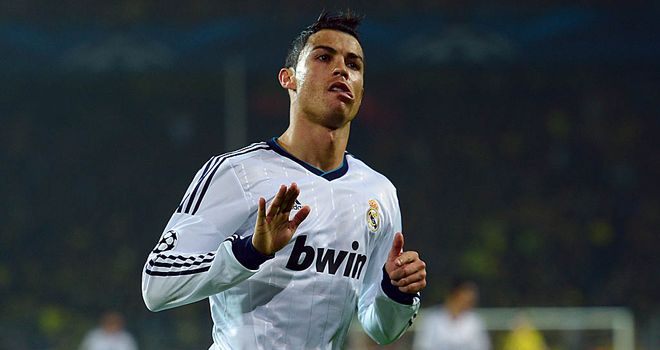 Ronaldo's frustrations are based on his financial situation while Mourinho's are about his authority - or lack of it in certain areas, such as the academy.
Of course if you're happy you can negotiate things behind closed doors but it is interesting to see pictures of Mourinho's wife and children in England appearing in the press. It was also interesting to see that at the recent Spanish league awards for last season, Pep Guardiola was voted best coach, strangely, and Lionel Messi was named best player.
Then there was Madrid's mixed reaction as they defended Pepe after accusations of unsporting behaviour against Levante but ignored David Navarro's elbow on Ronaldo during the same match.
Those two incidents angered Ronaldo, who sent messages to friends saying that he was not happy. It looks like a strategy of both Ronaldo and Mourinho to place themselves in the market.
We'll discuss this more on Tuesday's Revista. Either, as some say, they have agreements with other clubs - which I've not seen evidence of - or they want to create that possibility.
On Monday Man City opened their doors to Spanish journalists and showed us their training ground.
We crossed paths with Roberto Mancini. We talked to David Silva and Javi Garcia; we were also shown around the stadium and heard about the plans for new training ground Sporting City. It was all very impressive.
They wanted to send a message that they're a club with their own philosophy, which is all about the fans and the community. This is reflected in the way that they've designed their new sporting complex, Sportcity.
In Spain Manchester City is, and will be for a while, a rich club linked to big transfer stories. But at the same time it is healthy to hear there is another Man City. We even had chance to talk to Patrick Vieira and Brian Marwood. All in all it was a good experience ahead of City's Champions League clash with Madrid.
Guillem answers your questions...
Got a question for Guillem? Then send it toskysportsclub@bskyb.com or use the feedback form below, and then look out for his answer next week.
MODRIC MISTAKE?
Hi Guillem, great column as always. My question is regarding the transfer decisions by Real in the summer and if politics were behind them. It seems crazy to me that Real Madrid were so intent on spending £35m on Luka Modric when they had Santi Cazorla on their doorstep available for around half that figure. Not only the fee but he was a proven player in La Liga and he was immediately available rather than the saga it took to get Modric, which I'm sure disrupted the whole club. Is it correct to think it was politics as Jose Mourinho didn't want another Spanish player in the squad who naturally would have joined the camp of Iker Casillas and Sergio Ramos et al in opposition to the Portuguese speaking camp? Thanks Mark Simpson
GUILLEM SAYS: I do like the thinking behind this question, Mark. You seem to know a lot about the politics of Spanish football. Jose Mourinho thought Modric was a player who was going to be able to play in different positions but generally as a central midfielder. Cazorla is more of a forward. Anyway, yes, you can question both signings based on what they have done so far. But you have to give it a year or two before you can analyse it properly. In any case £35million seems to be a lot for Modric. Having said that he played well against Athletic Bilbao but there is still a big gap in terms of what you would demand of a Real Madrid player, such as mental strength and consistency over 90 minutes. Madrid fans will have to be patient with him.
THE RAUL THING
Hi Guillem, What are your feelings on the progress of Raul Garcia? I remember him a few years ago him being labelled the next Spanish midfield player to figure prominently in Europe and Internationally like Xavi and Iniesta. But he seems to have lost his way and been surpassed by similar aged players like Cesc and Javi Garcia. Would he be a good fit for Arsenal or Chelsea who obviously need a central midfielder that has all the tools offensively and defensively? Paul Radford
GUILLEM SAYS:Raul Garcia is actually having his best season I think. He did very well with Osasuna, when he moved behind the striker. He is still playing in the same position with Atletico Madrid but is rotating a bit with other players and I am not sure he was put in the Xavi and Iniesta level ever. But he was a promising midfielder who always wanted to play where he plays now and I think in that position he could actually be called up for the national team because he is a different type of offensive midfielder than what Spain has.
R'S BEST?
Hi Guillem, How do you think QPR should best use Esteban Granero and with the Hoops struggling so much this season, do you see him returning to Spain in January and if so, which club would he go to? Chris Anderson
GUILLEM SAYS:Granero is a central midfielder and in my eyes one of the best performers for Queens Park Rangers. It is not so much about what he can do but how he can benefit from a team that has more confidence and is structured in a way to keep and play the ball. Mark Hughes is trying to do that but so many names in the same team at the same time does not help.
SPANISH EXPORTS
Hi Guillem, After Michael Laudrup's move to Swansea, who do you think could be the next La Liga manager to move to England? What about Espanyol's Mauricio Pochettino? Peter Galloway
GUILLEM SAYS:There are people like Javier Aguirre or Mauricio Pochettino or Joaquin Caparros or Rafa Benitez, Albert Ferrer. All those want to play in the Premier League but it is difficult because you have to have a chairman who believes that a Spanish or La Liga manager can add something in the Premier League. Even though La Liga is immensely popular, as I am finding out by touring with my book in England, there is still a lot of caution about getting a manger. But there are clubs like Swansea, Wigan and, Brighton that will give them a chance so I hope in the near future we get more of those clubs because these coaches are not just Tiki-Taka. They are compete coaches that ccan adapt to any league or any club. But it is just a matter of someone giving them a chance..
LOVING LEVANTE
Hi Guillem, What is the secret to Levante's success? They finished sixth last season and are fourth at the moment after Sunday's win at Deportivo. How are they able to achieve more than some of the better established clubs? Aaron Baldwin
GUILLEM SAYS:Levante's success is a lot to do with the players in the last chance saloon. It has got to do with clever signings; it has got to do with choosing a style that benefits them and the players who are the key members of the squad, like Juanfran and Ballesteros. They are generally a well-managed club with the smallest budget in La Liga so well done to them.