Real Madrid show personality, but are Barcelona too concerned with Lionel Messi's records, asks Guillem Balague?
Guillem Balague blogs on revitalised Real, worries for Barca and the futures of Mata and Mourinho...
Last Updated: 14/11/12 8:20am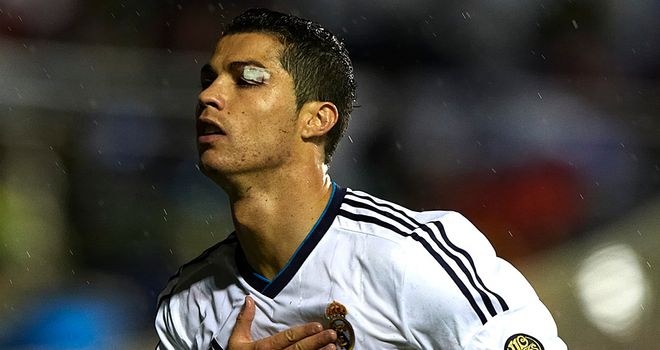 It got to the verge of violence in the tunnel and we'll be discussing that on Revista, but on the soaking wet pitch it had tension, controlled aggression - although some people may argue David Navarro on Cristiano Ronaldo wasn't that controlled - and it had a Real Madrid which needed to impose their personality.
They did so by using different layers which some people thought were disappearing from the club: commitment, belief, aggression.
That came to the fore because it needed to and they won 2-1. It was a great test of personality for Real Madrid and I love the fact Jose Mourinho said at the end 'winter exists', meaning it was rainy, it was difficult to play in and it affects teams with more technical ability, but you have to play in it.
It was also another display of Levante, a club based on the experience of the players, a very good transfer policy and clever managing of the smallest budget in La Liga. So well done both of them.
In the case of Barcelona we saw some more ups and downs. We saw a Barcelona side more similar to the Dream Team than Pep Guardiola's team, with Lionel Messi as the man who wants to break all the records, not just the collective ones but the individual ones as well.
However, it's worrying that Sergio Busquets said after the game they are trying to get Messi to beat Gerd Muller's record of 85 goals in a calendar year.
Messi's currently nine goals behind but thinking about that makes them forget what their priority should be. They should be looking for a more balanced team, which we're still not seeing at Barcelona, partly because they don't have their regular centre-backs and the team is defending very badly as a collective as well.
The team is still too stretched and sometimes they lose a little focus, which, although it's understandable when they're 3-0 up, didn't happen two years ago.
So, there's still room for improvement but statistically they are the best Barcelona in history in the league. That's interesting because the impression I've felt is this Barcelona isn't as good as the Barcelona two years ago - but better than last year, and different.
Tito Vilanova is managing to evolve the team; sometimes it is Xavi's Barcelona, sometimes it is Cesc's Barcelona.
Guillem answers your questions...
Got a question for Guillem? Then send it toskysportsclub@bskyb.com or use the feedback form below, and then look out for his answer next week.
SLIPPING BACK?
Hi Guillem, I was wondering what your take is on Osasuna's start to the season? After a few good years and some solid displays at the end of last season, it feels like we're going backwards! How much of a loss were Javad Nekounam and Raul Garcia?Sam Page
GUILLEM SAYS: They beat my Espanyol so that was a good result for them! Osasuna is a team financially punching above their weight, so they decided to reduce the wages of some of the players. The ones who didn't want to reduce their wages left, including Nekounam, although Raul Garcia was on loan from Atletico. Yes, they were massive names to leave but Osasuna is finding the place it should be in. They need a bit more stability on the pitch with but, in any case, fighting for relegation is perhaps where Osasuna has to be, given the investment and money they have at the moment.
CENTRAL ISSUE
Hi Guillem, I think Barca were a more complete side and played their best football when they had Samuel Eto'o down the middle and Leo Messi on the wing. Your thoughts? Oliver Aspey
GUILLEM SAYS:It is funny you should say that, Oliver. As I explain in my Pep Guardiola biography called Another Way of Winning, which is coming out on Thursday, in the Champions League final against Manchester United in 2009, Samuel Eto'o ended up playing on the right after 10 minutes and Messi went through the middle - and they ended up winning. From day one Guardiola had the belief Messi should go through the centre and, once Eto'o disappeared and after the signing of Zlatan Ibrahimovic was considered a mistake, a year-and-a-half after Guardiola arrived, Messi was through the middle. From then on there was no stopping Messi or Barcelona, so I have to disagree with you.
MATA ON THE MOVE?
Hi Guillem, Juan Mata has made a superb start to the season and has, in my opinion, outshone both Eden Hazard and Oscar. Is there any substance to the rumours linking him with Real Madrid?Dan Lynch
GUILLEM SAYS:There's no substance to those rumours. He used to be at Real but they let him go for free. It was a mistake, but they're not after him now.
MOURINHO'S MADRID STAY
Hola Guillem. Do you see Jose Mourinho continuing as Real Madrid boss if he fails to win the Champions League and La Liga this season? Damian Mundia
GUILLEM SAYS:We'll see how season goes and how they fall in the Champions League and La Liga. It depends on how they do and, if they don't win La Liga or the Champions League, how their season is affected by injuries. But the impression I've got is that Mourinho has a stronghold of authority at the club and he'll stay at the club longer than people expect.
RAYO'S WAY TO PLAY
Hi Guillem, Do you think Rayo Vallecano can finish in the top 10 this season? Also, how big an influence do you think Alejandro Dominguez can have on Rayo's campaign? I thought he would be a big player when he was at Valencia but it never really worked out for him. Daniel Smith
GUILLEM SAYS:There is an interesting 'conversation' Paco Jemez is having with Scotland, if you like. He said he'd be ashamed to play like Celtic did against Barcelona. Loyal to his word he's asking Rayo to play a high defensive line, pressure high up and keep the ball - and he's doing it with the second lowest budget in La Liga, which is very impressive. They haven't got the riches of Celtic but they are playing how, as Jemez says, football should be played. That's the way Celtic play most of the time, but not how they played against Barcelona. Why not? That's what Jemez is saying. He thinks they should stay loyal to that way of playing, be offensive and give their fans a spectacle. It is an interesting discussion - what is right way of playing, is there a right way of playing and should you always be loyal to that?