Guillem Balague says David Villa is getting back to his best for Barcelona
Guillem Balague blogs on David Villa's remarkable return and the power struggle in Madrid.
Last Updated: 06/11/12 4:24pm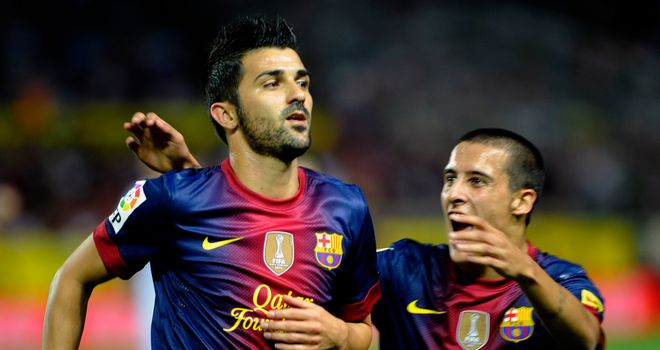 His recovery has taken longer than he would have liked but, as you can tell now, it was the perfect pace. He scored again at the weekend and is almost ready to play a full match.
Villa has been desperate for more than a month now to play 90 minutes. Obviously Tito Vilanova thought that he was not ready, and according to the doctors and surgeons, the Barca manager has judged it cleverly by giving him minutes. Now Barcelona can add a striker, even though he plays wide, to their weapons.
Just before he got injured it looked like he had lost a bit of pace and in fact it looked like Barcelona were going at a faster pace than him. He had missed the train a bit, it seemed. But now what you find is a very motivated player. A player who wants to recover his importance as a goal scorer for two reasons: to help Barcelona no doubt and to recover his prestige as a goal scorer.
There are a few possibilities for the future: a club approaches him and he decides he wants to become a centre forward somewhere else or he stays, or he waits for an extra year when Neymar arrives after the World Cup and may be sold. In any case he just wants to think of the present and to recover his goal scoring form, which he has: he has a better-goals-to-minutes ratio than Falcao, Cristiano Ronaldo and Lionel Messi!
Power struggle
At Real Madrid this week it has all been about politics. Jose Mourinho has done a very calculated attack on the academy, which is something that he does not control. He would like the academy to work more under his instructions, or at least the B team to. The B team is called Castilla and is run by Alberto Toril. He is friends with the president Florentino Perez, who is backing him in this. Toril was contracted to make the team more competitive and they achieved promotion last season.
But by being competitive there is less importance put on the development of players or in playing like the first team. Mourinho would like them to play more like the first team and for the past two weeks he has been attacking the B team and their coach. He even put a list of players together who have been promoted to the first team and failed to make an impression. He even ignored on purpose some of the bigger names in order to emphasis his point. So in Madrid it's all politics and we will discuss it more on Revista de La Liga.
Guillem answers your questions...
Got a question for Guillem? Then send it in here or use the feedback form below, and then look out for his answer next week.
BARCA'S CONVERSION?
Hi Guillem, perhaps Barcelona's conversion of two midfielders, Mascherano and Song, into centre backs gives you some insight as to how the next few years will go. It's not some mega coaching insight on those players but a need to have better passers at the back. It might be why they are "launching" marginally more balls from the back but it also makes sense to get the ball into the area more quickly so that the defending side has less time to bring their midfield and strikers into defensive positions. Their problem against the very top sides for the last few seasons (Inter, Chelsea, Real Madrid) has been breaking down those very well organised defensive walls and maybe Vilanova is thinking more along Arsenal lines and using more pace with the passing game in the transition phase. Glenn Stephens (Arsenal fan)
A LONG SHOT
Hey Guillem, I read the analysis you had on Barcelona playing more long balls this season compared to last. I was wondering if that was because of the injuries to the first choice back four, and hence, the lack of confidence in the makeshift options. Perhaps they just don't trust them enough to play it out from the back. Could that also partly explain them keeping the ball in the opposition half more simply because it keeps it as far away from their own area as much as possible? Thanks! Ijlal Ali (Barcelona fan)
MESSING UP?
Is Barcelona's Messiah in fact their Achilles heel? The evolution of Messi as a player from a raw talent to more of a team player is a subject you've spoken about; you've always suggested the change is positive. However Messi is the one player who doesn't press, he refuses to put unselfish runs in behind the defence to create space for others, he drops deep and only occupies the number nine role when it suits him to avoid defending. His personality may be selfless, but is he indeed selfish, and has he become too powerful to stop? Matthew, Wimbledon
NEXT IN LINE?
Hi Guillem, great insight into La Liga each week, it's always a great read. My question is that due to Xavi's less regular usage in the first team this season at Barcelona, if Cesc was to pick up an injury or a drop in form, do you think there would be an opportunity for Sergi Roberto or Gerard Deulofeu to step up from the B team?Ian Westhall
GUILLEM SAYS: I will answer these together. I think it is a mixture at Barcelona this season of players who want to vindicate themselves and were perhaps a bit annoyed that it was all about Pep Guardiola last season. They wanted to show that without Pep there was life so there was motivation to do that. Also, Tito Vilanova knew all the problems with the team. Primarily, that it was too predictable - a result of their possession-based game. So he wanted them to take a more direct approach. He also wanted to hand the leadership to Cesc, which has been done very cleverly.
Some of the problems at the back have come from the dramatic injury situation, with Adriano the latest one. This had led to them not closing down teams as well as they used to as the team is too stretched when Song or Mascherano play. They drop too deep for the rest of the team to press high. So it has been a very imbalanced team which Tito Vilanova has been trying to correct. I think that explains what has happened to Barcelona.