Guillem Balague says Chelsea's Juan Mata is starting to get the praise he deserves in Spain
Chelsea's Juan Mata is on the brink of getting the praise he deserves in Spain, says Guillem.
Last Updated: 29/10/12 2:48pm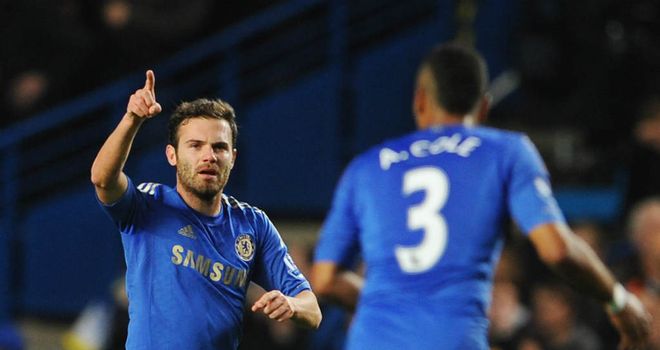 He has found, with the help of Opta, some interesting figures which back up the fact that there has been a shift in style, even a small one.
Read his research below and tell me what you think... either by filling out the feedback form below or tweeting @GuillemBalague.
BARCELONA STYLE COMPARSION
So how do Barcelona under Pep Guardiola in 2011-12 compare to the team playing under Vilanova this season?
Barcelona are still enjoying similar levels of possession (70 per cent) and making similar number of passes per game (around 700) as last season, but are making more of their passes further up the pitch - only 9.7 per cent of their passes are in their own defensive third this season, compared to 13 per cent last season, which perhaps suggests that Vilanova doesn't want them just passing the ball around at the back ad infinitum.
This 'less messing around at the back' point is backed up by the fact that Barcelona are launching more long balls (i.e. a 'hoof' with no particular intended target) than last season - 9.6 per game compared to 8.4 last season.
Also, Barcelona are getting into the opposition box more often under Vilanova than they did under Guardiola last season - they are having 33.6 touches in the opposition box per game this season, compared to 31 last season.
This is Collinson's conclusion: "In general, there's a slight move towards being more direct, but not a significant one. On the football style spectrum - with Stoke at one end and Barcelona at the other - it's a very small change in style, but I suppose since Barcelona are so 'pure' in their passing philosophy, any change towards being more direct - however small - is significant."
Do you agree? Let me know by filling out the feedback form below...
Guillem answers your questions...
Got a question for Guillem? Then send it in here or use the feedback form below, and then look out for his answer next week.
WHAT'S THE MATA?
Hello, hope you're well? I wanted to know what Spanish people think of Juan Mata. I get the feeling he is under-rated considering his brilliant talents and superb skills, also the new stylish Chelsea squad and the fact of Falcao joining Chelsea. That would surely make them extremely dangerous to face in any competition? Javi Garcia
GUILLEM SAYS: The thing that Mata has a little bit against him is that he played for Valencia, even though he came from Real Madrid, and that always gives you a little less exposure. Also, I've got the impression that if you play in the Premier League it's harder to have a big impact on the Spanish media and, perhaps even, to impress the Spanish coach than if you play for either Real Madrid or Barcelona. That's partly because they are two of the best teams in the world, which forces you to play at a very high standard if you want to be part of that team. But that said it was a big surprise that Mata was not part of the squad for the last couple of games and I'm sure that he will come back. He is becoming a better player with Chelsea and that cannot be ignored.
HANDY PERFORMER
Hi Guillem, I was wondering how you would rate David de Gea's start to his Manchester United career? Filling the gap left by Edwin van der Sar's departure was a massive challenge but he appears to have made a solid start to life at Old Trafford - do you agree? Also is there any truth in speculation from Spain that the former Atletico Madrid stopper is homesick? Thanks in advance. Shane Farrington
GUILLEM SAYS: I mentioned on my Twitter account @GuillemBalague last week that he isn't homesick and is working hard to keep his place as No 1. My only criticism of Sir Alex is perhaps that by changing goalkeepers you risk harming their confidence, so I wonder if he will stick with De Gea now that he has been playing and let him grow? De Gea wants to stay at Manchester United, 100 per cent.
ALL OVER FOR ALVES?
Hi Guillem, big fan, my question is in regards to Dani Alves. I'm an avid Barca fan; me and my dad catch every game. Dani Alves often comes off as the weak link for us. Aside from his speed and stamina he doesn't offer much. I was wondering if you think Barca would be better off shipping him off to PSG (who he hasn't ruled out a move to) and start training Montoya in as the full time right back now? He proved to be more than capable in the Clasico and Tito has tons of time for him. It's clear he's the next right back, but should he be put in now? Thanks in advance. Jamie O'Callaghan
GUILLEM SAYS: Last season he was surely one of the weakest links in the side. He didn't track back as much as he used to and he didn't add that much offensively. But previously to that in the first three years under Guardiola he was one of the top players and provided an outstanding link to Messi and whoever played wide. He helped to give Barcelona another offensive dimension; he helped to keep the pressure high as well. But certainly in the last year-and-a-half he has become one of the weak links and the board toyed with the idea of selling him but no big offer came in.
MEXICAN STAND-OFF
Hello Guillem, great show. I have heard that Hector Moreno who plays for Espanyol is being linked for a move to Barcelona. Can you tell a little bit more about that, the Mexican is a great defender and it would surely be an exciting addition to the Barcelona team. Jose Hayaux du tilly
GUILLEM SAYS: That link has been made by the Catalan press. Espanyol doesn't know anything about it. Certainly he is one of the top players at Espanyol; his composure on the ball is great, as is his anticipation, while he is strong even if he isn't one of the tallest centre backs. He is a player who can improve though and who, probably, belongs at the higher level of Barcelona. I've got no doubt about it.
PRIZED POSSESSION
Hello Guillem. I enjoy reading your columns and keep up the awesome work. My question to you is with the Ballon D'Or debate in full flow, why are only Messi and Ronaldo considered the only candidates worthy to win it? Why not Iniesta or Xavi? They have achieved more than both the stars at club or international level. It's high time the jury who decides such awards overlooks the superstar status and gives it to any of the Spanish magicians. Arun Nori
GUILLEM SAYS: I'd say that Messi is a 'freak of nature' - he has to be because it's not normal to see so much talent in one person! Meanwhile, we are going to see more and more 'Ronaldos' from now on. Yes he has incredible talent but it is based on his strength and technique. But both of them in their own way are well above anybody else in the world. I am friendly with both Xavi and Iniesta and I would love each of them to get the Ballon D'Or at some point. Iniesta has got a chance if the vote goes towards rewarding Spain for their success, but it would almost be like a team award rather than an individual award. I don't particularly like that scenario so if you are going to give it to an individual, it has to be Messi or Ronaldo I suppose.