End of an era
Guillem Balague says Sunday's Clasico proved that Barca have moved on from Pep Guardiola's style.
Last Updated: 10/10/12 12:57pm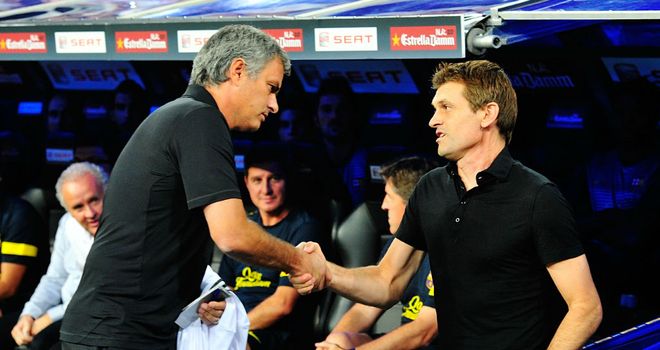 Sunday's Clasico was the funeral of Pep Guardiola's Barcelona.
If I've learnt anything from writing Pep's biography - which will be published next month - it is that he wanted a way of playing that was a lifestyle and not just a football style.
He felt Barcelona were a big club and, as a consequence, had to dominate the games, go out to win them and impose their personality.
This led to pressuring high, starting the build-up from the back and keeping the ball for as long as was required to find the gaps, something Xavi, Lionel Messi and Andres Iniesta eventually did.
Now, though, Barcelona are trained by a coach who is less interested in big ideas and more in sorting out the football problems posed by a long injury list and the pressure of a Real Madrid team that keeps getting better.
Tito Vilanova realises that to win games he has to transform Barcelona and make them more conventional, and we are now seeing a side that plays more long balls, doesn't keep the ball for as long, and defends more than other sides would do (less of the pressure in packs high up the pitch, more of the disciplined positioning and allowing teams to take a bit more of the initiative).
It is generally a more direct style, though this works against the strengths of Xavi and even Andres Iniesta, who need to pause and find themselves surrounded by team-mates to do harm.
This weekend's match had lots of chances but it wasn't a typical Clasico. Normally the match is an open game but this was very tactical; both teams had a very clear idea that they couldn't appear disorganised and tracked back in numbers and in order.
Madrid kept their lines very close together meaning Barcelona couldn't find any space, while Barca didn't allow many counter attacks, especially after Martin Montoya came on for Dani Alves following some disconcerting early moments.
Both Jose Mourinho and Vilanova agreed that it was a great game when they shook hands at the end and it was a match that Cristiano Ronaldo and Lionel Messi featured prominently in - for different reasons, I felt.
Real's pressure up high and counter-attacking football suits Ronaldo down to the ground and he now fits his side's style more than ever, while Messi wants more of the ball; he is dropping deep, appears everywhere and it looks like every time Barcelona attack they have to pass him the ball.
They are both extraordinary players, though, and make big impacts in big games; Ronaldo has scored in the last six Clasicos, which is a record, while Messi has scored 17 times in 22 Clasicos and with one more goal he will equal Alfredo Di Stefano.
Both teams were happy with the result and, again, for different reasons; Mourinho feels he has the side where he wanted, no matter how broken or not their team spirit is, while Vilanova will be pleased his side is still eight points ahead of Madrid.
But the Barcelona boss' main test will arrive with a couple of bad results. Will his proposals be accepted by everybody? Will that direct style, which in my eyes has put the nail in the coffin of Guardiola's team, reap enough benefits?
Guillem answers your questions...
Got a question for Guillem? Then send it in here or use the feedback form below, and then look out for his answer next week.
NEW ROLE FOR MESSI?
Great read as always, Guillem. I know Lionel Messi is still a player very much in his prime and his goalscoring is phenomenal. But as he gets older and loses that burst of speed do you see him playing deeper and performing a Xavi role? Harvey Sharpe
GUILLEM SAYS: Messi won't play the Xavi role but he will have the freedom that he has always had. When he was young coaches asked him to do things but they soon realised he did whatever he wanted. The coaches now trust him to do what he wants because of the experience he has got and what he brings to the team. They are happy for him to drop deep or play as striker and for the team to move around because he is just that good.
DEFENSIVE DILEMMAS
Should Barcelona have Alex Song and Javier Mascherano at the back, or should Tito Vilanova replace Song with a youth like Marc Bartra or Andreu Fontas? I know Song is doing fine at the back, but I'm still unsure about him as I have a feeling he doesn't have that original centre-back spark. via e-mail
GUILLEM SAYS:The idea is to use Gerard Pique and Carles Puyol at the back but they can't at the moment because of injuries. Barta hasn't been given a chance because Tito feels he is not ready and would find it difficult to cope with mistakes at this stage and he wants to bring him along gradually, so Song is the fourth centre-back after Mascherano at the moment. Now, though, Adriano gives them a new possibility because he is very fast over the first five-to-10 metres which is what you need as a centre-back. However, they do need a Puyol to provide aggressive pressure and have experience of keeping the line, something Adriano and Mascherano do not have.
A REPRIEVE FOR KAKA?
Hi Guillem, I love your articles, keep up the good work! I wanted to ask whether this is the dawn of a new age for Kaka given his performances recently, and if so, will it be enough to persuade him to stay at the club? He had a renaissance at the start of last year before Angel Di Maria hit form, only to pick up a niggle and never recover his place. Another thing is, while Michael Essien is a good squad player, do you see his future at Madrid? Especially since his displays have not been as energetic as Lass' in the last season. If not, who will Madrid target in the market? Could Nuri Sahin return? Jann
GUILLEM SAYS: It was quite clear that Real asked Kaka to leave this summer. He has gained a bit of confidence now and Real can take advantage of that but he will only appear every now and again. Mesut Ozil is still ahead of him and while Mourinho has been disappointed by Luka Modric, he is going to push him to work harder defensively. As for your other questions, I don't think Essien will stay unless he is dirt cheap in terms of wages, while I think Nuri Sahin will be sold; he is not a Mourinho-type player.
Keep your questions coming in and don't forget to follow Guillem on Twitter: @GuillemBalague