The big showdown
Guillem Balague looks ahead to Sunday night's Clasico and gives his verdict on Real and Barca.
Last Updated: 07/10/12 11:00am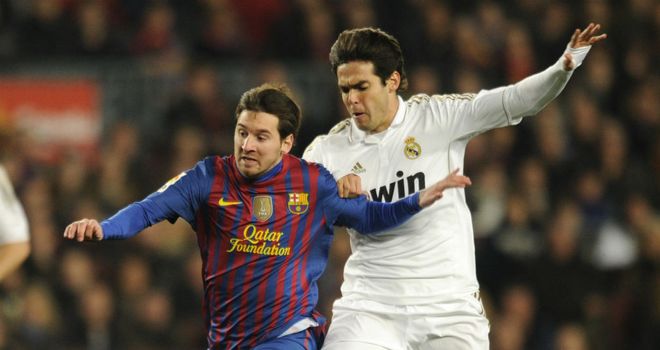 Real Madrid travel to top-of-the-table Barcelona on Sunday for the first El Clasico in the league this season, which you can see live on Sky Sports.
Jose Mourinho's side trail their arch rivals by eight points after six games and know a result at the Nou Camp is vital to the aspirations of retaining their La Liga title.
Here Sky Sports expert Guillem Balague assesses how the two teams are shaping up ahead of this weekend's mouth-watering encounter...
Barcelona have come from behind four times this season and against Sevilla they came back from 2-0 down for the first time since 1999 to win 3-2 with a last-minute goal from David Villa. That is proof of their character.
If anybody doubted whether they were hungry for more victories, if anybody thought that they were sitting on their laurels, well that proved they want more success and that missing out on the title to Real Madrid last season really hurt.
But it's also proof they aren't starting games well, they don't control the game as well as they did and they make defensive mistakes to allow teams to score first. Those are things that coach, Tito Vilanova, has to correct.
Lionel Messi set up goals for Alexis Sanchez and Cesc Fabregas in their 2-0 Champions League Group G victory over Benfica on Tuesday but the success was marred when Carles Puyol suffered a dislocated elbow - and with Gerard Pique out through injury as well; it's giving Vilanova's side problems at the back that affects the way the whole team plays.
The fact that Javier Mascherano and Alex Song are the centre backs means sometimes, especially because of the former Arsenal man, the team drops deep. Song sees this huge space around him and all these people running towards him and instead of giving the ball forward he just goes back.
Eventually what that means is that there is too much space between the lines and that prevents Barcelona from putting pressure on high up the pitch in the way that they used to - and that makes it easier to attack them. The defensive mistake doesn't start with Song, it starts with the way the team is stretched.
Distribute
They are also playing without Andres Iniesta at the moment, who is a better link from the midfield to attack than anybody else in the side, apart from Xavi.
Because Iniesta's been missing, the team have been playing with a form of the 4-2-2-2 formation, with two very wide players, Leo Messi and Cesc Fabregas as the false strikers and Sergio Busquets and Xavi as central midfielders.
But there seems to be a gap between those last two pairs and that means they tend to get close to each other when they attack but distribute it poorly when they have to defend.
What we're seeing is a transition between a Xavi's Barcelona and a Cesc's Barcelona. A Xavi Barcelona is more about keeping the ball, being patient, pass, pass, pass and finding the gaps.
With Cesc it is a much more direct Barcelona, one that still creates chances but breaks the team a little bit. Tito is letting that settle down at the moment, but when it settles then we will see the new Barcelona.
In the meantime we're seeing a Barcelona side which is up and down in their style and the way they control games. Unfortunately, that lack of control can go either way, of course. So far it has gone the good way but there are still question marks, despite the stats and points tally, about the way they play.
Playing Real Madrid, after losing to them in the Super Cup at the start of the season, will be another challenge for this Barcelona side in transition.
However, Tito's been very clever because he adjusts the team during the games so the tide changes, if need be. He knows what's happening and is shrewd enough to remedy things that are going wrong during the game.
On the up
Real Madrid's style remains the same and we're seeing a side on the up after a dissapointing start.
Luka Modric is adding a new dimension to the midfield and that means they have been able to rest Xabi Alonso with two big games, Ajax and Barcelona, taking place this week. If Modric can play the Alonso role - which he can - then you've got a Real Madrid side that can rotate personnel a bit more.
We saw both Modric and Mesut Ozil on the pitch at the weekend, which won't happen very often. Ozil is one of the players Mourinho wants improvement from.
The arrival of Modric will force the former Spurs star to play in the Ozil position, even though it's not ideal for him - but the guy who did really well was Sami Khedira.
He played as the only defensive midfielder because Modric got the ball early but then intervened in the offensive part of the pitch. Khedira had to cover and he did a fine job in starting attacks as well as breaking up attacks. He also forced the team forward so they pressured high and made them hard to beat.
On the eve of the Clasico, we're seeing the best Real Madrid of the season at just the right time. Jose Mourinho, after clashing on purpose with Sergio Ramos, by taking him out of the side and saying sometimes he's not at his best, now has a Sergio Ramos who really wants to fight and perform at his peak, which was a good psychological trick on the part of the coach.
In the meantime Karim Benzema seems to be hitting form at the right time and will probably start against Barcelona, as he normally does, and Angel Di Maria is just outstanding with his running on and off the ball. He's becoming exactly what Mourinho wants and it seems, if he continues at this level, that this could be his best season yet.
As the team progresses and gets better Cristiano Ronaldo gets better, too. He's no longer the player to do everything by himself. He's not as individualistic as he used to be.
Of course that means if the team suffers, he suffers, but with the team improving we're seeing an improvement from him as well.
Ask Guillem
Got a question for Guillem? Then send it in here or use the feedback form below, and then look out for his answer next week.
And don't forget to follow Guillem on Twitter: @GuillemBalague