All in the dark
Guillem Balague looks at the sabotage at Rayo Vallecano and answers YOUR questions.
Last Updated: 25/09/12 2:34pm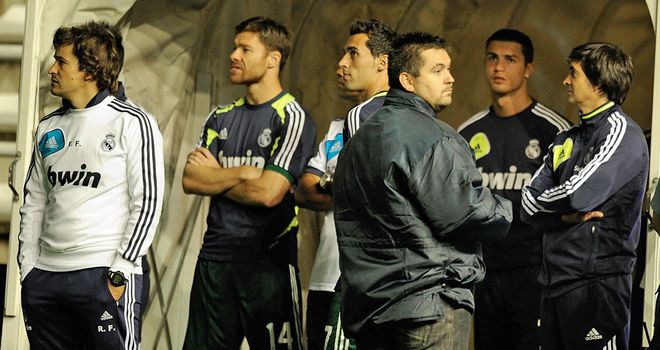 We have to start with the sabotage at Rayo Vallecano when the lights went out before the Real Madrid clash.
Cables were cut,12 electricity boxes were damaged and the episode remains a bit of a mystery. The ultras of Rayo are denying that they have anything to do with it while the club is insisting that it was "football terrorism".
It is very clear where they came into the stadium and it was amazing that no-one caught them. It is also amazing that they seemed to know the stadium so well. So it was a very well organised attack and as yet there are no suspects.
The line-ups on Monday were the same as Sunday so that meant that Sergio Ramos was back into the team after being dropped for the match against Manchester City. It was obviously a punishment from Jose Mourinho and when Ramos found out that he was in the line-up he gave a hug to Raphael Varane, who played so well against City.
The punishment from Mourinho was for Ramos stepping out of line after the Sevilla defeat, when the defender said that everyone was to blame for the loss when Mourinho clearly thought the players and their attitude were responsible.
In the match it was very much the Real Madrid of last season: direct football and still not playing perhaps 'good football'. However, they allow teams to have a go more often than not and they don't kill teams off as they did last season.
But in terms of the way they play, they have regained that aggression in defence and the quick transitions into attack.
Barcelona have five wins from five but it is a different to style to when Pep Guardiola was coach. It is much more direct with fewer pauses.
The style is disappearing but we will have to wait to see if it is a conscious decision to surprise teams or if actually it is a bit of an accident. Especially when Xavi is not involved, Barcelona seem to be a lesser team.
But they have had a good start so people should be happy. Though, I think in the long run there are going to be discussions between the players and coach to see if they can go back to basics and resemble the Barcelona of the first two Guardiola years.
It is a concern of key players that they are not using the style that made them so good in the past.
Got a question for Guillem? Then send it in here or use the feedback form below, and then look out for his answer next week.
NEW INIESTA?
Hi Guillem, how are you today? I love your knowledge of La Liga. How good is Malaga's Isco? Is it right that his buy-out is 21 million euros? Thanks Jason Hill
GUILLEM SAYS: He is in the style of an Iniesta or Carzola or Silva if you like. He will get to those heights, though perhaps not that of Iniesta. He will certainly be a player for the national team. He had an offer from Spurs on the last day of the transfer window that Malaga didn't accept because they had not sorted out the financial situation. They didn't want to sell him and he will become their best player this season, no doubt. Also Barcelona approached his family to see the situation but didn't make an offer.
NOT SO SPECIAL?
With respect, maybe the Special One is losing his shine if he cannot get it right with such a star-studded team. If you say a tactical change is needed to crack "compact, deep" defences then maybe it heralds an opening for THE master tactician Rafa Benitez, who has done miracles on a lesser budget. Do you know if RB is still No1 in the queue if JM moves on?Doug Paterson
GUILLEM SAYS: Real Madrid are not going to sack Jose Mourinho. He will go when he wants to go. I don't think he will leave before he wins the Champions League and even so he is winning so much with the biggest team in the world. It is an attractive proposition to stay at Real Madrid, no matter how many times he says he would like to return to the Premier League.
If Mourinho decides to leave then Rafa Benitez, who just launched his book Champions League Dreams, will be in the equation for sure. He has good links with the club and they will have to go for that kind of manager, a strong manager with proven success. And of course he will have the added attraction of having managed in the Premier League and in Europe.
All this recent stuff from Mourinho about the players' attitude not being right is a way of changing their attitude. Of course now that he has changed and they are the Madrid of last season, it will be seen and perceived as the personal success of Jose Mourinho. He was in a win-win situation that way.
BARTA FOR POSSESSION?
Hi Guillem, I have heard the boys on Revista talking about Marc Bartra and was wondering, with the injuries to Puyol and Pique, will Barca throw him into the first team, or do you think it is too soon?David Warwick
GUILLEM SAYS: He had the opportunity to play at the weekend but instead Tito went for Song and Mascherano which forced the team far too deep and the gap between the midfield and defence was too big to allow them to press high, which is one of the keys for Barcelona. So I am surprised that Bartra has not taken part yet. He is a very good centre back but neither Pep nor Tito have thought he is ready yet.
BRED TO SELL
Hi Guillem, people in the UK seem to have this misconception that Real Madrid do not bring any quality youth players through their youth team. The main problem I think Real Madrid have is that Real Madrid do not tend to give their youth players a chance in the first team, like Barcelona do. What are your thoughts on why Real Madrid do not develop their own youth players - because the talent is definitely there? Thanks, Ashley Williams
GUILLEM SAYS:They produce players and then they sell and that finances the youth team. Also, it finances the first team as well because it brings money in to buy other players for the first team.
When you have somebody like Jose Mourinho in charge he is not interested in the development of the youth team. His philosophy is completely different. So you need to have a first team manager who wants that for the club to go in that direction. But yes, I would say they are as good as Barcelona as a producer of players over the last 15 years.
BETTER THAN CESC?
Hola Guillem, love the weekly column and Revista. Santi Cazorla's form and quick adaptation has impressed everyone, so much so that in many ways he's already considered better than Cesc. How long will it be before Barca's players, coaches and tea lady start talking about his DNA?Gavin Monan
GUILLEM SAYS: Cesc was at Arsenal for seven or eight years and Carzola has just arrived. His first two games for Arsenal were both 0-0s. Isn't that a little too premature to be talking of Carzola being as good as Cesc? In any case, he is a fantastic player and perfectly suited for Arsenal. It is interesting that he could have signed for Chelsea and Liverpool in the past but he has ended up at a club where he can maximise his potential. I am very happy for him because he is a lovely guy as well.
STICK OR TWIST?
Hi Guillem. Jonathan Dos Santos refused to leave Barca when Tito Villanova told him and Afellay that they won't have a regular first team place. Now he is not included even in the bench for home games. Do you have any latest news as to what happened to him? And what is his future in Barcelona? Josiah Madziwanyika
GUILLEM SAYS: Afellay has gone to Schalke and Jonathan Dos Santos had opportunities to go to at least three Premier League teams and also a few in La Liga but he decided to stay, although he was told that his best option was to leave. He is one of those players who prefers to wait for his chance than go away. Players who go on loan from Barcelona normally don't return. But there are many players who are in front of him in the midfield. Perhaps in January he will have to move on loan.
Keep your questions coming in and don't forget to follow Guillem on Twitter: @GuillemBalague