Point of attack
Guillem Balague looks at how Real Madrid need to change their attack and answers YOUR questions.
Last Updated: 18/09/12 1:50pm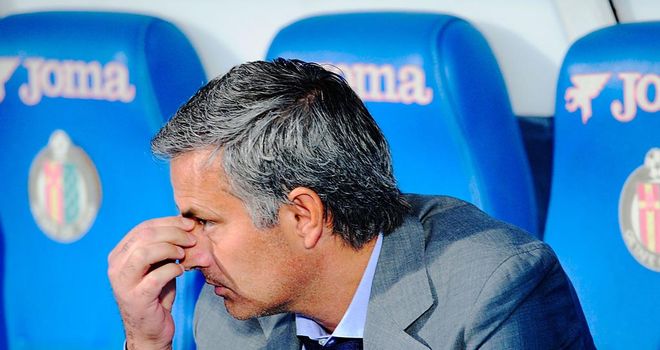 We have to start this week with the defeat of Real Madrid.
Jose Mourinho has managed to distract everyone's attention and has put more pressure on his players because he feels that is what they need. It is all premeditated and calculated and we shall see what their response will be. While a lot of attention is on Real Madrid and that loss, you also have to look at Sevilla and the hard work that they put into that game. Yes, Real Madrid had chances but so did Sevilla - and they took them - and it looks like Real's rivals create more chances than Real who are not creating so many good ones.
Sevilla came good - especially in their set pieces which they have worked on for a long time. They also put in a lot of work on the right hand attack with Cicinho and stopped the channel between di Maria and Ronaldo. All in all it was a fantastic game from Sevilla, they were outstanding.
There is certainly something wrong with Real Madrid and I think it is a lack of motivation. Last season was probably the hardest season ever for most of the players and now they are just not getting up for these games like they used to. It is partly the coach's fault but the players also need to put in a bit work and concentration.
They really need to work hard against teams that defend compact and deep - they need to look at more options because they seem to run into the same spaces and they don't seem to be able to open up those sorts of defence - again that is a coaching problem.
Worth the risk
Barcelona had a good win against Getafe. It was a difficult game for them as they always tend to drop points after international weeks because a few players are tired and they have a different starting line-up. Tito Vilanova went for what he felt had to be done - the best players played and those who were tired were on the bench. Messi was on the bench and came off and did well - remember when that happened last season when he got really upset and didn't talk to Pep Guardiola for four days? Tito did take some risks but he did a good job and it paid off.
Got a question for Guillem? Then send it in here or use the feedback form below, and then look out for his answer next week.
KAKA CONCERNS
Hi Guillem, could you please tell me about the fate of my Brazilian play-maker Ricardo Kaka of Real Madrid? I was wondering about his future footballing career, now that they have Modic and Ozil.
Emmanuel Johnson
GUILLEM SAYS: A year before Kaka arrived at Real Madrid he was not the same player we had seen previously at Milan. There were injury problems that got accentuated at Real partly because of his mental approach to the game. He saw he was he was not himself and every niggle he got became a longer injury that it should have been. He then went and played for Brazil when Mourninho arrived and got injured again and Mourinho thought he ahd betrayed him and lost confidence in him. Kaka has to move on; Real Madrid were selling him but no one was paying the money they were demanding for him. Kaka has got to reduce his wages if he wants to go anywhere else, but he would prefer to stay even though other players are preferred to him. The rumour is that Mourinho would have preferred him to go to Brazil or the MLS but Kaka wanted to go to Milan on loan but Real Madrid did not allow it.
NEXT BIG THING
I was just wondering who do you believe are the next biggest stars that we should all look for?
Tom Brown
GUILLEM SAYS: There are a lot of players coming through but her in Spain I will give you a few. Gerard Deulofeu at Barcelona and Jesé Rodríguez at Real Madrid - who looks like a smaller version of Ronald - are two players who will come to the next level for sure. Keep an eye on them.
HACKING AWAY
Hi Guillem, good that Spanish footy is back on! Barcelona seem different this year defensively. Firstly, they appear to be less aggressive in trying to win back possession compared to the Guardiola years. Is this a deliberate tactical shift by Villanova or are Barca being a bit sluggish? Secondly, they seem to be hacking the ball away a lot compared to recent seasons when they played their way out from the back, even when in difficult situations, what do you think?
Kaneo Hoolio
GUILLEM SAYS: I disagree with that. There were moments when they may have looked like that but they are looking like the Barcelona of old. The biggest change is that they are playing with two very wide players up front. They are also looking for more discipline because the main problem is that they attacked badly which meant as a consequence they defended badly. Because of the way the attack was organised, when they lost the ball they were battling to get it back. They are recovering that now.
HERRERA'S FUTURE
Hi Guillem I rate Ander Herrera so highly and would love Manchester United to sign him as I believe his qualities and playing style, work rate, team ethic would suit United beautifully. Could you tell me if you know of any interest from them?
Jason Hill
GUILLEM SAYS: He has a deal for the next year and a half and then he has a 40 million deal for the next five years after that. He had offers from Liverpool and Spurs but he went to the club and said he had those offers but did not want o go anywhere. He has been operated on for that groin injury that he needed to get sorted out. At the moment he is happy but yes he can go to another level if he wanted to. We shall see.
Keep your questions coming in and don't forget to follow Guillem on Twitter: @GuillemBalague