Killer instinct
Guillem Balague reveals why Jose Mourinho is concerned and has the latest on Cristiano Ronaldo.
Last Updated: 03/09/12 4:44pm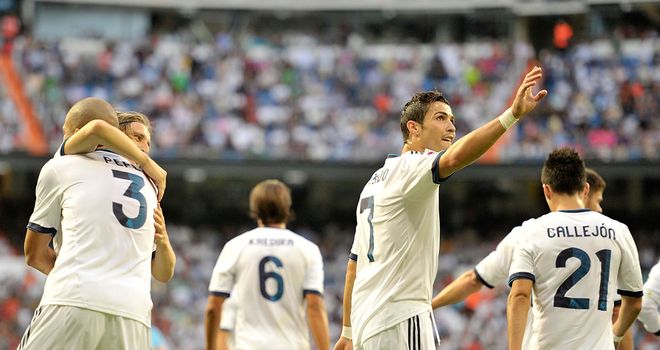 Jose Mourinho is a little bit worried that Real Madrid don't seem to have the same intensity as last season; they score and then they fall asleep, and he doesn't like that.
He remembers last season if they were 3-0 up at half-time they would go for a fourth, but that ambition is missing. When they have to raise their level they do - as against Barcelona in the Super Cup - but he doesn't want those ups and downs in mental attitudes and he'd like them to be a little bit more competitive. Having said that, against Grenada they basically did enough.
Barcelona are suffering a little bit from the same problem. There are problems in the side and although the style is there, Xavi is having a good season, Pedro has started spectacularly and Andres Iniesta is in good form there are still little things missing. The high line of pressure disappears sometimes, they concede chances and in set-piece situations they also struggle.
But there are positives to take from the game at the weekend. One of them is Alex Song. While he understands the movements without the ball, with the ball he was simple, saw the line of pass well and was very strong when he had to recover the ball and bravely defended high up when he needed to. All in all it was a good Camp Nou debut from him.
Cesc Fabregas is the other talking point. It's 20 games now since he last scored and that's very rare for him. He had two clear chances against Valencia, but he still gets into the box often, his danger is there and I think Tito Vilanova recognises that and needs to protect him while he's not playing his best football.
What's his best position? That will be a talking point throughout the season. But there is no truth in the rumours about him going back to Arsenal.
Ronaldo's frustrations
Of course the big talking point from the weekend is Cristiano Ronaldo and his refusal to celebrate his goals for Real Madrid. Here's the latest on that story:
Guillem answers your questions...
Got a question for Guillem? Then send it in here or use the feedback form below, and then look out for his answer next week.
SECOND CHANCE FOR SAHIN?
Hi Guillem, Why were Real Madrid so eager to get rid of Nuri Sahin? Prior to joining Real, he was voted German football player of the year when at Dortmund. Couldn't Madrid have kept him and given him another season to prove himself? Surely he's a better player than Sami Khedira? Nick Isokariari (West Ham fan)
GUILLEM SAYS: Two things worried Mourniho about Sahin: his lack of midfield dynamism - he wasn't strong in the 50-50s - and he lacked the bigger personality that Mourinho likes. But there's no buyout clause in the loan deal so after a season in the Premier League he can basically come back and see if he's got those things you need to play for Real Madrid.
MAICON TO MADRID?
Were Real Madrid actually chasing Maicon at any point this season? If so, why did the moved collapse? Talaal Burny (Liverpool fan)
GUILLEM SAYS: Real Madrid looked for a right back, including Kyle Walker, but they were either too expensive or not good enough. Maicon was on the list but there was no offer.
BENZEMA V BALOTELLI
Hi Guillem, Who do you think is the better all-round striker: Karim Benzema or Mario Balotelli? What are each player's strengths? Nasser Bazira (Arsenal fan)
GUILLEM SAYS: Benzema is a more rounded striker; he's older, he's been at Lyon and he's been at Madrid under Mourinho. He's gone from being a player who only thought of the game when he had the ball to being a more rounded player. He moves around, he can assist and at Real Madrid he's become a top number nine, he's just started the season poorly. Balotelli, on the other hand, has got loads to learn. It was very encouraging to see him live for Italy because he's started running a little more, but he gets tired very quickly. He's got to learn a lot and Benzema, by a long way, is the better striker.
ALEXIS NOT ON FIRE
Hola Guillem, Do you think Alexis Sanchez fits the Barcelona style of play? It seems to me that anytime the ball goes to him he does not feel confident enough to make use of the ball and instead prefers to pass it to Dani Alves or Leo Messi. Evans James (Barcelona fan)
GUILLEM SAYS:That is a good point about Alexis, because it took the whole season for him to feel confident about having the ball a little longer. He just doesn't have the same quality as all the players at Barcelona to do that. He played his best football as a number nine in front of Messi but when he plays wide, although he's fast, he doesn't have the technical ability to dribble past players, so he struggles a bit. At the moment the expectations haven't been matched, so he needs to keep on improving. But he is useful to Barcelona because he is fast and he runs in behind players, which not many other players do at Barcelona.
GRANERO GREAT?
Hi Guillem, just a few questions about some of the late transfers. What sort of role do you see Michael Essien playing for Real Madrid now that he has joined on loan from Chelsea? Also, what can QPR fans expect from our new signing Esteban Granero? What is his best position? Thanks, Kyle Plates (QPR fan)
GUILLEM SAYS:The Essien deal was almost like-for-like with Lassana Diarra. Lass wasn't going to play much, although he started last season, as Khedira is preferred. We'll see how Essien is physically; he only played 19 games last season, but it wasn't all because of physical reasons. If you can play in the Premier League as a defensive central midfielder you can play there in La Liga, no problem. It's a shame about his physical problems because as my friend Gabriele Marcotti says, Essien can play in every position on the pitch.
It's great Granero has made the jump. Obviously after talking to Mourinho he knew he wasn't going to play much. He's an ambitious guy - ambitious to enjoy his football - and is an intelligent guy on and off the pitch. His best position is centre midfield, as the offensive midfielder. He's not a box-to-box player, he's a passer of the ball. He can score from outside the box and I'm looking forward to see what he can do with QPR. It may take him a while to adapt to the pace of the Premier League but I think he is a quality player.
Keep your questions coming in and don't forget to follow Guillem on Twitter: @GuillemBalague