Trouble at the top
Guillem Balague says La Liga heavyweights Real Madrid and Barcelona have big questions to solve.
Last Updated: 27/08/12 3:31pm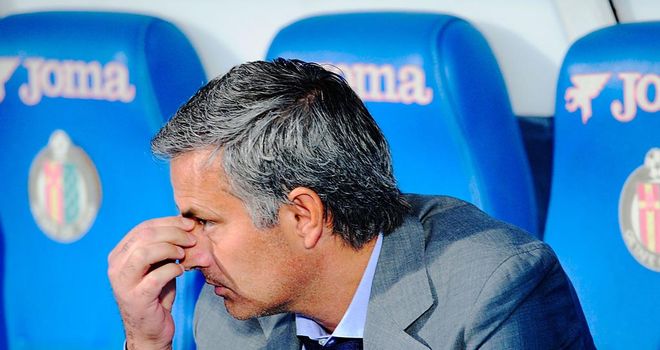 First of all it was very pleasing to see Jose Mourinho coming out and saying that he had heard that the second goal of Getafe - in their 2-1 win over Real Madrid - may have been preceded by a hand ball but that it did not matter.
The Real Madrid coach went back to the dressing room and just listened to the players before giving his feedback on the game in the press conference. It was a big telling off. He said the performance was not what Real Madrid should be about; they played really badly and deserved to lose.
It was very disappointing to see that Real Madrid did not play from the back and it was very casual from the beginning. They thought they were going to win easily.
They made defensive mistakes and the thing that will really get Mourinho mad was that they conceded a second goal in two games through a set-piece. They work really hard to avoid those and it gave Getafe hope when Madrid should have killed the game.
So there is a lot for them to improve upon, but also a lot for Barcelona to improve on.
They didn't play their usual football and they really missed Xavi. When he came on Barcelona scored the two winning goals and before that they had Iniesta and Messi were doing the job of four players. Messi was forced to drop deep. Cesc Fabregas needs to improve and Alexis needs to give more.
Cesc played in the Xavi position which he has never done before. I just wonder if it will be a repeat of last season when Cesc was given freedom and excelled in the early stages of the season but then struggled when he was given a more disciplined position in midfield.
In times of crisis clubs often give youngsters a chance and there are several players gaining those chances at the moment. Leo produced an assist and scored the winning goal as Vallecano beat Real Betis, while Fabrice was the main star in the first game of the season for Malaga.
Guillem answers your questions...
Got a question for Guillem? Then send it in here or use the feedback form below, and then look out for his answer next week.
LAUDRUP FOR BARCA?
Hi Guillem, welcome back after the break, great to see Revista again! My question is this: after watching Swansea's 5-0 thrashing of QPR, was Michael Laudrup ever considered for the job of Barca head coach when Pep announced he would leave, or will Laudrup never be considered under Sandro Rossell because he is connected with the Johan Cruyff era at Camp Nou? As one of my favorite players and coaches, I would love to see him in charge at Barca one day. His 3-4-3 style reminds me of the dream team. Barry McFeely (Liverpool fan)
GUILLEM SAYS: Michael Laudrup was considered for the job before Pep Guardiola came into replace Frank Rijkaard. He was on a list but didn't make the shortlist of three. He has never coached a big club but if he keeps succeeding with Swansea for a couple of years, why not? The thing is he may be linked with Johan Cruyff in the eyes of many but he is an independent man. If he wanted to - and he may not be given the freedom he would like at Barcelona - he could be considered for the Barcelona job.
ALBIOL V VARANE
Hi Guillem, I think Real Madrid need to buy someone who can play right-back and centre-back. Do you agree? Also, how would you compare Raphael Varane and Raul Albiol? Bazira Nasser (Arsenal fan)
GUILLEM SAYS:
Real Madrid tried to get a right-back but when they looked around they could not see anybody for the price that they wanted to spend that was good enough. Albiol made a mistake in Getafe's second goal. Varane has got to learn how to make his body count but he is faster than Albiol and has better quality with the ball. He will be a better centre-back but not yet. Albiol suffers from a lack of confidence from the coach and the fact that he is not as fast as Pepe or Varane.
TAXING TRANSFERS
Where will Bilbao's Javi Martinez and Fernando Llorente move to before the transfer window closes? Could Llorente join Arsenal and do you think he would perform well at the Emirates if he did move there?Phil Johnson (Arsenal fan)
GUILLEM SAYS: Bayern want Javi Martinez and can pay the Euros 40million of the buy-out clause but that comes attached with 43% taxes. To get around that tax, they have to negotiate a fee with Atletico Bilbao but they don't want to negotiate and Bayern are not willing to pay that much. That is hanging in the balance. Watch Revista for the latest.
After thinking about Spurs and Juventus as possible destinations Llorente doesn't see Spurs putting in as much money for wages and the transfer deal. So even though he would like to go to Spurs, and they are interested in him, Juventus now have the advantage. His buy-out clause is Euro 36million and again there are the taxes to pay.
CAST-OFF KAKA
Great column, Guillem. Look forward to some interesting reads over the course of next season. My question for you is this: is there any truth in the rumours linking Kaka with a move to Old Trafford. As a football fan, I would love to see one of the game's greatest talents resurrect his career after a somewhat disappointing time with Real. Dimitri Ivaniskov (Manchester Utd fan)
GUILLEM SAYS: Kaka going to Manchester United was never a possibility. It was just a false rumour and it looks Mourinho will be happy if he goes to Brazil or the MLS and he will be less happy if he goes to a bigger club like Milan. They are the only big club making a real effort for him but they don't want to pay Real's asking price.
Keep your questions coming in and don't forget to follow Guillem on Twitter: @GuillemBalague