Back to work
Guillem Balague says Alex Song and Luka Modric may not play much as they adapt to life in La Liga.
Last Updated: 23/08/12 8:12am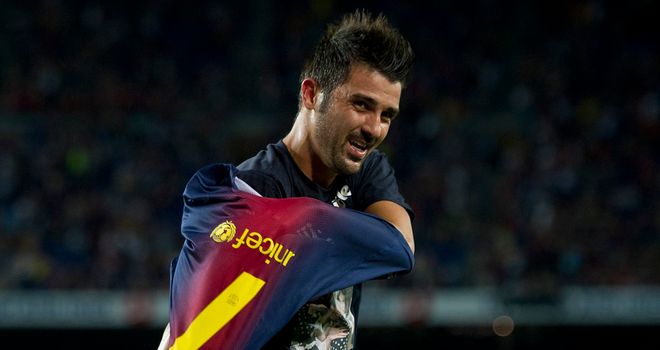 Just one game against Valencia showed where Real Madrid have to improve.
Xabi Alonso was fantastic in the second half and Mesut Ozil was as well and when Karim Benzema came on the whole game changed for the good. But in the first half Real were a little bit too slow, a little bit too predictable and too direct.
It's quite clear that's what Jose Mourinho likes but sometimes you have to mix it up a little with a bit more possession, especially against sides like Valencia, who decide to drop so deep.
Real needed a bit more patience, but Luka Modric can help with that. However, I don't think he will help straight away because he will have a hard task of actually getting a place in the line-up. He will replace Ozil and Alonso on certain occasions, but that is still a deal that hasn't gone through and it will take a while. We'll explain the whole story on Revista.
Barcelona on the other hand looked really sharp. This has been a good pre-season for Lionel Messi, including rest, good physical preparation and less travelling. And he's certainly fit.
The good news as well is they played a classic 4-3-3 with two wingers including Tello - which confirms he's staying at Barcelona - and Pedro, who has recovered the level he was at the season before last. They now have solutions when teams play very deep, like Real Sociedad did.
There was also the return of David Villa, the goalscorer they need to help Messi. It was a surprise Villa was in the team because the club had been leaking news that he was till three to four weeks away from playing 90 minutes. That may still be the case but it looks like after delaying his return he's now back ahead of schedule.
I exchanged a couple of messages with him and he said he had a really bad time and needed the backing of the people close to him because being away from the group was mentally tough, but he reckons it will take a while until he can play at the level he was at, after eight months away from football.
Gerard Pique was on the bench because Carles Puyol and Javier Mascherano are preferred at the moment. Pique has to keep working hard to be part of the team but it's interesting it's him and not Mascherano on the bench.
Meanwhile, Andres Iniesta is going to have more of a midfield role this season, not so far forward, and Cesc Fabregas will have a freer role. That's how he started under Pep Guardiola, but Pep then started giving him instructions to be more disciplined.
Elsewhere, Fabrice of Malaga became the youngest goalscorer in the history of La Liga and at Bilbao their situation continues to be dramatic, with Fernando Llorente and Javi Martinez left out of the squad. We'll be discussing their futures on Revista...
Guillem answers your questions...
Got a question for Guillem? Then send it in here or use the feedback form below, and then look out for his answer next week.
ON SONG?
Where will Barcelona use Alex Song? As a centre back? Kieran Burgess (Rangers fan)
GUILLEM SAYS: Alex Song is to replace Sergio Busquets in certain games, but he may also play as a centre back. He adds height to the team, too. But the problem players have coming to Barcelona is understanding how the team play. We will see how he fits in but it may take him the whole season to adapt. Even Cesc struggled with it and he'd been there previously. In the meantime he'll fill gaps. I don't think he'll be a regular this season.
THE MODRIC EFFECT
Hi Guillem! I am a BIG fan of yours! I just love the way you talk, the enthusiasm, and the humour packed within! It just keeps me stuck in, especially in Revista de La Liga... brilliant! However, I just wanted to ask you will Luka Modric be an effective addition to Madrid? And if so, will it improve and enhance the winning formula of Mourinho? Could he change the possession stats in games versus Barcelona, because nowadays in training sessions Mourinho emphasises on possession as well as other attributes of the squad. Fraz Bari (Real Madrid fan)
GUILLEM SAYS: Thank you Fraz! Modric will replace Xabi Alonso and Ozil but he's had such a weird pre-season. It's been a tense situation, which he hasn't enjoyed at all, and it will take a while for him to adapt, but he really wants to go to Real and play for Mourinho, even if that means losing money. Mourinho understands that at certain times they need to keep the ball more but we saw against Valencia this team is about quick transitions.
MAGIC MONTERO
What can you tell us about Jefferson Montero of Real Betis? I have a feeling he could be a big player this season. Is he the sort of player the big teams in England and Spain should be looking at trying to sign before the window closes? Arthur Palling (Man Utd fan)
GUILLEM SAYS: If Real Betis sell Benat Etxebarria - who in the last three months has jumped in quality and could go to Bilbao for £10m - they may not need to sell anybody else. Last season we saw the Montero we wanted to see; he was direct, fast and a good dribbler. He's certainly a player you should go and get if you're a Premier League team.
TOO MUCH SUCCESS?
Guillem. Do you think the Spanish sides could struggle to dominate in the European competitions this summer following the success of the national team? I'm not just talking about the physical demands that have been placed on the Real Madrid and Barcelona players, but also the psychological ones. How can you motivate these guys to go that extra 0.5% to achieve the ultimate goals when they've had nothing but success for more than half a decade? Can you see them living up to the heights of recent seasons?Mark (Peterborough fan)
GUILLEM SAYS: You're giving too much importance to the psychological side of things. It's not only psychology that takes you to the top. You need ability too. La Liga is struggling with bringing in the quality of players that are leaving. But instead of signing them they are producing them. We are going to see young managers like Philippe Montanier at Real Sociedad, Miroslav Dukic at Valladolid, Mauricio Pellegrino at Valencia, and also new players like Fabrice, Alfonso at Espanyol and Oliver at Atletico Madrid to fill the places of those leaving. So I'm excited by a new season that's going to have new faces and new names, before they become big.
Keep your questions coming in and don't forget to follow Guillem on Twitter: class='instorylink'>@GuillemBalague