La Liga's back!
Guillem previews the new La Liga season and says Barca will be tested while Malaga are in free fall...
Last Updated: 17/08/12 4:52pm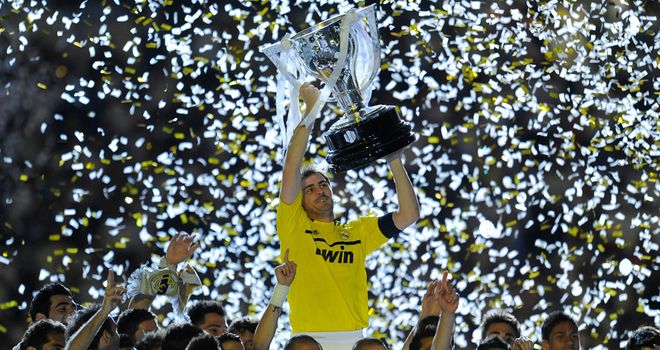 Well, it's that time again already; so what does the new La Liga campaign on Sky Sports promise us this time around?
Let's start with some of the new faces.
Last season was the first time this century that all three promoted teams have managed to avoid the drop - and it won't be easy for the new boys this time around either.
Celta Vigo certainly have a chance, with a solid defence that conceded less than a goal per game during the course of last season to win promotion. And the addition of Javi Varas in goal will give them a solid foundation. However, they have lost Fabián Orellana, whose goals and assists would have been vital at the other end of the pitch and there is a question mark over whether Iago Aspas can replicate his fantastic strike rate and 23 goals from last season at a higher level. I'll admit to having a soft spot for Celta because of their coach, Paco Herrera, the former Liverpool assistant and Espanyol sporting director; he's one of my best friends and one of the game's good guys - so I'm hoping Celta have what it takes to survive in the first division.
The departure of Andrés Guardado has left a big hole in the newly promoted Deportivo squad. He was their leader in assists, their leader in shots and their highest goal scorer. Valerón will be needed, but you have to ask how often the team can call upon the veteran throughout a very long campaign and they will need to use him wisely to keep him fresh.
In contrast, Valladolid have managed to keep most of their promoted group intact - with Sisi being the one exception, perhaps. Miroslav Dukic has shaped a solid team without stars and, like Celta, boasted an excellent defensive record last season. However, while they may be solid, they don't have the individuals who can make a difference and it could be that they are missing that something extra that will keep them afloat. On the other hand, with other teams in disarray, their solidity and stability may be enough to grind out the points.
And what of those clubs that have become familiar to us over the years?
This summer has been another one of rebuilding and reorganising at Valencia, with Unai Emery being replaced by Mauricio Pellegrino in the dugout. And while you have to wonder what it will take to satisfy everyone at the Mestalla after back-to-back third place finishes, I have been impressed with their signings this summer - and in terms of personnel, the likes of Fernando Gago, Pereira and Guardado are an improvement.
Of course, one team that in the last couple of seasons had been hoping to challenge at the top was Malaga, but that dream is as good as over. There were always doubts about the long term commitment of the owners and investors, and the worst fears have been realised as they have decided to rule out any further investment. Worse still, they are not even prepared to put the money into the club required to pay the players salaries. As they prepare for Champions League football, they are having to sell, rather than buy, just to cover costs. And even if they wanted to sign players, the money they owe to other clubs such as Villarreal, Osasuna and River Plate prevents them from doing so. It's a mess, but, sadly, one that reflects the problems facing the game in Spain at large and the deepening financial crisis. With clubs owing billions to the taxman and many clubs on the brink, the state are no longer willing to help out or let clubs get away with it anymore and the deepening malaise makes the league unattractive for investment outside the biggest clubs.
However, one paradoxical advantage is that the lack of funds usually leads to clubs investing and taking a chance on youth - both in terms of players and coaches - so we are seeing some a new generation of coaches in La Liga bringing in some fresh idea and new approaches to the game, which can only be a good thing as the sport evolves. They new generation of coaches, like Pellegrino or Anquela at Granada will provide new challenges and solutions to the hegemony of the established order - and I suspect that Barcelona, for one, might find things a little harder this season as teams started to find them out a little last year. We'll no doubt be talking about Barcelona a great deal in the coming weeks and months; but for now it is clear that Tito Vilanova will be continuing very much along the same lines as Pep, but perhaps a little less adventurous and experimental as he has been favouring the sides traditional 4-3-3 in pre-season. Guardiola's successor faces a thankless task in many ways, especially in his early days, because every win will be a victory for Guardiola; every defeat, a failure of Vilanova.
The new Barcelona coach does prefer to see Iniesta playing in midfield , where the potential arrival of Song will provide cover for Busquets. We will also see Thiago more involved this season as age and injuries finally start to catch up with Xavi who will feature less than before and be used carefully. The return of David Villa from injury is, perhaps, the closest Barcelona have to a big impact signing (although Jordi Alba has to count as one of the captures of the summer) and his goals will be more than welcome, especially if it helps lift some of the burden from Messi. Speaking of the little Argentine; he has had the first full pre-season and full rest period in his career - so he should be able to build upon last season's performances and remain as influential throughout the campaign if he can remain injury free. Meanwhile, Dani Alves remains at the club after a summer in which Barcelona were hoping for, and inviting, big bids from other clubs for the full back. Now that none have materialised, they say they are happy to keep him and deny having ever wanted to cash in on him!
Down in
Madrid
, at the Bernabeu, there is little change under Mourinho this season. The champions will be making a few minor tweaks no doubt, but the winning formula will remain largely unchanged. The one big name addition is likely to be that of Luka Modric, but I suspect that he will have a fight on his hands to claim a regular starting place. Khedira and Xabi Alonso will remain as first choice in the middle, with Cristiano Ronaldo and Di Maria (who has had an excellent pre-season, despite a few muscle problems) on the flanks. Modric will provide Mourinho with some interesting options however and, along with Ozil, will allow Madrid to experiment and mix things up in midfield, while having cover across the pitch. The future of Higuain has been resolved after the striker was told by Mourinho that he figured in his plans and that he wanted him to stay. The player was uncertain of his role at the club and offers from PSG were listened to by player and club, but after assessing his options in Madrid and Paris, the striker has decided to stay at the Bernabeu.
Top transfers
Speaking of transfers; there have been some good deals done this summer and amongst the few that stand out for me include the move of Antonio Floro Flores, from Udinese to Granada. Granada scored just 35 goals last season and survived by the skin of their teeth, so they desperately needed to add goals to the side if they wanted to survive again. Using their links to Udinese they were able to capture Antonio Floro Flores on loan for the season. On loan at Genoa last year, the forward scored 10 goals in just 18 games for the struggling side - so Granada will be hoping that he can do something similar for them.
Javi Varas, from Sevilla to Celta Vigo also stands out.Goalkeeper Javi Varas was one of Sevilla's best players last season but the signing of Diego Lopez meant that Varas became available - and Celta moved in to sign a player on a season long loan who will be able to salvage some valuable points for them and make them harder to beat as they battle to retain their place in the top flight.
Jordi Alba, who has moved from Valencia to Barcelona, was one of the players of the tournament at Euro 2012 before concluding the deal that takes him back to the club where he started his career as a youngster. The full back will give another attacking dimension to Tito Vilanova's team and I suspect that he will make the £11m that Barcelona paid for him look like a bargain.
Joao Pereira has left Sporting Lisbon for Valencia. Valencia's defence was quite solid last year but they have needed a replacement for Miguel on the right hand side. I was impressed with 28-year-old Pereira at Euro 2012 in the summer and his acquisition at the Mestalla will add to the sides attacking threat down the right flank.
Javi Marquez is a great signing for Mallorca and a sign of how far they have progressed recently, to have got hold of a player who was being linked with Atletico Madrid and Valencia. I'm afraid to say that Mallorca's gain is Espanyol's loss.
Ones to watch
And there's plenty to look forward to as well in terms of those players who we saw burst on to the scene last year during the La Liga coverage on Sky Sports, and amongst the names I'm going to be keeping an eye on are the likes of Adrian Lopez, 24, at Atletico Madrid, who showed with his 18 goals last season that his technique and finishing abilities are up there with the very best. Meanwhile, fullback Sofiane Feghouli at Valencia really stood out last season, his first full campaign, with a fantastic number of assists (seven) and six goals. If he can build on that, he'll be a star.
Oscar de Marcos really improved under Marcelo Bielsa and made a name for himself with goals against Manchester United in Europe last year. It was the 23-year-old's first full campaign and I'm hoping he can continue his fantastic progression under the Athletic coach.
Keep an eye out for Hector Moreno at Espanyol, as well. Calm and very capable on the ball, he has become a key figure in the backline of the Mexico national team and if he continues to improve, we'll be hearing a lot more of his name before very long.
There is so much more to talk about: Javi Martinez and Bayern Munich, Atlético Madrid and Simenone's plans, Levante and a future without Koné... but we will leave some of it for Revista de la Liga, which of course starts on Tuesday!
Looking forward to a new season in La Liga. I hope you are too! Keep in touch and let's chat here and also on Twitter @guillembalague