In with the Nou
After the glorious era of Guardiola, Guillem wonders how will Barca respond to his departure.
Last Updated: 16/05/12 11:53am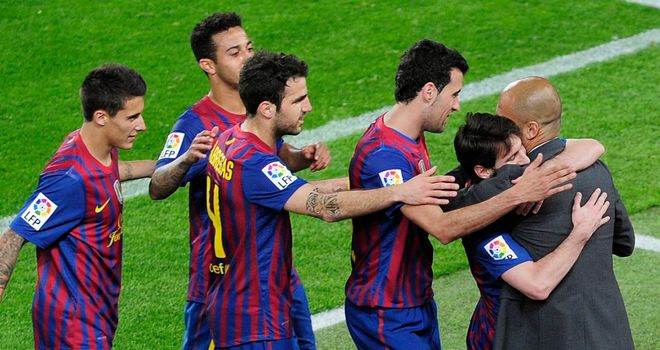 Barcelona as a club has shown a great deal of maturity and level-headedness in the way that they have dealt with Pep Guardiola's departure.
It's been far more dignified than the way things have often ended in the past, whenever a big-name manager or big-name player left the club. The kind of acrimony that surrounded Pep's departure as a player, Cruyff as a manager, Maradona, Schuster, Ronaldo, etc has been avoided.
It all fits very nicely with the idea that the club is pursuing a policy of continuity, of evolution rather than revolution - but I cannot help wondering if Pep has left the club half way through his project?
And what happens next under Tito Vilanova? Is it really possible for Guardiola-ism (as a management philosophy/blueprint) to exist without Guardiola? I cannot predict it. In any case the biggest legacy left by Pep is that the idea is first, the names second.
It's going to be fascinating to see how Vilanova and any future manager handles Lionel Messi and manages his role in the team. The mutual respect and adoration that Pep and Messi have for each other is self evident in the way they behave towards each other in public and just by looking at them together its clear to see that they share a very strong bond.
Pep has given an unbelievable amount of power to Messi in terms of his role both on and off the pitch, and you have to wonder how a new manager will manage that situation if - and when - he brings in another striker, something that is seen as a necessity if David Villa goes, to provide either a plan B, to assist Messi, or even a backup for when Leo is injured, something that rarely happens these days but you have to count on. How will Messi react?
Excuses
Guardiola's comments in his final press conference after a home game at the Camp Nou were interesting. He said :"Two penalties? Now it's not really needed anymore. It's a bit late in the season to start giving us penalties. Did the referees decide the league? The season has been very long, and a lot of things have happened. We've kept quiet, but the images are there."
It was uncharacteristic of the Barcelona coach who also blamed injuries - to Villa and Abidal - the way the fixture calendar grouped games together and key refereeing decisions made in key games at San Mamés, Valencia, Getafe and Espanyol, before congratulating Madrid on their title success.
Funilly enough, Messi and Pepe were suspended the same day after both getting their fifth yellow at the same time, considered in the Barcelona camp a sign that both clubs weren't treated equally this season.
It was not the kind of thing we've come to expect from Guardiola and some quarters (including admirers like Jorge Valdano) have used those words to criticise him for what they consider a search for excuses.
As I said before, it's a real shame we won't see how Guardiola tries to fight back from those criticisms and also from the little things that have gone wrong this season, which in my eyes comes mostly from the idea that the more you win, the less you are desperate to win.
Remarkable legacy
As we say goodbye to Guardiola, without doubt, we must acknowledge what has been an incredible tenure at the Camp Nou.
He leaves the club in much better shape than he found it in 2008; breaking Johan Cruyff's record of 11 trophies with an astonishing 13 Cups in four breathtaking seasons - a number that could rise to 14 if Barcelona win the Copa del Rey.
The manner in which that success has been achieved has been lauded by the entire footballing world and set a benchmark that others must try and reach for generations to come.
Guardiola's use of homegrown players has also provided other clubs with a blueprint for success under the new financial regulations and restrictions heading our way.
Under him, Barcelona have provided us with some of the best and most breathtaking football that many of us will ever live to see, and the statistics are there to support the claim that this has been the best attacking team of all time beyond one season.
For example, the previous record for goals scored in a season was set by Helenio Herrera's Barcelona in 1959-60, with 143 goals in 49 games; matched by Bobby Robson's side that scored the same number in 60 games in 96-97.
Under Pep Guardiola Barcelona have smashed all previous records: scoring 158 goals in 62 games in his first season - and this year, doing even better with 187 goals in 63 games.