Real success
Guillem Balague reveals the secrets behind Real Madrid's glory - and why they remain so unloved.
Last Updated: 16/05/12 10:11am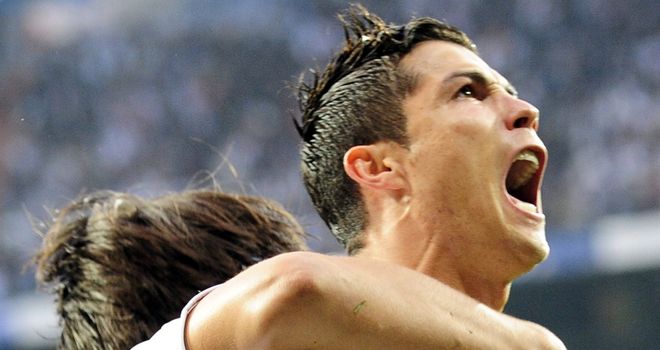 People are asking why the rest of Spain - Europe even - isn't collectively celebrating Real Madrid's league title.
After all, they've just seen off the challenge from the team many have labelled the best in history and they've done so racking up some pretty impressive statistics: an astonishing 100 points for the first time in La Liga history and a new season record of 121 goals.
In other words, it's not as if they've been 'boring' and they've played with some flair more often than not. But to add to previous misdemeanours their title win last week included further examples of why they aren't as popular beyond their own supporters - such as Cristiano having a row with Javi Martinez, Jose Mourinho mentioning his personal tally of seven league title winners medals and perhaps more importantly beating the team most people fell in love with. In fact, that last element makes the success of Real Madrid even more deserving of praise.
Tension
How did they do it? Obviously the quality of the team helped. Pep Guardiola thinks that - man for man - Madrid have got more talent and strength and stamina than his own team. It might have been false modesty on the Barcelona coach's part, but Madrid certainly seem to have a stronger squad.
Also Mourinho's obsession with control sharpened the competitive instincts of the team at the same time as creating a sort of creative conflict with his team. Iker Casillas brought the players together and calmed things down when some refused to criticise referees publicly as their manager had demanded. What he probably didn't realise until later in the season, is that Mourinho was not only trying to create a sense of unity - the us against the world trick - but also was giving a lot of stick to his players, even creating a tense mood to force the best out of them. That was finally recognised by Casillas himself in the last stages of the season. "What a kick up the backside you've given us a couple of times his year, boss," Casillas has told his manager.
And, it was also Sergio Ramos' year: he was immense, moving into the centre of defence after the fourth game of the season and making it his own for the remainder of the campaign, leading the team from the back. His anticipation, his passing accuracy, his bravery and his goals all make him one of the best players in La Liga despite one or two moments of distraction.
Goals!
It was the first time in La Liga that three players from the same team scored more than twenty goals apiece. Karim Benzema equalled his previous highest tally for a season with 20 goals (at Lyon in 2007-08); Gonzalo Higuaín scored 22 goals and Cristiano Ronaldo hit an astonishing 45.
They have become the best partnership in the world and the job for Mourinho now is to convince Higuain, who was not used at the start of the most important games of the season, to stay put. He has received a couple of offers from England but his buy-out clause of 150m Euros means he will have to force his way out of the club if he wants to leave. And at the moment nobody is predicting that.
The period from mid-March up until the final week of April provided the most testing period of the campaign for Los Meringues. A Santi Cazorla free kick that gave Malaga a share of the points in week 28 triggered a bit of an anxiety attack in the dressing room as Madrid saw their 10-point lead over Barcelona reduced, then cut again as they dropped another two points the following week against Villarreal.
While they had enjoyed such a comfortable 10 point cushion over Guardiola's side, Mourinho had conducted himself with a fair degree of serenity. But as the gap was reduced to six points, the mood and strategy changed -Mourinho told his players to start complaining about referees, a strategy he has always used to add pressure. Mourinho feels at home when the stakes are high.
Ruthless
Not everybody in the changing rooms agreed with that but little by little the sense of unity prevailed, as we saw in the scenes at the Bernabeu on Sunday evening as the players and fans celebrated the title. It's easy to forget that Arbeloa, Xabi Alonso, Granero, Albiol, Özil, Callejón, Adán and Varane are celebrating a league trophy for the first time in their careers, and it showed through the euphoric scenes in Madrid.
In the last few weeks - again as part of an strategy he has used both in the Premier League and Serie A - instead of fighting his battles through the press, Mourinho, who let his assistant Karanka take most of the press conferences in the last month, let his football decisions do the talking. He withdrew his support for the players he felt were letting him down - Carvalho, Lass and Kaká - while keeping faith with Di María, Khedira and Benzema.
The key, according to Casillas, were the victories against Atletico at the Calderón and the Barcelona at the Camp Nou. The Madrid keeper believes that those two games will be remembered as the moments when Madrid stamped their authority on the league and claimed the title, because as Casillas put it, Real Madrid were mentally tougher than their opponents and had the strength to see them through the most difficult moments when it really mattered. Casillas pointed out that Madrid, unlike Barcelona, were the only team to win their away games at the toughest grounds in Spain. For example, Guardiola's team dropped points in Valencia, at Real Sociedad and Athletic Bilbao as well as losing at Getafe and Osasuna while drawing at home to Sevilla.
In contrast, Real Madrid beat Valencia 3-2 away, Real Sociedad 1-0 away, Athletic Bilbao 3-0 away and defeated Sevilla at home by the same scoreline. At Getafe, Madrid won 1-0 and at Osasuna it was a 5-1 massacre for Mourinho's side. The difference this season was that whenever and wherever Barca showed a signs of weakness and had their flaws exposed, Real Madrid were ruthless.
Ronaldo
People haven't been talking about a dependence upon Cristiano Ronaldo in the same way that there is a suggestion of Messi-dependence in Barcelona. And rightly so, considering the goals tallies of Higuain and Benzema goals. However, we should not overlook just how important Cristiano has been to Real Madrid's title win. He became the first ever player to score against all 19 opposing teams during a La Liga season and set a new club mark for individual goals scored in one year (60). But more than that, we've witnessed a much more complete player than in previous seasons.
On top of his record-breaking goal haul for the second season in a row, his competitive hunger and winning spirit that has lifted his team mates when they've been up against it (including his performance in the game at the Calderon against Atletico and inspiriational effort that secured the points at the Camp Nou).
Furthermore his movement up front has created space for team mates and he has produced an impressive number of assists (twelve). In previous seasons we've seen an individualistic Ronaldo who has been both a blessing and a curse, but this time around, Cristiano the team player has been pivotal to his side's success.