Madrid march on
Are Real suffering physically? Is Reina the best 'keeper in England? Guillem Balague has answers...
Last Updated: 20/03/12 2:28pm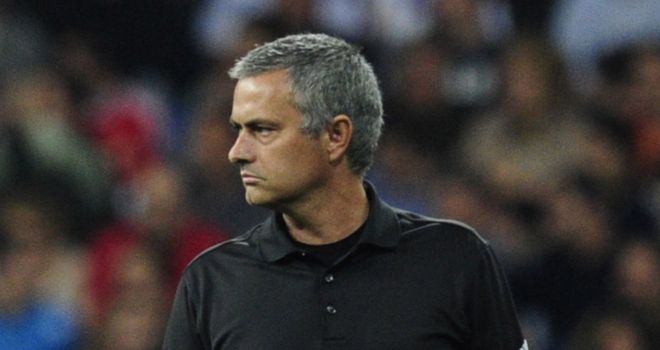 Let's start with the weekend's action.
We saw a Real Madrid that, for three weeks now (if you take away the 5-0 win over Espanyol, of course!), has struggled to impose themselves - especially in the CSKA Moscow games.
They had difficulties against Rayo Vallecano and against Real Betis as well. It was only in the last few minutes that they secured the victory - and against Malaga you could see that it could be getting harder for them physically.
They've been at their peak physically for a long time now and it looks like they might be struggling from that point of view.
Another clue that may confirm what I'm saying is the fact that Jose Mourinho tried to distract from the CSKA game by saying that the fans at the Bernabeu should be noisier. He was trying to divert attention away from the fact that the team did not perform very well against Moscow.
He also did the same thing after the draw with Malaga by saying that the referee made several big mistakes. He was trying to distract from the most important thing, which is that at the moment his team lack sharpness and spark. They will recover it, but obviously it gives hope to Barcelona.
Since Barca's defeat to Osasuna, after which Pep Guardiola said his side were definitely not going to win the league, everybody has reacted. He actually left Gerard Pique out for a couple of games, Dani Alves was given a few games off - but now everyone thinks the league is possible.
In terms of the rest of the league, it's fascinating that Valencia have almost been caught. Everything is so tight and fourth place is up for grabs while third isn't completely decided either. The bottom three is very close.
We'll be touching on more of the weekend's stories on Tuesday night's Revista.
Guillem answers your questions...
Got a question for Guillem? Then send it in here or use the feedback form below, and then look out for his answer next week.
VILLA FOR REAL?
Hi Guillem. Villarreal were flying last year, finishing fourth in La Liga to qualify for the Champions League. They've found this campaign a lot tougher, though. Why do you think that is? Cheers, Kev
GUILLEM SAYS: The problems of Villarreal are tied in with the conception of the club. They put a lot of money into it at a point when their owner, Fernando Roig, had money to put into the side. He always dreamt of having an academy that would feed the first team, but before that has taken place, he's run out of money to put into the club. He's a millionaire but he can't be losing money like that. In the process they actually surprised themselves by qualifying for the Champions League despite having started selling players. They were punching above their weight and this season, they had to balance their books. There are a lot of players in the team who've never been in that position and they don't seem to be a team that is ready to fight relegation. They have to brace themselves for the departures of Borja Valero, Nilmar and Giuseppe Rossi.
PEPE REIGNS?
Hi Guillem, do you believe Pepe Reina is really the best keeper in the Premier League, my friend thinks so but I'm not sure. The same friend is also a Mallorca fan and he would like to know what you think of young players like Mbega and Tejera, also whether Mallorca will survive, Thanks, Tom Simpson
GUILLEM SAYS: I think Tim Krul is a very good goalkeeper as well. I think Reina is obviously a very complete 'keeper and I think David de Gea will become one of the best as well. Reina has everything - personality, physique and now experience as well. I'd put him up there with Krul and obviously Joe Hart too. As for Mbega and Tejera - Tejera is not a young player any more in a way. He was at Espanyol and then went to Chelsea, but he doesn't seem to have the consistency to appear in the team. He's got to make a name for himself in the next 12 months or he may be lost. It's interesting you know about Mbega because he's only 18, has played a game or so for Cameroon U21s and only four times for Mallorca B. It's very early days for him. He's big and quick and there's definitely potential.
RON GONE? NO WAY JOSE!
Hi Guillem, I've read that there are rumours that if Mourinho leaves Madrid for the Premier League, he plans to bring Ronaldo with him. Do you think Cristiano Ronaldo will ever return to the Premier League, and if so which team would you think he would sign for? Jordan Brown (Man Utd fan)
GUILLEM SAYS: Rubbish! They're two different issues. Ronaldo said this week that Mourinho is definitely staying. I get the impression that Mourinho is saying privately that he wants to leave but Ronaldo has got no intention of returning to the Premier League next season.
DEPOR BACK IN THE BIG TIME?
Hi Guillem, Who do you think will win La Liga Adelante? I'm a Depor fan and hope that we finish top with Celta second as I think that La Liga has missed having a Galician derby for a few years. Secondly do you think that Depor would have a good enough squad to survive in the Primera? Si Iglesias (Deportivo La Coruna fan)
GUILLEM SAYS: It's an interesting situation at Deportivo. If the team wins all the six home games that are left, that will put them through to the first division. It's a club that belongs there in a way. The problem is that Andres Guardado's contract is up at the end of the season and he'll probably look for a new team to sign with. Having said that, they've still got other experienced players like Riki and Xisco and I think they'd survive if they go up because they've learned from their mistakes in the past. The problem is the finances - with Atletico Madrid, they are the club with the biggest amount of debts. It's a very bad situation and they haven't got a solution for it so they will keep selling and keep reducing the wages. If they do that cleverly like Valencia have done, they will survive.
MAD MADRIDISTA
Hi Guillem, Im a fanatic Madridista from India. I believe we have the best squad this year. La Liga is aired at midnight or later in India and we stay awake to watch Real in action each and every week. However, for the last 3-4 months, we are not really enjoying Real's matches as nearly every match ends in a refereeing controversy. Unfortunately, it always favours Real, which takes the gloss away from any fine performance. Why is this happening? Jayesh Dave (Real Madrid fan)
GUILLEM SAYS: I don't see it like that. I see that Real had 11 consecutive victories and that was proof that the team were in terrific form. They pressure high and Ronaldo has been in great form. I keep an eye on refereeing decisions and I enjoy the games for what they are. I don't remember a game where a referee has really spoiled it.
NEYMAR A REAL NO-GO Guillem, I am going to talk Neymar... I know he loves plying for Santos but he really needs to move to one of the big leagues in Europe to fulfil his potential. Do you agree with this? Also do you know of any rumours of Neymar to FC Barca or Real? Sean Kiley (Walsall fan)
GUILLEM SAYS: I already broke the exclusive on Revista that Neymar has a pre-agreement with Barcelona and that's where he's going. Real seem to have accepted privately that he's going to the Nou Camp. He seems to be the only one who can break into the top three players in the world alongside Lionel Messi and Cristiano Ronaldo. People seem to have made too much of his dancing during his goal celebrations but Barcelona have been assured that he's very professional. Also and importantly, Neymar already has some kind of relationship with Messi.