Stopping measures
Is Valdes better than Casillas? Does Sahin have a future at Real? Guillem Balague reveals all...
Last Updated: 15/03/12 10:59am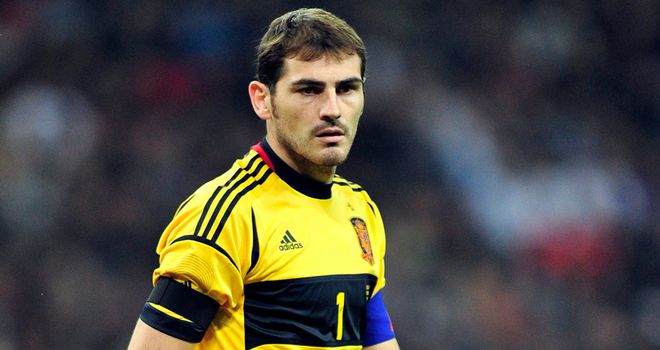 Betis made life very difficult for Real Madrid at the weekend which sends out a message that Jose Mourinho's men can be unnerved.
But Madrid have got so much power up front that it makes any style that you chose against them useless a lot of the time. They didn't play well against Betis but still managed to score through Cristiano Ronaldo twice and Gonzalo Higuain to win 3-2.
Betis played all the football, so how did they do it?
They put players up front who are very fast, especially Jefferson Montero, and three guys in the middle who seemed to have superiority over Xabi Alonso; Salva Sevilla, Benat and Iriney controlled the game for long periods.
It was a great display from the home side and both Mourinho and Iker Casillas went to Betis coach Pepe Mel after the game and said that his team deserved something more.
We'll be touching on more of the weekend's stories on Tuesday night's Revista, including Kalu Uche's hat-trick for Espanyol, the fight in the tunnel between Sporting Gijon and Sevilla players and, of course, the future of Mourinho...
Guillem answers your questions...
Got a question for Guillem? Then send it in here or use the feedback form below, and then look out for his answer next week.
NURI FOR THE CHOP?
Hi Guillem, Do you think Nuri Sahin has a future at Real Madrid if Jose Mourinho stays at the club beyond the summer? The Germany international has recovered from a number of injuries to get himself fit but has failed to get any regular playing time. Do you think he simply needs to get a good pre-season under his belt in order for him to show the form which led to Real Madrid buying him in the first place? Thanks, Shane Farrington (Man United fan)
GUILLEM SAYS:
Real Madrid were looking to loan Sahin to another team in the winter transfer window because they realised that he doesn't have the pace to play the way Real Madrid want to play, which is why Esteban Granero is ahead of him in the midfield pecking order. Mourinho feels that Sahin is not up to scratch at the top level and that he lacks dynamism and strength. He will decide what to do with Sahin in the summer but it looks like the player may return to Germany.
PEP UP FOR REDS?
Hi Guillem, With Pep Guardiola potentially leaving Barcelona in the coming years, which team in the Premier League would be ideally suited? Considering the academy structure at Liverpool, with former Barcelona youth coaches Jose Segura and Rodolfo Borrell, would Anfield be the most fitting destination? Dave Carter (Liverpool fan)
GUILLEM SAYS: Guardiola has to decide whether to stay at Barcelona or take a sabbatical year; he won't go straight to another club. However, I know there is a good relationship between him and Man United boss Sir Alex Ferguson, while he would fit in at Arsenal because it is a team that plays the way Barcelona do in many senses - even though they still have loads to learn. I know Chelsea are after him and they are laying some foundations in their academy so Pep would feel comfortable if he goes there. Manchester City will probably approach him, too, but I'm not sure he would go there as the philosophies of both parties are different.
SPAIN'S TOP 'KEEPER?
Hi Guillem, Who do you think is the better goalkeeper out of Victor Valdes and Iker Casillas? I would lean towards Valdes but what, for you, are each man's strengths and weaknesses? Thanks, Dean Anderson (Coventry fan)
GUILLEM SAYS: Victor Valdes is better suited to the Spanish national team because they set-up like Barcelona; he can play the ball with his feet, and he is as good as Casillas when it comes to one-on-ones. But Casillas has something extra which only the top, top players in the world have which is that he appears at miracle times when no-one expects it. In his case, that is making great saves at vital times. He is also a quiet leader, a man who leads by example and not with his voice - though he did have some strong words with Mourinho this year!
ROSSI'S FUTURE?
Hello Guillem, Thanks for your insights every week on Revista. I was just wondering whether Villarreal's struggles this season may signal the end of Giuseppe Rossi's time at El Madrigal and that he will move on to a 'bigger' club, or do you think he will have to prove his fitness before anyone tries to buy him? Alan Watson (Arsenal fan)
GUILLEM SAYS: Villarreal don't belong in the top four anymore and are going to have to reduce expenses by selling players. That's why they tried to sell Nilmar. Rossi will be up for grabs in the summer as well and where he ends up should be one of the transfer stories of pre-season.
BIELSA TO THE BLUES?
Hi Guillem, There are rumours that Roman Abramovich would like to appoint Marcelo Bielsa as the new Chelsea manager. What qualities do you think Abramovich sees in Bielsa, other than his ability to play attractive football? Cheers, Kenny Osborne (Chelsea fan)
GUILLEM SAYS: Chelsea know more about Bielsa because of Athletic Bilbao's recent good form, but they have not thought of him as a potential replacement for Andre Villas-Boas. The main problem is that he doesn't speak English. Bielsa likes to keep his distance from his squad and only talks when he has to; it is his number two who works more with the players. But Bielsa's methods can be applied anywhere in the world because he hypnotises players and they believe him.
For more from Guillem throughout the week you can follow him on Twitter @GuillemBalague