Second comings
Is Mourinho heading to Chelsea? Could AVB seek solace in Spain? Guillem answers YOUR questions.
Last Updated: 06/03/12 11:22am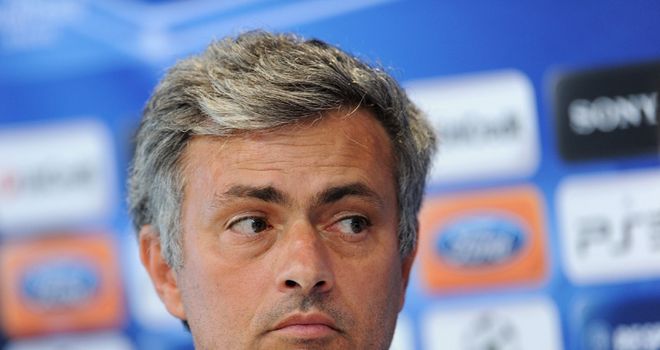 I was at the Santiago Bernabeu to see Real Madrid beat Espanyol 5-0, a result that I expected.
That's not because of this idea that Espanyol just give up against Real Madrid - if you look at the stats you'll see that Espanyol have beaten Real Madrid and Barcelona away from home the same number of times (seven). That's not many wins, but it shows how difficult it is to beat those two big clubs.
Mauricio Pochettino tried to play the 4-3-3 style that he likes, but the three central midfielders were not particularly defensive and that meant that Real Madrid could play the ball quite easily. There was a bit of a lack of personality on the field from Espanyol; they lost possession in key parts of the pitch and Real Madrid took advantage of that.
It was good to see Gonzalo Higuain, after all the doubts about his future, reinforce his confidence with two goals. I spoke to him after the game and he doesn't want to discuss his future, so we'll have to see what happens there.
He wants to know if Real Madrid see him as the number one choice when Karim Benzema is fit and also see what offers come in for him. That's an interesting one because Jose Mourinho defended him big time in the press conference before the game, saying that he was one of the best strikers in the world - and that's exactly what he wanted to hear.
Tune in to Revista on Tuesday night when we'll be talking in depth about the accusations of Barcelona 'people' (directors and players) towards the referees. They're becoming quite unanimous about this.
There were three penalties that should have been given in their game with Sporting and Gerard Pique was sent off, even though he said he didn't foul the player. The trade union of referees has decided to query Pique's comments and send those words to the competition committee to get him punished.
According to Barcelona players speaking off the record, that's something that didn't happen when Pepe stepped on Lionel Messi's hand or when Mourinho waited for a referee in the parking lot or when Iker Casillas shouted at a referee in the tunnel that he was going to go and party in Barcelona after the Clasico.
After those incidents there was no indication from the referees that they were going to protest, so Barcelona don't feel they are being treated fairly.
Guillem answers your questions...
Got a question for Guillem? Then send it in here or use the feedback form below, and then look out for his answer next week.
MOUR AT CHELSEA?
Dear Guillem. How likely is it that Jose Mourinho will be the Chelsea manager by the start of next season? Do you think it would be a good idea for him to go back to Stamford Bridge? Or can you see Real Madrid convincing him to stay, especially if he delivers the league and the Champions League? Simon (Chelsea fan)
GUILLEM SAYS: He went to London for a couple of reasons. Firstly, to show people that he could be available. He's saying to some friends that he is definitely leaving Real Madrid and coming to the Premier League. I'm saying that doesn't mean he will definitely leave; he likes to make himself available almost every January. His second reason: if he doesn't leave he will push through phase three of his revolution at Real Madrid which includes more control of the academy and of the medical department, amongst other things.
He is even saying that going to Spurs would be a good possibility but I think he would be happier going to Manchester City. Chelsea? Roman Abramovich knows that bringing him back will be admitting a mistake and he would have to give Mourinho the power that he has at the club, so I'm not sure it would be a good idea. They have a fluid conversation going on and Mourinho told Roman that it was a mistake to give AVB the reins. Mourinho was offered the job last summer, so I don't see why Roman wouldn't offer it to him again. But second comings don't always work
AVB FOR LA LIGA?
Guillem, if Guardiola or Mourinho was to leave their jobs in the summer, do you think AVB would be a contender to replace them? Or has his standing in Spain been damaged by the problems he's had at Chelsea? Marc Smith
GUILLEM SAYS: I don't think Villas-Boas will be given a chance at Real Madrid or Barcelona yet, but I think there will be jobs available in the summer, perhaps Sevilla and Valencia, and he will definitely be a contender for those. I convinced he will do a great job in his next club and eventually he will have a chance at any of those two big clubs in La Liga. I don't think Villas-Boas' sacking from Chelsea has damaged his image in Spain; they realise Chelsea is a very complicated club, in the mould of the Latin clubs, and they understand the problems coaches sometimes have with powerful chairmen.
I believed Chelsea when they told me they were going to back the manager until the end of the season and that they had a long-term plan in place. That hasn't happened but they realised the dynamic was so negative and that it wasn't going to improve. When that happens, it is sometimes better to finalise things and move on. However, no-one should doubt the knowledge of Villas-Boas because he is going to be a great manager and his experience at Chelsea will only help him improve.
WHAT'S NEXT FOR PEP
Hi Guillem, first of all I would like to say great work here and on Revista, which is in my eyes the best football show on TV. Anyways, I was wondering your views on Pep Guardiola as a manager. There's no doubt that what he has achieved with Barcelona over the past three seasons has created quite a profile for himself, but do you see him doing as well at a different club / national team? He is Mr Barcelona in the sense that he played, coached the B team, and progressed to the first team, so he is very familiar with Barcelona's style of play. But with the speculation surrounding the England job, do you think he would have what it takes? David Warwick
GUILLEM SAYS: Thanks for your kind words. Guardiola wouldn't go to a national team just yet and I'm still putting my money on him staying at Barcelona, but who knows? He is a closed box. He definitely - and I say this with 100 per cent certainty - wants to work at another club at some point. As part of the biography I'm writing on him, I've spoken to a lot of people and he definitely wants to try himself somewhere else.
TELLO ME MORE
Hi Guillem, I recently read that Barca's youngster Tello has been linked to Liverpool. I've only seen him play a handful of times but he looks very promising and is incredibly quick, which is obviously very important in today's game. How highly do you rate him and how likely is it that he will leave Barca? Kaneo Hoolio (Barcelona fan)
GUILLEM SAYS: Tello has got a contract until 2013 and he has a buy-out clause of 10million, but Barcelona are trying to negotiate a new contract with him and I think he will sign a new deal with them.
BRITS ABROAD
What is the attitude of Spanish football supporters towards English players? I find it disappointing that not many British players even attempt to play on the continent as it appears that a great deal more football is played in those leagues as opposed to the raw power of the English Premier league. Is it a case of England overrating it's players and teams against foreign opposition. Frankie Barrett (Rangers fan)
GUILLEM SAYS: It's not really an issue and is not something that is discussed in Spain. It's obviously something that will be discussed in England, but for me, everybody in the world should spend at least one year or some part of their lifetime abroad to open up their minds. I know Jonathan Woodgate had a really good time in Spain and so did Steve McManaman and David Beckham. Michael Owen suffered with being away and wanted to return home, but in most cases it really opens up your mind and your style.
For more from Guillem throughout the week you can follow him on Twitter @GuillemBalague