Wing it to win it
Guillem Balague reveals how Chelsea can get Fernando Torres firing and names his best-ever player.
Last Updated: 27/02/12 3:52pm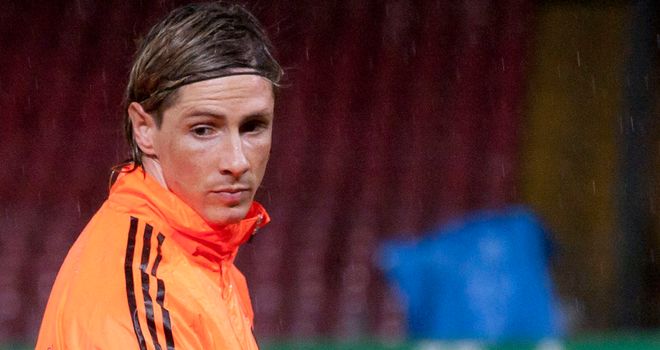 Sky Sports' Spanish football expert Guillem Balague is right across the best and biggest stories around.
But the Revista de la Liga pundit still has time to answer any questions you may have about European football.
If you want to share your view on a particular club or player, or there's an issue you want answered or clarified, then simply send your question to skysportsclub@bskyb.com.

TORR DE FORCE
Hi Guillem, I'd like to hear your views on Fernando Torres. He has recently said that he has never felt better physically, but he still has not been getting many chances at goal.
In my opinion, Chelsea have to copy Liverpool's 4-4-2 formation when Torres was playing as the only striker with Gerrard behind him. Torres needs space in front of him but when he plays with someone like Sturridge, it is obvious that there is less space for him to exploit. Torres would benefit from playing with Mata in behind with two wingers who will stay wide. This might mean reshaping the team, but it might also mean getting the best out of a 50 million pound player. What do you think? Owen P (Chelsea fan)
GUILLEM SAYS: If Andre Villas-Boas decides to play a 4-3-3 formation and use Torres - who I still think is a top striker - you need different personnel in the wings to get the best out of him. If you have a forward on the right hand side, like Sturridge, he'll be thinking as a forward, not as a member of the three-part attack. I think that's one of the problems.
Another one is, as you say, you need to create space for Torres. I think Villas-Boas is aware of that. But this year for Chelsea was a transition year. It was always going to be painful in the process and whoever was the coach had to win games. Villas-Boas is finding the transition difficult. He's got clear ideas but some of the ideas on the pitch are so rooted it's difficult to change. It's a fantastic challenge for Villas-Boas and I'm confident he'll come out as a winner and take Chelsea to the level they want to return to. They are already buying players to become the winners of the league next year and I'm sure Villas-Boas will be in charge next season.
MEDIUM MALAGA
Hi Guillem, I'm a Liverpool fan but am highly interested in Malaga and their new owners. Do you think there's any chance Malaga could push for a Top 4 Place in La Liga next season now they have all this money to spend? Matthew Jones (Liverpool fan)
GUILLEM SAYS:They've been spending a lot of money but it's a work in progress. I don't think anybody expects them to be top four this season but they are on their way to being a top four club. The difference they need is to gel the new players, to get players in who can improve their side and I think they also need a new striker, although Salomón Rondon could be a really good forward. They need to add at least two world-class players as well. Their centre-backs are too slow and they haven't gelled as a team yet. There are also doubts about Manuel Pellegrini so they need to either stay with him or move to the next thing. It feels like they are still very inconsistent but it's a very equal league apart from the top two so, if they manage to get a good run of victories at the end of the season, they may cause a surprise and finish in the top six, which I think will be the target this season.
For next season their aim will be to stay there, compete and improve the team. I think the plan is a medium-term one. The owners' main target was to get hold of the harbour at Malaga, and they've done that, but if they want local people to believe in them as businessmen they have to run their businesses well and the most public of those is Malaga CF. They've put the right people in place but they don't seem to be in a rush. However, I'd say they are ambitious to finish in the top four in the next three years or so.
BE PEP-ARED
Hi Guillem, Firstly keep up the good work with your column and Revista, the best football show on television. I'm a Barca fan and I was wondering who would be the front runners to replace Pep as manager if he decides to leave, as I don't see many managers around that play the style of football that Barcelona play which Pep has honed to perfection. Regards, Rod Massie
GUILLEM SAYS: We said on Revista that Pep is a closed box. I'm writing his biography and talking to a lot of people around him and who are very close to him and no one knows what he's going to do next. It's a matter of him finding the motivation in himself. It's a very tiring job he's got to do each season. He's got to keep motivating a side which know his style as a coach.
He's always thought winning styles last 4-5 years and he's in his fourth year now, so to keep them motivated he's got to work even harder than he was - and he was working very hard. That's psychologically and physically tiring and so demanding. He needs to find energy to do it for another year and to keep them at the top he needs to find new words, a new way of saying things and a new way of reacting to the tactical decisions of his rivals. It takes a lot of work. Now is the time of year when he's very tired, you can see it in his face. It's not a good time to ask him about renewal of his contract. We'll see what happens. If he does go I get the impression they'll want Roma coach Luis Enrique, but basically it will be someone who knows Barca very well. I think the role of the manager is much defined now - but whoever comes after Guardiola is going to have a very difficult task.
SUPREME TEAM
Hi Guillem, I am a big fan of yours because I always tend to agree with you in whatever you say. So I am just curious to find out which players overall in the history of football you consider the best. I am sure you have seen many so I would just like to know that, if it is Messi or Zidane or the phenomenal Ronaldo or even Savi. Balraj Basi, London
GUILLEM SAYS: Diego Maradona is the one for me. Also at the top, top level would be Pele and Alfredo Di Stefano. Then on the next level you have Zinedine Zidane. But I've got the impression Lionel Messi will be the best above all of them. At the moment, though, it's Maradona, who could win a world cup with a team built around him, and league titles in a league which was the toughest league in the world at the time, in Italy. Then there is Pele because he was more than a footballer and great at everything he did and finally Di Stefano who was a modern footballer who could play from the back, finish, assist...I can't get tired of watching videos of him. He seemed to read the game better than anybody else.