Third not absurd
Will Barcelona finish behind Valencia? Would Jose go to Spurs? Guillem Balague has the answers...
Last Updated: 16/02/12 2:54pm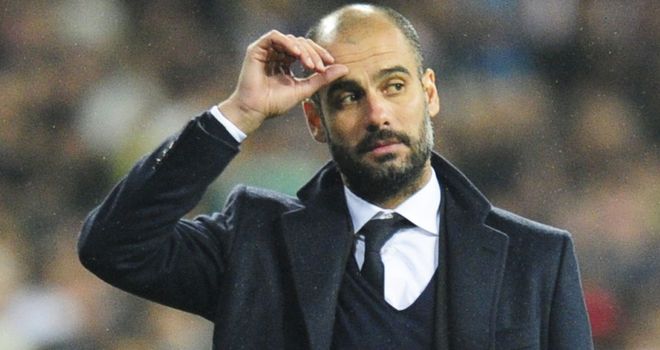 Sky Sports' Spanish football expert Guillem Balague looks forward to this week's live La Liga games.
If you've got a question for Guillem, send it to skysportsclub@bskyb.com.

Real Madrid v Racing
Sevilla v Osasuna
Barcelona v Valencia
Real Madrid v Racing
6.55pm, Saturday, Sky Sports HD1
Racing are doing well under their new management. They know their limitations and the team seems a little more switched on - but it will be too much of a task to beat this amazing Real Madrid side. The most extraordinary stat - apart from the fact they could get over 100 points and break the goalscoring record - is despite Cristiano Ronaldo netting 27 goals in La Liga, if you took away his goals they would only have only dropped five points. The whole team is in great form.
Sevilla v Osasuna
9pm, Saturday, Sky Sports HD1
Michel lost his first game as Sevilla manger but he needs time. He is a man who knows where the weaknesses of teams are and he did very well with Getafe. Sevilla need to start almost from scratch and the fans need to demand a little bit less of the club. Hopefully then they can get back to the big team that they are. It is such a close league that three straight wins will put them up near the top and they could still get in the top six, if not the top four.
Barcelona v Valencia
8pm, Sunday, Sky Sports HD1
When Real Madrid lost 6-2 to Barcelona under Juande Ramos in 2009, they were then beaten in their next four games as well because they had nothing left to play for. I think the same could happen to Barcelona now that they are 10 points behind Madrid. They are still producing very good football at home so it will be difficult for Valencia, who haven't got many rewards at the Camp Nou under Unai Emery. However, Barcelona will probably drop more points away and Valencia could take advantage of that and fight for second place this season if they keep picking up points.
Guillem answers your questions...
Got a question for Guillem? Then send it in here or use the feedback form below, and then look out for his answer next week.
FROM SPAIN TO THE LANE?
Hi Guillem, It seems like Harry Redknapp will become the next England manager. Gossip in the newspapers says that a lot of managers are interested in the Spurs job, the most high profile being Jose Mourinho. Has there has been any news in Spain? Thanks, Savvas Araklitis (Tottenham fan)
GUILLEM SAYS: As we've reported on Revista, Jose Mourinho has gone from telling his friends that he definitely wants to leave Real Madrid to actually saying to the chairman that he definitely doesn't want to leave. He's playing a game and keeping his options open. Some say he will stay and try to win multiple leagues with Real and do well in the Champions League. Others say that if he could go to England he would and suggest that Spurs is a possibility, even though I think the ideology of the club clashes with the manager. He earns about 10million euros a year and Spurs won't pay that, and he will demand an investment in the squad which I'm not sure Spurs will match. I wouldn't put money on Mourinho going to Tottenham.
FOREIGN POLICY
Hi Guillem, What are your thoughts on the recent takeover of Malaga? Do you think La Liga is going in the same direction as the Premier League in terms of foreign investment in their football clubs? I think that clubs like Bilbao are great for the Spanish national team with their Basque-only policy, while foreign investment has been a disaster for the England national team as clubs look elsewhere rather than investing in English talent. For the moment, the majority of Spanish teams consist primarily of Spanish players, but do you think this will change in the coming years? Thanks, Iain Fenton (Valencia fan)
GUILLEM SAYS: A group of investors from Qatar thought it would be a good idea to invest in Malaga and they have done so, spending more than a 100million euros already. They are improving the club, both in terms of infrastructure and players, and are trying to win the confidence of everybody. The biggest business they wanted to get involved with is the Malaga Harbour, which I believe they now own. So the money they are spending on Malaga is peanuts compared to the Harbour and other business they may have. There are question marks, but there are big people involved in the project, like Manuel Pellegrini and Fernando Hierro, and you'd have thought they would have done their research. However, not many people are thinking of investing in Spain. Espanyol would be a huge opportunity, a club in Barcelona with one of the best quota of players around and with a great new stadium, but La Liga does not produce as much money as the Premier League, so there is no danger of a lot of foreign investment.
STRENGTH IN NUMBERS
Hi Guillem, You mentioned in last week's column that Barcelona were looking at AC Milan defender Thiago Silva. However, the Brazilian has said he would prefer to stay at the San Siro for now. If Barca cannot prise him away, which other centre-back do you think they will try to sign? Also, is Pep Guardiola planning to go on a big recruitment drive in the summer? Thanks, Jonathan Bruce (Southampton fan)
GUILLEM SAYS: Pep Guardiola has realised over the last few weeks that there is still a gap between the young players and the veterans, and that the veterans have lost a bit of a competitive edge and are a little less focussed in the smaller games. He knows he has to sign players. I've got the impression that Valencia's Jordi Alba will be the left-back for Barcelona next season. They also need a centre-back, though no more names have been mentioned apart from Thiago Silva, and probably a forward depending on the future of David Villa. There will be three or four new signings in the summer as Pep looks to form a bigger squad next season.
You can catch even more La Liga action this weekend on Sky Sports Xtra. Granada face Real Sociedad on Sunday morning, Sporting entertain Atletico Madrid later in the day, while Zaragoza host Betis on Monday evening. Click here for more details.