Direct threat
Guillem Balague praises Granada's pacey style and says Pep Guardiola still has something to prove.
Last Updated: 10/02/12 12:44pm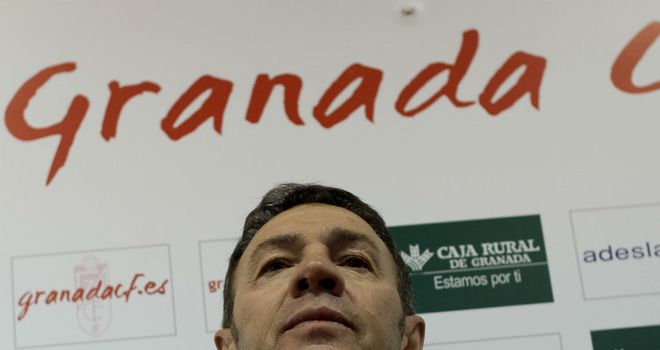 Sky Sports' Spanish football expert Guillem Balague looks forward to this week's live La Liga games.
If you've got a question for Guillem, send it to skysportsclub@bskyb.com.

Osasuna v Barcelona
Betis v Athletic Bilbao
Villarreal v Granada
Real Madrid v Levante
Osasuna v Barcelona
6.55pm, Saturday, Sky Sports HD4
This will be a very difficult game for Barcelona, even though Sergio Busquets may come back into the side. Even though Messi played well against Valencia in the Copa del Rey, he is looking melancholic and hasn't been at his best since Christmas. He tries to do far too much, as he does with Argentina; he's got to learn to make his football simple again. But to do that he needs Xavi, who has missed a couple of games recently, Andres Iniesta and Cesc Fabregas to help him out. Barcelona have come through the hard part of the season, where you pick up injuries and play lots of games, and now they need to retouch the team a bit and get back to the Barcelona that we know but haven't seen regularly for the last few weeks. Osasuna, meanwhile, are physical, direct and dangerous at set-pieces.
Betis v Athletic Bilbao
9pm, Saturday, Sky Sports HD4
Congratulations to Bilbao for making another final. As Pep Guardiola said, they are a team that attack and defend with 11 men. Their goalkeeper, Gorka Iraizoz, is very aggressive; when he gets the ball he is always thinking about launching an attack. Bilbao never stop running but it will be interesting how they react to making the Copa del Rey final.
Villarreal v Granada
6.30pm, Sunday, Sky Sports HD1
Villarreal are back to normal and showed that against Sevilla. They were aggressive, had their personality back and Borja Valero is growing in to a great player. Granada, on the other hand, have two victories in two games under Abel Resino. His team play a high-pressure, very direct game and try to steal the ball early because they have very fast players up front, especially Odion Ighalo.
Real Madrid v Levante
8.30pm, Sunday, Sky Sports HD1
Real Madrid have taken 48 points out of 51 and only lost to Barcelona. They are an extraordinary team and have not been affected by the rumours regarding Jose Mourinho, who says he is toying with the idea of leaving Madrid at the end of the season. If he does leave I think it would be because he has something up his sleeve; I don't see him leaving for nothing. But you never know with Mourinho... Levante haven't won a game in 2012 and are slipping out of contention for fourth spot - which hopefully Espanyol will take!
Guillem answers your questions...
Got a question for Guillem? Then send it in here or use the feedback form below, and then look out for his answer next week.
SET FOR STARDOM?
Guillem, I have to praise your article week in, week out because your knowledge of football is second to none. As a fellow Espanyol supporter, I wanted to know your thoughts on one of our new loan signings, Philippe Coutinho. He was destined for big things at Inter but never lived up to his hype. Still only 19, do you think he's a world-beater in the making, or one of those inevitable South American talents overhyped by certain sections of the media? Thanks, Ahmed Rakim (Espanyol fan)
GUILLEM SAYS: Coutinho has lots of ability and Rafa Benitez compares him to Pablo Aimar and says he has the quality to play between the lines, even though has been playing wide left. I've seen Coutinho train with Espanyol and was wowed. Inter have loaned him without a clause allowing Espanyol to keep him which shows how much they like him. On another note, I keep hearing from Espanyol fans, so why don't we all meet in London and set up a supporters' club? That would be great.
BARCA'S BLUES
Hi Guillem, I always enjoy reading and hearing your opinions. With the possible addition of Neymar the only area Barcelona's squad that appears weak is the defence. They are persevering with the three at the back, despite it looking a bit fragile at times, because they have too few world-class defenders. Would investing in a decent defender be more prudent than purchasing Neymar? Kaneo Hoolio (Barcelona fan)
GUILLEM SAYS: Everyone keeps saying that Barcelona look weak at the back, but I would say that Pique and Puyol, who looks revitalised at the moment, are one of the best partnerships around. Their problem is not at the back, even though they would like to reinforce that area and are looking at AC Milan's Thiago Silva. Barcelona are playing with a back three at the moment because Guardiola feels Cesc has to play and when everybody is fit he prefers to have lots of midfielders controlling the game. However, Barcelona's issue is that they are not having as much possession when compared to other years and that has made them different. They are more vertical, more direct and they don't keep the positioning that made them so hard to beat; if the team doesn't defend well up front, the ones at the back suffer. You have to analyse Barcelona in a different way and not just think that because they concede goals they are bad at the back. There is more to it than that.
GUARDIOLA'S TEST
Hi Guillem, Do you think that when Pep Guardiola moves on from Barcelona to manage another team he will employ the same methods that he has used at the Camp Nou? With him being a Barcelona legend and coaching the B side for a year prior to the first-team, it was probably easier to impart what he wanted onto the players, but with a different team in a different culture that may not be so easy. Sean Smith (Everton fan)
GUILLEM SAYS: I'm going to plug my book again! From the biography I'm writing about Pep Guardiola, I feel he has made an evolution of the Barcelona idea, and idea that has been evolving for 40 years. He will not be able to go and apply that to another club, so it will be a big challenge for him if he manages somewhere else. Mourinho has shown he can win other leagues, while Guardiola, the best coach in Barcelona history has not. We have to see him at another club to see how capable a coach he is, even though he has done extraordinarily with Barcelona.
You can catch even more La Liga action over the next few days on Sky Sports Xtra. Guillem's beloved Espanyol tackle rock-bottom Zaragoza on Sunday morning, with Valencia facing Sporting Gijon later that evening. Plus, on Monday night Real Sociedad entertain Sevilla. Click here for more details.
Guillem would also like to thank everybody who left feedback on his recent columns regarding the differences in Spanish and English footballing culture which, he says, raised plenty of heated debate amongst the Revista team!