Culture clash
Guillem Balague continues the debate on the differences in English and Spanish football culture.
Last Updated: 02/02/12 6:13pm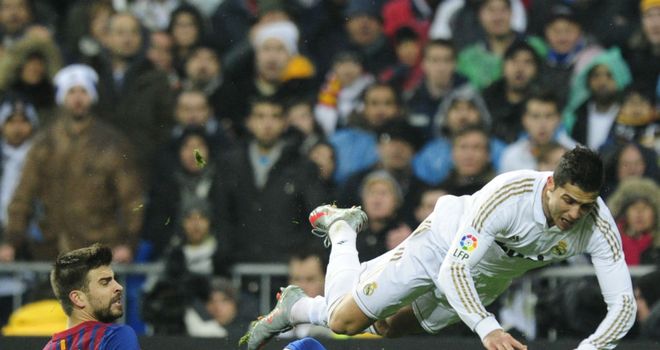 Thanks to everyone who took the time to leave a comment and get involved in the debate prompted by last week's blog on contrasting cultural attitudes to the game in England and Spain.
I'm delighted that so many of you understood, tackled and debated the essence of the points I was trying to raise: essentially trying to come to terms with our differing subjective opinions on the game and accepting that we all have different priorities in terms of what is good and bad about the game we all love.
It's disappointing that some people missed the point entirely and concluded that this was a debate about which league is better than the other - which in a roundabout way highlights the point made in the original blog about the fact that it's frustrating when individuals cannot just enjoy a foreign league while accepting that cultural differences mean that the game is played and governed by principles that differ from their own world view.
The high number of responses demonstrates just how much La Liga has become a part of the British football TV diet; while the quality and knowledge of so many of the responses shows the extent to which Sky Sports La Liga watchers have adopted the Spanish game as their own.
The world is shrinking and we're now able to settle down in front of our TVs and enjoy a live game of football from another country or continent with greater frequency than ever before. That's exposing us to different cultures and provides a 90 minute window on another country's way of life: what a wasted opportunity it would be if we simply saw it as a chance to argue about how much better 'our' way of doing things is.
So many of you grasped that and taught me a lot about your differing opinions. I'd love to respond to every single one, but that's impossible; so here's a few to keep the debate going.
I watched the Real V Barca game and was no more critical of Alves diving than I am when Drogba does the same; no more critical of Pepe's stamp than Balotelli's. I didn't think any less of Mancini for waving a card than I did of Rooney for demanding the same on the pitch. I think the problem is that some old English heads remember the days when diving wasn't the norm in England and wish it was still the same, but we have to accept that these days, English players are just as capable at this art as their continental cousins; much like card waving and feigning injury. It isn't so much the English fans that talk up the Premier League, but rather the British press. Paul W (Tottenham Hotspur fan)
GUILLEM REPLIES: I'm so glad you mentioned the press Paul, because I think we (the media) have all been guilty in focusing on the negatives, rather than the positives, in these recent clasicos. There have been some fantastic football matches played between Real Madrid and Barcelona since Mourinho arrived and, personally speaking, I have some wonderful memories of the cup final where Madrid offered a new more offensive version, or the Spanish Supercup when Messi played with "flip flops" as Xavi put it, having just returned from holidays.
But unfortunately, TV audiences are given an edited, 'constructed,' subjective view of the game that is very different from the view you would have had if you'd been at the actual match. The media's focus has been on the arguments and disputes between players and coaches, on the recriminations and bitterness between games, rather than on tactics and technique, for example.
It's little wonder that some fans have been left with a negative view of what is one of sport's most fascinating rivalries. Distracting us from Barcelona's brilliance, knocking them off their pedestal, was all part of Mourinho's strategy when he took over at the Bernabeu and he had a clear aim of shifting the focus from their virtues onto their fallibilities. We've all been guilty of being drawn into that game, but that's not to say that Mourinho is entirely to blame. The media have also played their part in highlighting the bad and the ugly and ignoring the good.

We do love our double standards in this country. When Eduardo and Ramsey had their legs snapped by English players, all we heard was essentially: 'he's a nice lad' - as if it makes any difference; the players had their legs broken by impact tackles, it shouldn't be about demonising people, but demonising these poor challenges is essential if we are to prevent it happening again!....No one likes diving, but why we are more concerned with stopping that than we are with stopping 'dangerous' tackles and even violence is beyond me. We care more about the hard-man image of the game than we do about fairness and the safety of the people participating. I'm quite sure a large proportion of English people would gladly accept it if one of our players dived to win a penalty in a world cup final - the question has been asked on a popular radio show a couple of years ago, and gained a largely positive response. David Jones (Arsenal)
Exactly how I've felt about this whole issue. It seems as if people only watch the clasicos and make their judgment on not just the two clubs, but La Liga as a whole with such a small sample size. Busquets gets one of the worst reps of any player I can remember in history. The fact that he's constantly grouped with Pepe, whose "cheating" is of a violent and possibly career ending type, is such a joke. Josep P. (Barcelona)
GUILLEM REPLIES: David makes some good points and highlights the cultural differences we've been exploring. I'd say to everyone who comments or tweets that they are sickened by the sight of a Spanish player diving or feigning injury, ask yourself if you've ever written something similar with regard to a dangerous tackle, or a cynical tackle designed to simply stop an opponent from completing a run or breaking through on goal.
A lot of people are horrified by diving, to the point where they say they cannot watch a game anymore - yet in Spain, there are just as many who might feel that way about players physically harming others; or players who use 'force' to prevent the more tactical and technical players from flourishing: as Josep's comment seems to illustrate.
As David says, the physical is prioritised in Britain - in Spain it's the technical. There is a very different cultural viewpoint in Spain that is tricky to explain, but it relates to that point. In England, dating back to a time when sports - including their rules and conventions - were developed on the playing fields of the nation's finest public schools, a strong sense of 'fair play' developed. Sport was a means of conditioning youth into being fitter and stronger - but also more disciplined.
In these environments, respect for the structure of society and an interest in maintaining the status quo was very strong - as you'd expect amongst the privileged classes. In Spain, we have a cultural tradition of the 'picaresque': folk heroes in literature who get by through living on their wits, lovable rogues who make their way up the social ladder through a bit of trickery here and there, subverting authority, challenging the dominant order.
For a whole variety of historical reasons, there is less of a respect for authority in Spain, less of an acceptance of hierarchy. It's partially because of that we are more accepting of the idea that it's ok to use a bit of guile and cunning to get one over the authorities and we aren't so critical of someone bending the rules to succeed. If that authority is the referee, so be it.
Of course, football is seen as a working class sport in England, but the rules we're written by the established order - and it's a respect for those rules that permeates fans revulsion at anything seen as subversive. Before anyone accuses me of defending cheating, I'm not - merely trying to understand differing attitudes. When Fernando Torres first came to England, he knew - and was advised - that he wouldn't necessarily have to eliminate what you call 'gamesmanship' from his game; merely that he would have to behave differently as in England 'going down easily is preferred to diving; where clutching you ankle and grimacing - while still appearing to 'take it like a man' is preferable to rolling around when you want the referee to know you've been kicked.
As David points out, British fans and players aren't averse to overlooking a bit of rule bending - or cheating - when it suits. The minute anyone accepts ANY form of cheating, you vacate the moral high ground.