Cris cross
Why is Cristiano Ronaldo annoyed? Where do Malaga need to improve? Guillem Balague has the answers...
Last Updated: 14/01/12 3:53pm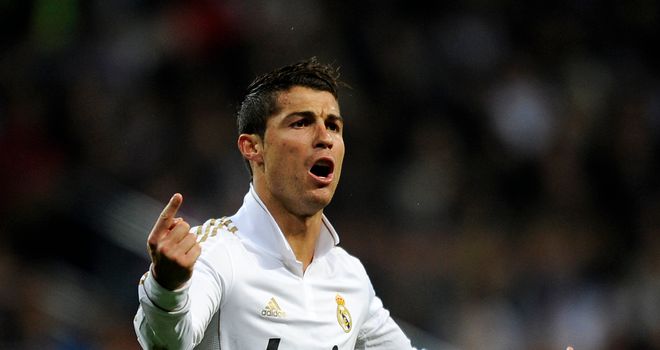 Sky Sports' Spanish football expert Guillem Balague looks forward to this week's live La Liga games.
If you've got a question for Guillem, send it to skysportsclub@bskyb.com.

Mallorca v Real Madrid
Valencia v Real Sociedad
Sporting v Malaga
Barcelona v Betis
Mallorca v Real Madrid
7.55pm, Sat, Sky Sports HD1 (second half only)
Under Joaquin Caparros, Mallorca have changed their way of playing. They have a more solid defence but that means they shoot at goal less and lack creativity. They will struggle until the end of the season. Real Madrid's latest story is why Cristiano Ronaldo seems to be upset. He is not celebrating goals and when he does he seems to be sending messages to his critics. It all stems from the Clasico and the fact that he missed two goal-scoring opportunities and people whistled at him. It was also interesting that Gonzalo Higuain and Karim Benzema played together against Granada, but when Angel Di Maria returns he will be preferred to one of the two strikers.
Valencia v Real Sociedad
9pm, Sat, Sky Sports HD1
I've heard that Unai Emery is wanted by the Everton fans if and when David Moyes goes. If you're an Everton supporter, let me know if that's the case. Emery continues to do the best with what he's got at Valencia. He's been meeting the targets that he is set, such as finishing third in La Liga, all with a club that is in financial difficulty. It is very good news that they've got a new 75,000-seater stadium. As I showed you in Goles y Goles y Goles over Christmas, it is very impressive. It will be great to see Valencia draw from that and improve their finances. They still owe about 150million euros but they are on the right path, both on and off the pitch.
Sporting v Malaga
6.30pm, Sun, Sky Sports HD1
Malaga made things very difficult for Real Madrid in the first leg of their Copa del Rey tie. They attacked them well and took advantage of Real's weaknesses at set-pieces. However, sometimes you wish Malaga had more to them than what we've seen. They are still soft at the back and in terms of creation. Santi Cazorla is defending too much and not showing sparkling form, while they need a striker to convert the opportunities. Isco, like Cazorla, is being played in different positions up front and I think they need to find more quality to get where they want to be, even though Jeremy Toulalan has been great in the defensive midfield position. Still, they are definitely better than last season.
Barcelona v Betis
8.30pm, Sun, Sky Sports HD1
Espanyol played fantastically in the Barcelona derby. They were intense and played with a high tempo. Barcelona believed they had the game won after Cesc Fabregas opened the scoring; they rested on their laurels and Espanyol took advantage of that very cleverly by putting three players in midfield, working hard to receive the ball and then releasing it to the three up front. Let's see how Barcelona come back from that. The problems are not at home, where they have yet to concede a goal yet, but away; they have drawn four games and won two matches only 1-0. It seems like they drop a level when they go away and something is definitely missing.
Guillem answers your questions...
Got a question for Guillem? Then send it in here or use the feedback form below, and then look out for his answer next week.
MARTINEZ TO MANCHESTER?
Hi Guillem, I'm a Man Utd fan and was wondering about the possibility of us signing Javi Martinez from Bilbao. I believe he would aid our ball retention in midfield. Do you think this deal or one for someone more creative like Nicolas Gaitan could be possible in January? Thanks, Jack Spain (Man United fan)
GUILLEM SAYS: Manchester City have shown more interest but at the moment it is only interest. We are talking about a player who is 25million euros+ and Athletic Bilbao don't need to sell. The return of Paul Scholes suggests to me that Manchester United have lost strength in the transfer market and may not be able to spend this kind of money on a player. They may look for a striker but not for a central midfielder who may be a risk. At the moment, Javi Martinez to United is a no.
FORWARD THINKING
Hi Guillem. Why is it that Barcelona are not able to adjust strikers into their team formation successfully? Samuel Eto'o, Thierry Henry, Zlatan Ibrahimovic and now David Villa seem to have been discarded by the Barca manager. Can you give any insight on that? Thanks, Raheel Ali (Juventus fan)
GUILLEM SAYS: Pep Guardiola has decided that everything has to go through Lionel Messi. That means the strikers have to change their way of playing to please Messi. It is not a personal thing, it's just as three-time winner of the Ballon d'Or suggests, we're talking about perhaps the best player in history. Messi has won titles for Barcelona and it is automatic that he will play as either the false striker, wide or as a midfielder and that everybody else has to work around him. When Villa arrived, he was told: 'Don't expect to be the top goalscorer. Your job is to help Messi become even better'. He accepted this at first but now it is harder to accept because he has always been a goalscorer. Perhaps he wants to finish his career as a goalscorer somewhere else? We will see when he recovers from his injury.
NO RESTRICTIONS
Help me out, Guillem! Is Lionel Messi a midfielder or a striker? What role does he play for Barca on the pitch? Thanks, Abel Johnson (Barcelona fan)
GUILLEM SAYS: When you think about Barcelona, you cannot think about formations or fixed positions; you have to think about the space used by the players. That means that sometimes, in the same game, Sergio Busquets is a centre-back, a centre-midfielder and sometimes a little wider. People move to positions depending on the attacking move being played by the opposition; with Messi it's the same. Sometimes he goes deep, sometimes he's a forward waiting for the ball. However, I do know that players prefer that he waits closer to goal because when he drops too deep it can get confusing and damage the fluidity of the game.
You can also watch two bonus offerings of La Liga football this weekend via our online service. Sevilla host Espanyol at 5.15pm on Saturday, while Atletico Madrid welcome Villarreal to the Vicente Calderon at 11am on Sunday. Click here for more details.