The story so far...
Guillem Balague takes a look back at what's happened in the Spanish season to date.
Last Updated: 29/12/11 1:42pm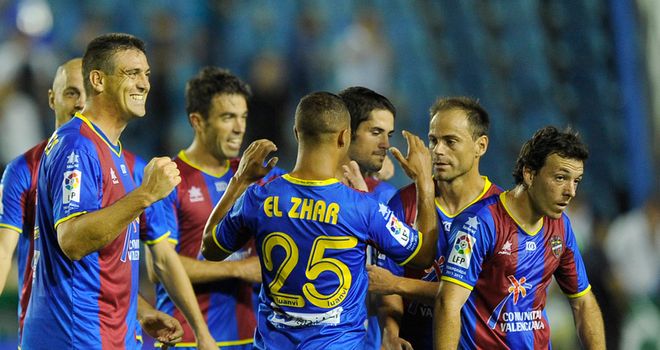 Sky Sports has brought you every twist and turn of the Spanish season so far.
From players' strikes to surprise sides at the top of the table there's been plenty to talk about on our weekly discussion show Revista de La Liga and as usual there has been a glut of spectacular action to savour in our weekly live matches.
With La Liga in the midst of a mid-season break, our Spanish football expert Guillem Balague took some time out to review what we've seen so far. Read on for his summary and we hope this whets your appetite for what's to come on Sky Sports' Spanish football coverage in 2012...
Pre-season
Barcelona finished last season as La Liga champions, their third in a row and they also won their second Champions League trophy in three years.
This season Jose Mourinho looked to add to Real Madrid's Copa del Rey trophy and wasted no time as he strengthened what was already one of Europe's strongest squads.
Meanwhile, Pep Guardiola mulled over the signings of Udinese's Alexis Sanchez and Arsenal's Cesc Fabregas. Alexis completed his move and left plenty of time for the will-he-won't-he-will-he-won't-he saga of Cesc to drag on until he finally came home and everybody was happy!
Third-placed Valencia were shrewd in the market, picking up Sergio Canales, Daniel Parejo and Pablo Piatti, while Atletico Madrid's new manager Gregorio Manzano brought in Falcao with the target of securing Champions League qualification.
That was also the case for Manuel Pellegrini who had a busy summer signing Santi Cazorla and Ruud van Nistelrooy among others as Malaga became one of Europe's biggest spenders.
We also welcomed Granada, Rayo Vallecano and Real Betis back to La Liga to join the rest of the superstars as we geared up for another exciting and entertaining campaign.
Super Cups and strikes
Before La Liga began we had an appetiser; the Spanish Super Cup, but not just any game, it was a Clasico in two parts.
In pre-season Real Madrid prepared themselves to make the first impact; to win a psychological advantage and be able to say they'd won the first title. Real played better, but Lionel Messi - who according to Xavi was still wearing beach flip-flops - won it for Barcelona.
Then La Liga started with Week One... but actually it didn't! There was a players' strike (we cannot organise a party in a brewery), so La Liga started with Week Two!
La Liga new boys Real Betis were top of the table by Week Five, while Barcelona had scored 19 goals in the first four games - but had drawn away at Real Sociedad and Valencia, the first indications of a team that was performing better at home than they were away. The brightest star was the one who many people didn't think would play regularly for Barcelona, Cesc Fabregas, who scored in each of his first four games.
What about Real Madrid? They didn't recover completely from their Super Cup loss. A defeat against Levante and a draw against Racing suggested not everything was right with the side. The Spanish players demanded more flexibility with tactics and a more relaxed atmosphere. Jose Mourinho agreed - and Real Madrid got better.
Valencia: the football city of 2011?
In Week Nine, Levante had the honour of leading the table for the first time in their history - and these were players that earn in a year what Cristiano Ronaldo earns in a week! It was a football fairytale that captured the heart of all of Spain.
Levante were flying high, but neighbours Valencia were given the news that they'd secured the finances to finish their new 75,000 capacity stadium in a couple of years. Not in the short term perhaps, but in a few years' time I think Barcelona and Madrid should be afraid.
It wasn't long before Real Madrid and Barcelona returned to the top of the table, closely followed by Valencia in third - thanks to somebody who became the best Spanish goalscorer in 2011. That man wasn't David Villa, Fernando Torres, Fernando Llorente or Alvaro Negredo - but Roberto Soldado.
Unai Emery made Soldado believe in his talents and as a consequence his personality grew and he even became one of the captains of the team.
A crucial Clasico
The champions stumbled at Getafe and for the first time in four years, Real Madrid looked like the favourites coming into the Clasico.
They arrived on the back of 15 consecutive victories, Cristiano Ronaldo looked more of a team player, Sergio Ramos looked strong in the centre of defence and it was Mourinho's second year in charge.
Barcelona looked poorer when they played away - but you can never write them off. They secured a win at the Bernabeu and the race for the title was open again.
In the last league game of the year the Malaga experiment went to the Mestalla, but Valencia won the match to finish 2011 within touching distance of Real Madrid and Barcelona.
Will they continue to challenge? Will Real Madrid win La Liga without even beating Barcelona? Will Barcelona improve their away form? Will mighty Zaragoza get relegated?
For those answers and more, watch Spanish football on Sky Sports!