A Madrid made mad
Guillem Balague tips Real to recover quickly and assesses Cristiano Ronaldo's big-match form.
Last Updated: 13/12/11 3:35pm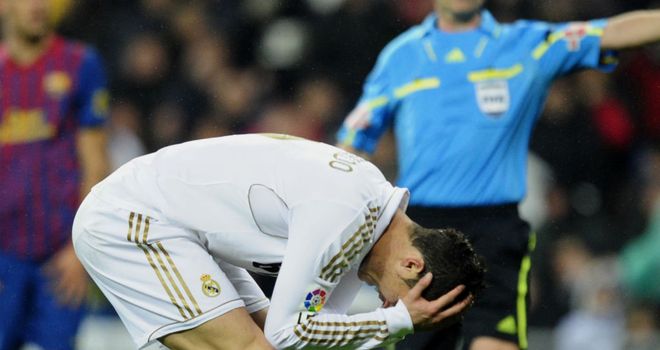 Sky Sports' Spanish football expert Guillem Balague looks forward to this week's live La Liga games.
If you've got a question for Guillem, send it to skysportsclub@bskyb.com.

Athletic Bilbao v Zaragoza
Sevilla v Real Madird
Valencia v Malaga
Athletic Bilbao v Zaragoza
7pm, Sat, Sky Sports HD3
Zaragoza's debts are growing and they're one of those clubs that people think will disappear. Now we know that the chairman has a company that represents players, it looks like the core of the club is rotten.
It seems Athletic Bilbao are also in a spot of bother because they've only won four games in the league. They are doing well in the cup and the Europa League but they have problems - Fernando Llorente has missed three games and they don't score so freely when he's not playing. They seem to be suffering physically and there are also some strange decisions - such as Javi Martinez playing in defence rather than centre midfield.
Sevilla v Real Madird
9pm, Sat, Sky Sports HD3
Marcelino still hasn't got the right key. He's now using a three-man central midfield and trying to change things away from the typical 4-4-2. They're going to play a Real Madrid side that is hurting after the Clasico defeat.
Real have realised, through the messages of Jose Mourinho, that they only have to win every game in the competition apart from the Clasicos and they will still seal the title. In my eyes, Real are still favourites to win the league this season. They've got their minds into La Liga and I can see them putting together another run.
Valencia v Malaga
8pm, Sun, Sky Sports HD2
The progress of Malaga continues. They play good football and Isco is becoming a top player - he's someone who Valencia let go so keep an eye on him.
Valencia are suffering a little bit after the Chelsea game. It showed they're not as strong as Chelsea and don't have as many answers as people thought when they come across a team on the same level. They aren't close to Barca or Real Madrid yet but that would be a miracle because they've always sold their best players. The good news is they've got money to continue the building of the new stadium. Give them a few years and they might become challengers for the title.
Guillem answers your questions...
Got a question for Guillem? Then send it in here or use the feedback form below, and then look out for his answer next week.
RON TURN?
Hi Guillem, Why do you think Cristiano Ronaldo almost always fails to perform against Barcelona? Firstly during his days at Manchester United and more recently with Real Madrid, he has struggled to perform against arguably the best club side ever. He was poor once again in Real's 3-1 defeat, missing two chances at crucial stages in the match. Do you agree that until he manages to overcome this hurdle he will remain second-best to Lionel Messi when it comes to winning individual awards? Thanks in advance. Shane
GUILLEM SAYS:Cristiano Ronaldo is a lesser Cristiano Ronaldo against the big sides. The amount of goals scored against the big sides in England for instance - and against Barcelona - shows that that is the case.
My theory, backed up by the conversations I've had with people who know him, is that he suffers psychologically in the big games. Basically, to give you an analogy, if you're a businessman and I tell you you can invest $100,000 in this business or you can buy this other business for $5bn. Most people wouldn't even think about it and invest the smaller amount, but some people go for the whole thing and aren't ready for it.
I think that's the problem with Ronaldo. He runs too much and makes bad decisions because he wants to have an impact straight away because everybody's looking at him.
For instance, he's scored three goals in 13 games against Barcelona, two in nine against Liverpool, one in 15 against Chelsea... compare that to Lionel Messi, who's scored 13 goals in 16 games against Real Madrid, six in four against Arsenal and two in four against Manchester United.
BARCA NEED BOLSTERING? Hi Guillem, I was wondering about Barca's defence. I don't believe it gets enough credit, however, I still believe they could do with having another recognised centre half. I believe Busquets and Mascherano operate better in the midfield although they have performed at centre half admirably. Surely Pep doesn't believe Mascherano is Barca's best defender as he has recently stated? Also now that they seem to use three defenders at the back will we see more of Fontas, Muniesa, Barta or Montoya? Or will he be tempted to buy a defender as I don't believe he ever wanted Chygrynskiy to leave but that financial matters ensured his exit. Thanks. Kevin Hughes
GUILLEM SAYS: Barcelona are showing everybody that you have to analyse them in a different way. You can't ask: 'Do they have a good or bad goalkeeper?' You have to ask: 'Can the goalkeeper play the ball from the back?' You can't ask: 'Is their defence strong enough?' You have to ask: 'How well do the strikers defend? How high is the pressure?' Those are the kind of new questions Barca are asking them to ask.
Therefore, it's not so much about how good the centre-backs are - it's more about if they fit in with what they're trying to do. What we saw in El Clasico is that they start with a defence of four, then they move to a defence of three and then two - all depending on how Real Madrid were attacking. So we're seeing the evolution of football in front of our eyes.
People shouldn't be saying they need a centre-back - remember they had the best defence in La Liga and they hardly concede in the Champions League, so the system works, is new and is revolutionary.
HIG TO JET OFF? Hello Guillem. Can you tell me the accuracy of the reports that suggest Higuain may be going to Chelsea or Liverpool? I would be absolutely devastated if he was to leave as he is my favourite player at Madrid. Dave Famble (Real Madrid fan)
GUILLEM SAYS: Why would Real Madrid get rid of Higuain? They have no intention of doing so because they only have two strikers - Higuain and Benzema. They will both stay.