Continental kings?
Guillem Balague blogs on Real Madrid's Champions League hopes and Granada's upturn in form.
Last Updated: 30/11/11 8:30am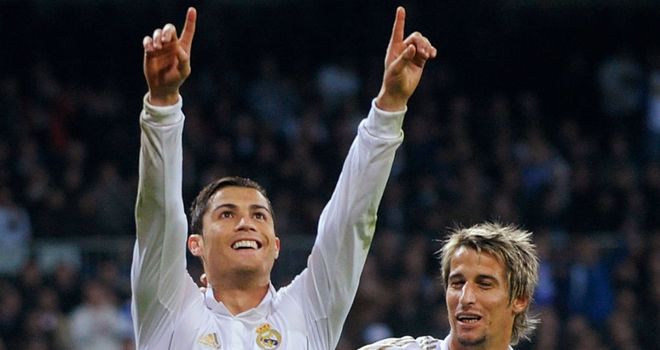 Sky Sports' Spanish football expert Guillem Balague looks forward to this week's live La Liga games.
If you've got a question for Guillem, send it to skysportsclub@bskyb.com.

Sporting v Real Madird
Barcelona v Levante
Valencia v Espanyol
Mallorca v Athletic Bilbao
Granada v Zaragoza
Sporting v Real Madrid
5pm, Sat, Sky Sports HD4
Sporting were badly beaten by Levante at the weekend. They are a team that is weak at the back, especially on the counter attack. And Real Madrid will allow Sporting to have the ball and then pick them off. Madrid are very complete at the moment; they can dominate you and keep the ball with a higher number of passes than last season under Jose Mourinho, but they are also the best counter-attacking team in the world.
Barcelona v Levante
7pm, Sat, Sky Sports HD4
What a fascinating game! Levante are still doing really well. After three consecutive defeats, they managed to get a victory against Sporting and they did it in the way they have gone about this season. They never lose the ball in midfield because they never play the ball through midfield! They pressure you so cleverly, steal the ball from you and then they punish you on the counter. Jose Barkero is going to be missing here after he picked up a fifth yellow card on purpose so he could be available for the following game against Sevilla. They have scored 23 goals and conceded 12 this season, while they are the fourth best team in 2011. They should do more damage this year and possibly even fight for Europe.
Valencia v Espanyol
9pm, Sat, Sky Sports HD4
Espanyol have got two points from 12 and their problem is scoring. If they concede it is almost impossible for them to win. Their centre-backs, Hector Moreno and Raul Rodriguez, are improving but against Osasuna they allowed themselves to be surprised by a lack of pressure on the midfield. Valencia, on the other hand, have problems at home, even though they did really well against Genk in the Champions League. Roberto Soldado can't stop scoring, but he still won't make it into the international team because Spain do not have an urgent need for a striker. Valencia's victories, apart from a couple of exceptions, have been by one goal. Therefore, they are always on the edge and fight to the end. With six victories out of seven in all competitions, they are in really good form.
Mallorca v Athletic Bilbao
6.55pm, Sun, Sky Sports HD1
Athletic Bilbao were surprised by Granada on Sunday. They were confused by some nice words said about them; they felt they had to beat Granada rather than find a way to beat Granada. That created anxiety, and mistakes in their passing. They are going to have to learn from that but I still think they can fight for the top four. Mallorca managed to get their first victory under Joaquin Caparros when they beat Racing at the weekend, but they will struggle right to the end because they don't have enough quality.
Granada v Zaragoza
8.30pm, Sun, Sky Sports HD1
Granada got a fantastic result against Bilbao. They were very solid in the centre, didn't make any mistakes at the back, and scored through a set piece. They are doing quite well at the minute. They also beat Sevilla away and drew with Racing and I see them beating Zaragoza on Sunday. Zaragoza are struggling with quality. They have good personalities on the pitch, but their collective football is not good enough for this division.
Guillem answers your questions...
Got a question for Guillem? Then send it in here or use the feedback form below, and then look out for his answer next week.
BLUE DAY FOR CHELSEA?
Hi Guillem, I'm worried about Chelsea's upcoming Champions League fixture. It is clear our owner and our fans (including me!) are obsessed with the Champions League and it is the trophy we want most in our cabinet. Having that said, next week we have an important clash where we go head-to-head with Valencia for a spot in the round of 16. Everyone knows Chelsea aren't the same team that played Valencia in September and I'm worried that if Chelsea continue their recent slump that they'll fail to win at Stamford Bridge. Do you think that Valencia are capable of beating Chelsea and if so, what makes them so good? Kumaran Shrikaran (Chelsea fan)
GUILLEM SAYS: I see a very equal game. Valencia are very good away - they have more points on the road than at home in La Liga - because they are a team made to counter attack. Without Ever Banega and with Tino Costa in midfield, they are more direct. A lot depends on Soldado but they are a serious team. After Real Madrid's game against Valencia, Jose Mourinho went to Unai Emery and said: 'I admire the way that you reinvent your team every season and are still competitive'. Chelsea are going through transition, while Valencia are settled. That is an advantage - but I wouldn't discount Chelsea.
REAL'S EURO HOPES
Hi Guillem, I am a huge fan of Jose Mourinho and I think he is the best coach in the world. Do you think his Real Madrid side will win the Champions League this season? Azam Mohamed
GUILLEM SAYS: Who knows? You need a little bit of luck, and to keep your players fit. Let's see if they meet Barcelona along the way? Real Madrid seem like 11 men with one idea and that includes Cristiano Ronaldo, who has become part of the collective. For instance, for the goal that Angel Di Maria scored against Atletico Madrid at the weekend, Ronaldo passed to his team-mate when on previous occasions he would probably have shot. Real have 13 consecutive victories, have scored 46 goals and conceded 10, giving them a goal difference of +36 - the best in the history of the club. We are seeing something special here, albeit done in a different way to Barcelona. They are very solid and I do not see anyone superior to Real Madrid at the moment.
STATE OF CONFUSION
Hi Guillem, I am a Barcelona fan and have been watching them week in, week out for the last few years. I honestly think this season they have made things complicated for themselves. During the important game against Valencia earlier in the campaign, they played with three defenders and Dani Alves as a winger, and clearly you could tell Valencia exploited that opportunity. It was the same against AC Milan last week, while Sergio Busquets and Seydou Keita can't play together in the same team as they get confused! Why is Pep Guardiola trying so many tactics when he can easily play to their strength - a 4-3-3 system? Syed Ahmed
GUILLEM SAYS: Pep Guardiola follows the philosophy of Johan Cruyff whereby you always have to play your best players. At the moment that includes Xavi, Andres Iniesta, Lionel Messia and Cesc Fabregas but how do you put them together? There are tactical changes game after game and that has made people confused. Against Getafe, they lacked penetration and mentally they seemed tired, but teams now know how to defend against them, too. Pep wants to play the best players available which means they have to change formations. Sometimes they play with a defensive three and that is sometimes better than a defensive four, which can sometimes become two when the full-backs go forward. It's fascinating, but I'm sure Pep has the answers.