Atletico Madread
Guillem Balague explains why he fears for one half of the city ahead of this weekend's Madrid derby.
Last Updated: 25/11/11 1:54pm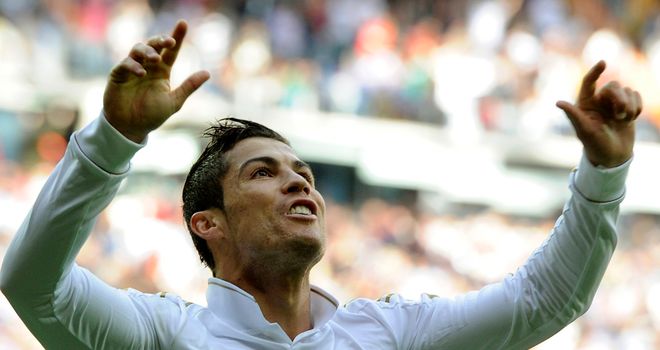 Sky Sports' Spanish football expert Guillem Balague looks at this week's live La Liga games.
If you've got a question for Guillem, send it to skysportsclub@bskyb.com.

Real Madrid v Atletico Madrid
Getafe v Barcelona
Real Zaragoza v Sevilla
Granada v Mallorca
Real Madrid v Atletico Madrid
7pm, Sat, Sky Sports HD1
For the first time I feel Atletico's fear ahead of a big Madrid derby. They are not assured about their own team, the players don't trust the manager; there is a real battle of wills between the players and Manzano. It is a team that still wants to play the ball and play good football but it is not coming off. It was interesting to see that they played quite well against Levante without Falcao. They didn't use a number nine but they needed Reyes to come on and give the side a spark. In contrast, this Real Madrid side is made up of 11 men who share one idea of how to play. Even Cristiano Ronaldo is a collective player now; they are my favourites for the league.
Getafe v Barcelona
9pm, Sat, Sky Sports HD1 (via the red button
Getafe have been too soft in the way they defend and they have less possession than they used to have. They've always struggled to create something with the ball but that's more true than ever these days so they have to try and play with more width. Barcelona still seem unable to play fluently for 90 minutes and they remain heavily reliant on Messi. These days it is less about the team and more about Messi. That has to be addressed and rebalanced before El Clasico. Pep Guardiola will know how to do that.
Real Zaragoza v Sevilla
8.30pm, Sun, Sky Sports HD1
Sevilla are quite clearly going through an identity crisis - some people are even saying it is the end of the 4-4-2 model that has proved successful for them. Negredo, Kanoute, Navas and Perotti all played against Athletic Bilbao but they were very poor. Trochowski hasn't got the physical stamina to play in the centre of midfield. All in all it's a team that lacks a little bit of personality. But I'm sure that Marcelino, who I believe is a very good manager, will find some answers for them soon and the club will be fighting for a place in the top six. Real Zaragoza, on the other hand, are a bunch of players from all over the place. They are developing a warrior kind of spirit but they lack quality.
Guillem answers your questions...
Got a question for Guillem? Then send it in here or use the feedback form below, and then look out for his answer next week.
CESC QUEST
As a lifelong Arsenal fan and avid follower of Spanish football I'm interested to know what your opinion is on Cesc Fabregas and his role at Barca. For me he is playing far too forward almost as a second striker at times. He is constantly receiving the ball with his back to goal as a result. Everyone knows he is much better with the play in front of him and making runs from deeper to support the front man. To solve it play Busquets, Xavi and Cesc as a three in midfield with Iniesta, Messi and Villa as a front three. What do you think? Eugene Tinnelly
GUILLEM SAYS: I really like your analysis, Eugene. It's true that Fabregas is receiving the ball with his back to goal; it is also true that he is roaming freely so he starts from different positions. At times he plays as a false number nine, when Messi's not there, and he sometimes does the same even when Messi is there because they've added an extra midfielder. Generally Barcelona play 3-4-3 now, leaving Fabregas and Messi to roam freely. The only problem is that he's got to work harder to understand what Guardiola requires of him when they haven't got the ball. I'm sure the problem will be resolved; according to Johan Cruyff all of the best players have to play and that includes Cesc. Messi, Xavi and Iniesta. Sometimes it needs too many tactical changes to ensure that they are in the team, which isn't always the best solution - particularly when they play away. Still, it's a nice problem to have.
JAVI INTEREST
Hi Guillem love your scoop on La Liga. Please can you tell me are Man Utd interested in signing Javi Martinez as we've been linked with him over the last two years and were linked again with a January move for him. I'd love us to sign him as he's what our midfield is crying out for. What do you think? Jason Hill
GUILLEM SAYS: Up to today, the only club in England that has rung his representatives is Manchester City; Manchester United have not approached either club or player.
BUOYED BY BIELSA
Hi Guillem, After a stuttering start Athletic Bilbao have started to show real signs of improvement under Marcelo Bielsa. They have core of hugely talented players such as Javi Martinez, Iker Munian and Fernando Llorente, and look capable of building on last season's achievements. Do you think they have what it takes to secure a Champions League spot this season? Thanks in advance. Shane Farrington
GUILLEM SAYS: I do like what Bielsa is doing with Athletic Bilbao a lot, even using 'pre-historic' tactics like man-marking not one but three players, as he did against Barcelona. Their style of play is very brave. Even when they score first they keep attacking - keeping the pressure high and trying to recover the ball closer to their rivals' goalkeeper. There is a good bunch of players at the club - not just the ones you mention, Shane - and I think they can make it into the top four.
BARCA'S BRIGHTEST
Hi Guillem. I've e-mailed you before (last year about Thiago Alcantara - you responded Thanks) and I'm wondering who'll be the next big player to come out of Barcelona's Academy. Is Rafina going to make it in the next two years and who's he similar to, and why does Guardiola not give Fontas any minutes. I'm happy to see Cuenca getting minutes, he's doing well. But ultimately - who from the youths will have a first team contract next year? Eoghan O' Sullivan
GUILLEM SAYS: Fontas doesn't play because Pep doesn't trust him - it's as simple as that. There are other players that Pep prefers but he still needs them because he is short on numbers. The next ones coming through include Sergio Roberto and Gerard Deulofeu, who everyone is talking about as the next big thing. But let's give Alcantara a chance!
ENRIQUE BACKING
Hi Guillem, I am a Liverpool FC fan and I'm very offended that Spain do not class Jose Enrique as a future left back for them. As Jordi Alba can play Centre Back and surely Puyol is going to retire soon so why not then? And play Jordi Alba at Centre Back? Any way I'm hearing that David Villa could be on his way to Anfield or Stamford Bridge for around £34m? Is this true or paper talk? Nathan Holcombe
GUILLEM SAYS: Jordi Alba has never played at centre-back, so that destroys your theory. I agree that Jose Enrique should be part of the national team. I've spoken to Vicente del Bosque, who has been to see Enrique and has had reports on him and he's decided that others can do a better job. I disagree with that and think that he should be given the chance.