The Cesc Factor
Does Cesc Fabregas fit in at Barcelona? Which La Liga star is linked with Man City? Guillem reveals all...
Last Updated: 16/11/11 7:54am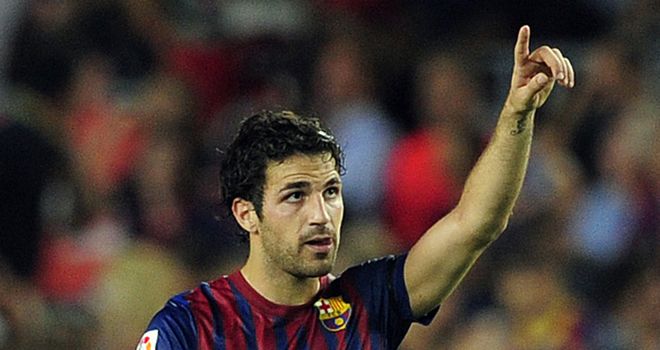 Sky Sports' Spanish football expert Guillem Balague looks at this week's live La Liga games.
If you've got a question for Guillem, send it to skysportsclub@bskyb.com.

Barcelona v Zaragoza
Valencia v Real Madrid
Atletico Madrid v Levante
Granada v Mallorca
Barcelona v Zaragoza
7pm, Sat, Sky Sports HD4
It's the end of international week, but I just don't trust Zaragoza. They have a team full of warriors and it looks like they realised very early on that they would be fighting relegation, which is sensible. In the past they suffered a bit because they believed they should be much higher up the table. There is lots of tension between the fans and the board at Zaragoza; that's obviously less noticeable when they play away.
As for Barcelona, it's interesting how they are changing their tactics all the time and almost two or three times in every game. That's basically because they are trying to find a way to get Cesc Fabregas into the side and that is causing them problems.
Valencia v Real Madrid
9pm, Sat, Sky Sports HD4
Unlike Barcelona, Real Madrid are very solid and know exactly what they are doing. There aren't many changes, there isn't much rotation and they are very confident. But this is one of their big tests because Valencia know exactly how to play against Real Madrid and Barcelona.
Both will be suffering from the 'FIFA Virus' because they both have internationals, but I expect Valencia to give Madrid a really tough time if Jose Mourinho's side don't score early. Valencia are capable of playing direct football - without Éver Banega that's what they'll have to do - and if it becomes a box-to-box game then it will it be spectacular and we will find out who has got the best defence. It should be a fantastic game.
Atletico Madrid v Levante
7pm, Sun, Sky Sports HD1
Atletico Madrid have got a problem because the fans don't believe in Gregorio Manzano and if things go wrong, they quickly turn against him and start chanting Luis Aragones's name. The board is not impressed with Manzano either, so there is a possibility that things will change there if they have one or two more bad results.
If Levante score first it is almost impossible to turn the game around and for them to lose it. They've had a week to rest as they have no internationals, so they will be much better prepared than their opponents, for whom Falcao may be out injured.
Grenada v Mallorca
9pm, Sun, Sky Sports HD1
Grenada are starting to get to grips with the First Division. They know they have to work even harder than they have been doing so far and they need to be a little bit more effective. They have one of the lowest shots-to-goals-scored ratios in La Liga, which is a problem.
Mallorca are going through a transition from a team that wanted possession of the ball under Michael Laudrup to a team that doesn't want it and is happy to play on the counter-attack. Both teams are quite similar and counter-attacking football can sometimes mean a 0-0 draw if neither side wants the ball.
Guillem answers your questions...
Got a question for Guillem? Then send it in here or use the feedback form below, and then look out for his answer next week.
SPANISH SYSTEMS
A great read as always. Very introspective of the way Del Bosque's mind must be working. Some important points, Jordi Alba is the future for the left-back position for Spain once he makes the position his own. Enrique was never a player suited to the Spanish style of playing. I don't think San Iker's position can ever be brought under scrutiny. I don't think either Llorente or Torres really suit their style and a trident of Silva-Villa-Mata makes a lot of sense. On that note, I wanted to ask, whom does Del Bosque rate higher? Mata or Navas? Luv Shukla (Chelsea fan)
GUILLEM SAYS: I completely agree with your analysis about Spain. Jordi Alba is the future at left-back and the reason that Jose Enrique hasn't been called up yet is because there's an impression that he's not much better. There is more trust in Jordi Alba and Nacho Monreal, but I'd question whether Monreal is better than Enrique and I believe he should be called up, at least to give him a try. He could replace some of the work that Joan Capdevila used to do for Spain; he wasn't the greatest full-back, but he was good on set pieces. However, Capdevila was better than Enrique defensively.
Also, with this team that builds from the back and attacks with a high defensive line, some people would say that Victor Valdes is better suited as goalkeeper... but there's a reason why he's called San Iker
You say Fernando Llorente or Fernando Torres aren't suited to the side, but Spain have so much versatility. They can play the way they did against England, but they can also play with wingers and use Llorente - and that makes the side stronger. I would always call up those two. As for Juan Mata and Jesus Navas, I'd say Mata is preferred, but they are completely different players. Mata plays between the lines, but Navas is a winger and that gives you two different possibilities.
WHAT'S LEFT FOR BARCA?
I'm impressed by Jordi Alba. His style of play would be awesome for Barcelona. Have they earmarked him as Eric Abidal's replacement since you said last year that Pep Guardiola would use him more as a centre-back. Full-back is probably the area where Barcelona do not have much strength (in numbers). How come? Sachin Poduval (Manchester Utd fan)
GUILLEM SAYS: If I'm not mistaken, Jordi Alba's contract is up at the end of the season and he's right at the top of Barcelona's list for left-back next season as a replacement for Abidal, who can play at both left-back and centre-back - as we've seen, especially in the 3-4-3 formation.
GOT TO JAV HIM...
Hi Guillem, I have been a lifelong Man Utd fan and I have only started reading your columns. I have to say you sure do know your stuff about Spanish football... I have one question to ask you and that is about the several rumours surrounding Javier Mascherano from Barcelona and Javi Martinez from Villarreal respectively? There are several newspaper reports here in the UK and Spain that they are both rumoured to be on their way out of Spain and heading towards the red side of Manchester for a change? Can you please try and get back to me ASAP for your view on this and maybe more of an idea to if this is true. Thanks Guillem. Ebrahim Hassan.
GUILLEM SAYS: Mascherano has no intention of leaving Barcelona, so that kills that story. As for Javi Martinez, a club from Manchester has been in touch with him - but it's City, not United. By that I mean, they have called his agent to discuss the price of taking him away and they were quoted 40million euros, which is his buy-out clause. There's four years left on his contract, so he'd be a very expensive player. He's willing to leave, but at the moment that's as far as it's gone. Just a few calls.
Do you agree with Guillem's views? Have your say and send in your questions using the comments box below...