Fabio's friendly foes
Guillem Balague analyses Spain's squad and says they aren't as ruthless when the result doesn't matter.
Last Updated: 08/11/11 9:43am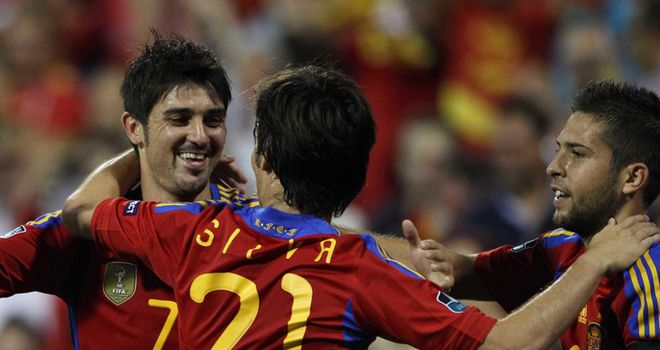 There is a question mark over which Spain side is going to turn up at Wembley on Saturday, and I'm not just talking about personnel.
While Fabio Capello prefers to lose with youngsters than to do it with the veterans and is approaching the game with this possibility at the forefront of his decisions, Vicente del Bosque will play his strongest side.
However, there's the competitive Spain side: the current world and European champions playing at a level above everyone else - perhaps a couple of levels above England? - who have recently equalled the world record by winning 14 consecutive competitive games at international level and since that glorious evening in Johannesburg last summer, have completely and ruthlessly dominated their European Championships qualifying group with a perfect eight wins from eight games.
And then there's the Spain side that turns up for friendly games: essentially the same group of players, but a group that seems to drop a level when the result doesn't really matter.
Unfortunately, while this group of world champions, with nothing to prove, lacks a motivational edge in friendlies, their opponents are the opposite - raising their game to prove themselves against the champions.
Consequently, since last summer's World Cup, Spain have been hammered in friendlies by Argentina (4-1) and Portugal (4-0) - and held to a draw by Mexico. Their only win came against Chile - and that was after going 2-0 down (remember, at the World Cup, Spain lifted the trophy on the back of four consecutive 1-0 wins).
The Wembley friendly is one of those games that matters more to Spain's opponents than it does to the world champions. For England, a victory, almost regardless of performance, would be a massive morale boost for the squad and would go a long way in convincing a somewhat fickle support that Capello's side have a chance next summer.
We know that the England camp understands how important a win is; let's hope the Spanish players approach the game in a similar way and we can enjoy a fantastic game of football.
Mentality
And, while we may not be able to predict the mentality of the visiting side, there's bound to be a fair degree of familiarity about the line-up and style of play.
Del Bosque has remained faithful to the core of the side that brought success in the past two major tournaments and adheres to the same possession-based principles as before (if anything, the Spanish national team has become even more like Barcelona in the way that the side presses the opposition and plays a high defensive line - which begs the question: would a keeper like Victor Valdes or Pepe Reina not be better suited?)
The starting XI at Wembley will probably be as familiar to an English audience as it is possible for a visiting foreign side to be and I'm sure most could successfully predict at least seven or eight of the names on the team sheet before kick-off.
However, there have been some changes since South Africa and certain positions are there for a player to stake a claim upon: left back, back-up centre back, and one of the striking slots.
Joan Capdevila made the left back position his own at the European Championships in 2008 and the World Cup last year (doing a great job in a problem position that had previously been filled by the likes of Romero, Raul Bravo, and Juanfran without much success).
Unfortunately, since leaving Villarreal for Benfica last summer, Capedvila has suffered a massive drop in form. This has led Del Bosque to give opportunities to both Nacho Monreal of Malaga and Jordi Alba from Valencia - but omitting Jose Enrique from this week's 23 man squad.
Alba played at left back in Spain's last game, the 3-1 win against Scotland, and impressed with an assist and some terrific attacking play. Alba isn't the best defender, but Del Bosque likes him as someone who offers a genuine attacking threat from a full-back position - again, making the team more like Barcelona than before (Alba started out as an attacking midfielder at La Masia, before joining Valencia and being converted into a left back by Unai Emery).
Included
Elsewhere in defence, Carlos Marchena is no longer a regular and although Raul Albiol has made the squad, he's not been playing regularly for club or country.
Álvaro Arbeloa has been included and appeals to Del Bosque because he can play on either flank. With a long term replacement for Carles Puyol required, Del Bosque has been talking up Sergio Ramos' ability to play in the middle of the defence.
In attack, David Villa and Fernando Torres remain the mainstay of the strikers, with Fernando Llorente making the squad ahead of Alvaro Negredo and Roberto Soldado.
Jesus Navas, recently at risk of losing his place, comes in to provide width in the absence of the injured Pedro. But perhaps the most interesting selection and tactical decision involves a player familiar to Premier League and La Liga fans: that of David Silva and his role in the side.
Overlooked for much of Del Bosque's time in charge, the Man City player has forced his way back into contention with some stunning performances in England.
Against Scotland, Silva played as a false number nine, a more central role than he plays for City - and was outstanding: scoring twice and creating the third.
With Torres and Villa suffering a temporary goal drought, will we see a Spain side start without a traditional forward at Wembley, with a nod toward another tactical trend perpetrated by Barcelona?