A Red herring
Guillem Balague sets the record straight over the rumours that David Villa could join Liverpool.
Last Updated: 04/11/11 4:11pm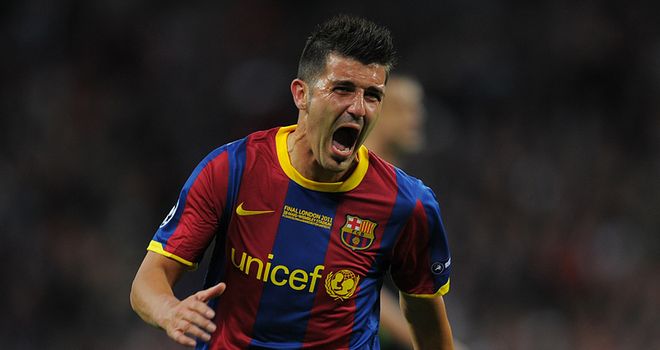 Sky Sports' Spanish football expert Guillem Balague looks at this week's live La Liga games.
If you've got a question for Guillem, send it to skysportsclub@bskyb.com.

Betis v Malaga
Real Sociedad v Real Madrid
Atletico Madrid v Zaragoza
Malaga v Espanyol
Betis v Malaga
7pm, Sat, Sky Sports HD1
Betis have had six defeats in a row going into the Andalucia derby and Malaga were very lucky to be given a penalty-that-wasn't in their victory over Espanyol. Malaga are still suffering despite a good half in that game; there's not enough movement off the ball, there's not enough width and if they were a piano then some of the keys would be out of tune.
Betis have gone from being brave and pressuring high up to being afraid and defending deep, which means they expose themselves. They're not scoring, which doesn't help, and although they have some moments of clarity and pass the ball around they need more sharpness up front to start getting points. But last season they suffered five consecutive losses at one stage and still ended up being promoted to La Liga so you have to have faith in Pepe Mel, which is what the club are doing.
Levante v Valencia
9pm, Sat, Sky Sports HD1
This is a local derby. Obviously Levante lost last weekend to Osasuna and Valencia should be able to take advantage of the manner of that defeat. If they fly out of the blocks full of aggression and pace down the wings, then they can stifle Levante and get the first goal. But if Levante score first, as a couple of managers have told me, it is very difficult to beat them because they defend so cleverly with numbers and they counter-attack very well. The players that go forward are very good on the ball, so they are able to do quick, accurate passing which allows them to get the ball up front within three or four touches. This will be one of the games of the weekend no doubt, and one to look forward to.
Athletic Bilbao v Barcelona
7pm, Sun, Sky Sports HD1
This will be a great game because Marcelo Bielsa has taken a couple of steps back in terms of what he wants to do with the team. He's mixed in more balls down the wings and crosses to Fernando Llorente, but the base of things is what he wants; keeping possession and dominating the game. He's not afraid of doing that against anybody, so let's see how it works against Barcelona.
Pep Guardiola and Bielsa have a history. When the Barcelona manager was on a break, travelling around he went to see Bielsa and considers him to be one of his gurus. Apparently they spoke for 11 consecutive hours over all kinds of drinks and he considers that one of the highlights of his time before he became a manager and he admires Bielsa a lot. He's had plenty of kind words to say, so this will be a great game to watch because we know Athletic Bilbao will be similar to Barca by pressuring high and trying to keep the ball. It should be a good test for them because San Mamés has been one of the most difficult stadiums to visit.
Getafe v Atletico Madrid
9pm, Sun, Sky Sports HD1
It's disappointing that Luis García hasn't been able to bring his personality and his aggressive approach to Getafe; they are still too soft. They play the ball well, but games escape them far too often and they need to improve on that.
Atletico Madrid, despite the good result in midweek, need to do something more spectacular in the league. They haven't scored in six of their games this season and Falcao seems like a little bit of a ghost up front. Diego is far too interested in making the last pass very spectacular instead of playing it simple. Adrian is scoring the goals for them, which is good news, but they need to improve their approach, control, passing and domination of the midfield in games. Gregorio Manzano is definitely under pressure from the board and the fans, who keep chanting for the return of Luis Aragones, who was of course a legend at the club.
Guillem answers your questions...
Got a question for Guillem? Then send it in here or use the feedback form below, and then look out for his answer next week.
VILLA NOT FOR SALE
Dear Guillem. David Villa seems a little bit out of his depth at Barcelona at the moment. He doesn't look particularly sharp right now and Pep Guardiola has had to defend him in his interviews, which seems to imply he's not doing very well. Do you know what's going on with him? I seem to remember you saying he could move to Liverpool, do you think he would be a good addition for them now? Robert Gillingham (Liverpool fan)
GUILLEM SAYS: I NEVER EVER said that Villa was going to Liverpool. I will buy you a free holiday to the Caribbean if you can prove I said that. This is a case of Chinese whispers because what I actually said was that he wasn't going to Liverpool, despite all the rumours. I was quite insistent on that and repeated that several times online, but somehow when I said he was not going to Liverpool, people seemed to think I was saying that he was - and I don't know why! He never ever had the chance to go to Liverpool. The closest he came was when Rafa Benitez had a list of strikers he was looking to bring in with Samuel Eto'o at the top, then Diego Forlan and Fernando Torres. Villa was on the list, but further down because Benitez didn't think he was going to be as good as the others for the type of football he wanted to play.
To answer your other point, it looks like the team is playing through Lionel Messi and everybody has got to think about passing to him and making him comfortable; Villa is suffering for that. When the team doesn't play the ball as cleverly or as quickly, he suffers, but I do think that in their last game they recovered some of that sharpness. I'm sure Villa will soon start getting the usual number of goals he scores for Barcelona and I wouldn't worry about him. He fills a very important goalscoring gap.
HERRERA, THERE AND EVERYWHERE
Hi Guillem, I'm a Celtic fan, and ever since the friendly in March I've been trying to keep up with Athletic Bilbao. I was just wondering: Is the interest from Tottenham in Ander Herrera just talk, or is he an actual legitimate target? I heard somewhere else that Bilbao were asking for upwards of £17m for him. Is that a realistic price-tag for a player that was at one of the poorest sides in the La Liga this time last season? Also, if he doesn't leave, do you think that in a few years he could be a very valuable player for Athletic? Joy Kinnear.
GUILLEM SAYS: I think this is another one of those Chinese whispers. I broke the story that Spurs were looking at Ander Herrera for months, in fact since January this year, even though the player and Real Zaragoza had announced the previous December that he had been sold to Athletic Bilbao to reduce their debts. Spurs kept going and reports were written about him, even though he had already been sold to Bilbao and was simply staying with Zaragoza until the end of the season. The scout that went to see him the last time was told that he had been sold - Spurs didn't realise! That's the story and they're not going to get him now because he's obviously just arrived at Athletic Bilbao and they are happy with him.
I think he's going to improve, he's just come back from an injury and is going to be a central midfielder for Athletic Bilbao and they need that kind of player to keep the ball. I think he'll be one of the sensations of the season when he gets rid of his injury problems.
GROUNDS FOR CONCERN
Hi Guillem, any news about the new stadium of Valencia CF. Can never find anything about it in the Spanish media or indeed on the club website? Paul Buttery.
GUILLEM SAYS: The work stopped in February 2009 after the club had invested €150million in the project. They need around the same again to finish the work. In their recent accounts they reduced their debt from €550 to around €340, which suggests they are on the right path, but they still haven't got the money to finalise the stadium. In fact, it's been on hold for more time than it took for them to build what they have so far. The stadium will take a year-and-a-half to finish, but work will not continue until they have the money - and that's not going to happen any time soon. It's sad to see because it looks magnificent.
This is why the job that Unai Emery is doing at Valencia is a little bit of a miracle because in order to reduce the debts they have had to reduce the value of the squad. They have been getting players that potentially can be very good players, but it's just potential and it doesn't always happen. Despite that, the team is still challenging, so well done Emery!
Do you agree with Guillem's views? Have your say and send in your questions using the comments box below...