Best of all time?
Guillem Balague says Lionel Messi is one of the greats and Jose Mourinho has found the right formula.
Last Updated: 21/10/11 11:26am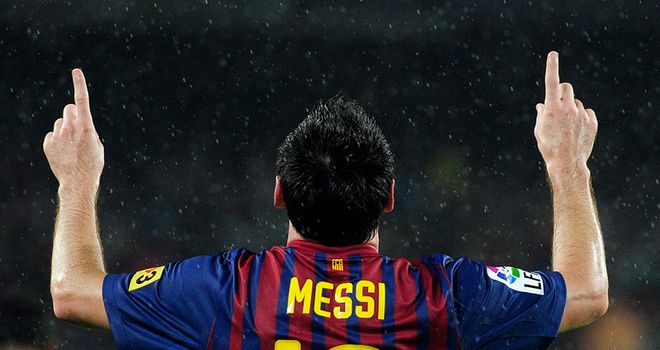 Sky Sports' Spanish football expert Guillem Balague looks at this week's live La Liga games.
If you've got a question for Guillem, send it to skysportsclub@bskyb.com.

Malaga v Real Madrid
Barcelona v Sevilla
Valencia v Athletic Bilbao
Villarreal v Levante
Malaga v Real Madrid
7pm, Sat, Sky Sports HD4
This is another big test for Malaga after their defeat to Levante last weekend. It was a deceiving result in some ways because goalkeeper Willy Caballero was sent off at 1-0 and a goal was scored from the resulting free-kick. It was impossible to come back from that. Many people blame the absence of Julio Baptista for their drop in level, but they should have more answers to their problems than just him.
Real Madrid are such a powerful force and are the best they've been under Jose Mourinho. They were playing with fear after a couple of bad results, so Mourinho has changed the strategy and has become much more friendly and relaxed. Over the summer he was putting pressure on everyone at the club to try to get the best out of them, but now he is using the carrot instead of the stick. The players are enjoying themselves and you can see that from the way they celebrate in groups. He has changed his tune, partly because it became clear that the groups that form in every changing room were becoming divisive. They lacked team spirit, which is always tested in difficult times and there were doubts that the group was united. He has put a different attitude in motion, everyone has reacted and as a consequence things are getting better.
Barcelona v Sevilla
9pm, Sat, Sky Sports HD4
Sevilla haven't lost and are in fourth place, but they're not playing good football yet. Interestingly, Diego Perotti won't be part of the team for a month, which suggests there may be an opportunity to change the system a little but, perhaps by including Ivan Rakitiæ and Piotr Trochowski. All in all, I think the insistence on having two wide players who may not be very good at tracking back and defending, leaves them exposed. What tends to happen is that the central midfielders go too deep and the team gets split in two. Having another midfielder with just one striker instead of two may help. In any case, this will be a very big test for Barcelona, who were unlucky not to win by more goals in their Champions League game in midweek.
By the way, we will have Rafa Benitez joining us in the studio for both of these games on Saturday, so make sure you tune in.
Valencia v Athletic Bilbao
7pm, Sun, Sky Sports HD1
Valencia received a slap in the face in midweek when they took the lead and had a fantastic first 30 minutes against Bayer Leverkusen, but allowed their level to drop as they lost the game 2-1. There's a lack of personalities in the changing room and they are suffering because of that. I don't think Unai Emery got much wrong and if you have to blame somebody then blame the players because they should have dealt with the opposition's attacks, which weren't that dangerous. Leverkusen scored two goals in five minutes and Valencia couldn't come back from that.
They will need to show their best form against an Athletic Bilbao side that has started improving and understanding what Marcelo Bielsa wants. He is also getting the best out of them by using some of the tactics they used last season, so it's a mixture of passing and long balls. Iker Muniain has become the superstar of this team; he is at the highest level and will attract the likes of Manchester United, Liverpool, Barcelona and Real Madrid.
Villarreal v Levante
9pm, Sun, Sky Sports HD1
I thought it was harsh on Villarreal to lose to Manchester City and I thought a draw would have been fairer. They played really well, considering all the players they have missing. I exchanged a couple of messages with the Villarreal manager and told him 'that's the way' and he replied: 'yes, that is the way to play better.' They had not been playing well, the Champions League had affected them too much and they were suffering from it rather than treating it as a bonus to enjoy. They realised their level is not the same as Bayern Munich's for instance.
It's been a miracle season for Levante so far. As I explained on Revista, there are three key reasons why things are working for them:
1. They've got veterans who've been given one last chance - and they're taking it with both hands. They're getting paid regularly every month, which doesn't happen so much these days in Spanish football
2. They're playing the ball a bit more, not just counter-attacking football, and players always enjoy that.
3. They've been allowed one or two things that they weren't allowed last season, such as pizza, beer and paella. That's a way of saying to the players that they need to enjoy themselves - and it's working!
Guillem answers your questions...
Got a question for Guillem? Then send it in here or use the feedback form below, and then look out for his answer next week.
THE BEST EVER?
Hi, I have been watching Barcelona and particularly the development of Messi since 2005. I have read about the hormone deficiency issue that he suffered with when he was younger and the treatment that Barca agreed to pay for. I had also read that this may have an adverse effect, cutting short his career. Is this true? He is without doubt the best player I have seen in my generation, but should his career be cut shorter, 2014 could be his last chance to achieve what people claim he needs to do to eclipse Maradona, to win the World Cup. Your thoughts? Steven Broadbent
GUILLEM SAYS: I have not heard anything about that. After receiving this question I consulted the doctors at Barcelona and they said there is absolutely nothing in it at all. That's all I can tell you!
In terms of what will make him the best ever, that will be not so much what he wins, but popular perception. In my eyes, he already belongs at the Pele / Maradona level; we're talking about an era where it's so difficult to do the things that he does and he continually breaks records. Winning a World Cup would end the doubts of many, but for me he is already in that category.
JOSE'S WAY
Hi Guillem, I am a big fan of your column and of Real Madrid. My concerns are on Real Madrid's restrictive policies on the managers they appoint. They appointed Mourinho and all those policies have been overlooked and from what I understand the club has undergone restructuring to change the way the club is run. Mourinho has been given power no other Real Madrid manager has enjoyed before. Now my big question is will this continue after the departure of Mourinho? With the new structure in place I would love to see a long-term manager being appointed at Real. Do you think Mourinho will stay on at Real until his contract is up or even beyond? The consistent change of managers is getting us nowhere and I feel after the departure of Mourinho all this should be sorted out. The Galactico Henmap
GUILLEM SAYS: Thanks for your kind words. I've been told by the club that Mourinho is going to be at Real Madrid for 10 years. What they mean is not so much that he will be there for 10 years, but that they've done everything they can to make him happy to stay for that long. One long-term legacy that Mourinho has left for Real Madrid is that the space left for the coach is bigger than it has been in the club's history. The next man to come in will have more space to manoeuvre than any other manager in the history of Real Madrid, apart from Mourinho. That's a very good thing for the club because the football decisions will be taken by a football man.
The structure will probably change unless they get in someone like Rafa Benitez, who is a big name, knows Real Madrid and can deal with that side of things. There aren't many in the market who could be that powerful and if they don't find that kind of manager, if Rafa isn't the next man for instance, then we're talking about a different level of manager, more like a coach. But there will still be enough independence to have space to manoeuvre.
FRANK ABOUT BRUNO
Hi Guillem, your column is great. There is news circulating that Manchester United want Bruno Soriano from Villarreal. Is there any truth to this? If so would he be a good addition to the team? Sachin Poduval (Manchester Utd fan)
GUILLEM SAYS: I have spoken to Villarreal and to the manager and they say there is no truth in this. They haven't received any offers. It's clear that Bruno is developing as a good player and they think he will get offers at some point, but at the moment they haven't heard anything from anybody. They don't want to sell anybody this season; the manager wants to keep everybody at the club.
Do you agree with Guillem's views? Have your say and send in your questions using the comments box below...