Will Tevez get Real?
Guillem Balague gives a Spanish view on the Carlos Tevez saga and previews the La Liga action.
Last Updated: 12/10/11 1:13pm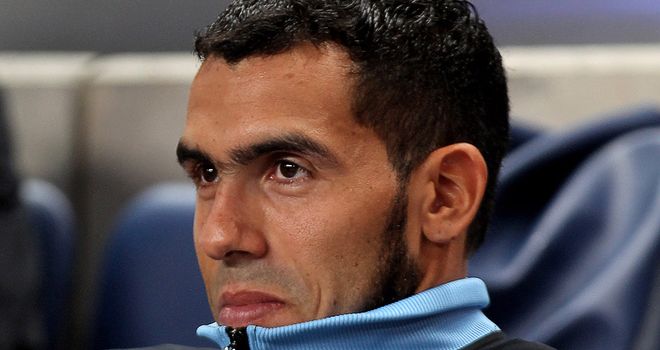 Sky Sports' Spanish football expert Guillem Balague looks at this week's live La Liga games.
If you've got a question for Guillem, send it to skysportsclub@bskyb.com.

Real Madrid v Betis
Barcelona v Racing
Granada v Atletico Madrid
Sevilla v Sporting
Athletic Bilbao v Osasuna
Real Madrid v Betis (second half)
6pm, Sat, Sky Sports HD1
Betis had a wonderful start to the season, although they've had a couple of bad results that have seen them return to their natural position. It's wonderful to see how they're doing it; pressuring high up the field with everybody working hard for each other. They lack a bit of creativity in midfield, but have lots of pace from Jefferson Montero. Roque Santa Cruz is enjoying himself and is a different type of striker to what they had because he is more mobile and fixes the centre-backs. All in all, despite the bad results, Betis are much higher than they expected. They did well last season and have basically got the same team that got them promoted. The fact they've done so well suggests there's not much difference between the top teams in the Second Division and half of La Liga, possibly due to financial reasons.
Barcelona v Racing
7pm, Sat, Sky Sports HD1
It's fascinating that Pep Guardiola is still using defenders that are not defenders, even though Gerard Pique and Carles Puyol are coming back from injury. They have managed to survive without them starting and that's been down to the fact that the whole team defends, as I have discussed many times. I do, however, feel sometimes that Guardiola is trying too many things and takes advantage of the knowledge the team has of the positional system. Everybody keeps a little box in their mind and if somebody else moves and they see space then they move into that box. That's something based on the way they train and sometimes it doesn't matter if you are a defender by nature because if you have this positional system and everybody works hard then it's very difficult to break them down.
Granada v Atletico Madrid
9pm, Sat, Sky Sports HD1
Atletico Madrid are like Dr Jekyll and Mr Hyde. One day they'll look fantastic, as they did at the start of the season and on another day they'll look very poor because they are unable to attack well and put crosses in to Falcao, who himself looks like a great finisher sometimes and on other occasions doesn't. Their expectations were very high until they met Barcelona and everybody realised what level they are at. Yes, they are trying to change, but in doing so they have become irregular. They want to build from the back and they want the wingers and the full-backs to open up space and use Falcao to finish it off. I still want to see Diego play regularly because it's been a year-and-a-half since he's done so and he's struggling to find his form. When he feels comfortable and physically well then he's got lots of qualities that the team have been missing for a long while.
Sevilla v Sporting
9pm, Sun, Sky Sports HD1
It was encouraging to see what Sporting did against Barcelona and how they have improved. They've always had commitment, but they made things very difficult for Barcelona by being very mobile. If I'm not mistaken, the grass was quite long and the ball didn't move as quickly as it should have, but generally Manuel Preciado - who Guardiola says is one of the best-loved coaches in Spain - had the solution. They are not worse than 10 of the teams in La Liga, but probably aren't better than another 10, so they belong to the bottom half. They are a club that people like and it's interesting that their fans travel the most in a country where supporters don't travel very much. Before they went into the Second Division the fans were very critical of the side, but after more than a decade down there they have realised what they've got is special and they are now very vocal, but very protective of the side. They are really enjoying being in the First Division, even though the results are not there yet.
Athletic Bilbao v Osasuna
8pm, Mon, online only
Athletic Bilbao have a fascinating project under Marcelo Bielsa and I love what he's doing. It's a typical problem when you go somewhere like Athletic Bilbao and try to change the way they play that people will doubt you. People say he is failing, but remember Zinedine Zidane needed three months to settle in at Real Madrid and Bielsa hasn't been allowed that sort of time yet. Give him time and give him respect because he's a genius and a guru for the likes of Pep Guardiola and Mauricio Pochettino of Espanyol. That's because he has always been brave enough to challenge the norm and that's why he opted not to go to Inter and instead went to Athletic Bilbao with a particular philosophy. I am convinced he will succeed there and by succeed I mean they will improve their football, based on the players they've got. They have players of quality, probably one of the best generations the club has had in many years. He has made mistakes and has put players in the wrong positions, but little by little both the club and coach are adjusting. Look at Fernando Llorente, who has been asked to play in a different way. In private he admits the football doesn't go through him as it used to, but that has forced him to learn and improve as a player. That's a great attitude.
Guillem answers your questions...
Got a question for Guillem? Then send it in here or use the feedback form below, and then look out for his answer next week.
REAL HOPE FOR TEVEZ?
Hi Guillem, I was just wondering what your thoughts are on Carlos Tevez and if we could see him in La Liga? Maybe Real or Malaga? Ashley Williams (Arsenal fan)
GUILLEM SAYS: I'm the kind of person who thinks that everybody's allowed to make mistakes, especially if there is a positive reaction from it. So in the case of Wayne Rooney, for instance, I see a player that is maturing but other people don't want to see that after what happened against Montenegro. He seems to learn from his mistakes and the length of time in between his indiscretions is getting longer and longer.
In the case of Tevez I think it's quite clear that, apart from a period at Manchester United when he felt loved by everybody, he has been struggling in England. The fact he doesn't speak English properly after so many years suggests that the lifestyle doesn't suit him. Of course, his career decisions have been sometimes financial ones made by other people and not always by the player, but isn't that the case with hundreds of other players? I suppose if it was up to him he would not have gone to West Ham as his first English club.
This is not an easy situation to sort out or manage. There's lots of links to Real Madrid, but I have been told by the club that there's no chance he will go there. I've been told that by Real Madrid a few times and I'm not sure why they're so vehement about it, but that's what I've been told. It's going to be difficult to find him a move now because there will be a high wage to be paid and a transfer fee on top. There's also a baggage that goes with him. Tevez is the type of striker than needs to play on his own up front to get the best out of him. The closer he is to the box, the better
TWO NUMBER ONES
Hi Guillem, Amazing stuff! Always looking forward to your opinions! I was wondering, do you realise that top teams are rotating their keepers? Examples are Valencia and Man Utd. Diego Alves and Vicente Guaita for Valencia and David De Gea and Anders Lindegaard for Man Utd. Any thoughts on why both teams do it and why don't they stick to one so as to provide consistency to the team? Also, when will Roberto Soldado ever get picked for the national team? Must he score more against the bigger clubs to get noticed? Looking forward to your reply! Thanks! Jake Tan (Valencia fan)
GUILLEM SAYS: Rotating goalkeepers is a strange situation. In the case of Valencia, they signed Diego Alves when they didn't realise how good Vicente Guaita was. Guaita is a modern goalkeeper, while Alves is more old fashioned, if you like, in that he's very good on the goal-line, but he struggles when he has to come out. He's not the tallest and he doesn't have good distribution with his feet either. Guaita has all of that and I can see how he is going to become a top goalkeeper. Alves will probably be one of those players that Valencia sells for a good amount of money, so he needs to be given game time to be noticed, especially in Europe. In the meantime, the coach could not be happier because they are making each other perform better.
As for Manchester United, I think Lindegaard is used to protect De Gea. That's why they didn't buy a number one; with Lindegaard they were getting somebody who is a talented goalkeeper and can play when De Gea needs to be protected or when he off form or while he settles in. I don't see Lindegaard as the number one, that is clearly De Gea. There were so many doubts about the Spaniard at the beginning, but I never understood that. It's important to remind people that players are not born when they come to the Premier League; they have a history and if you had followed De Gea you would know how good he is.
Soldado has been picked for the national side. If you're the Spain coach you have options like Llorente, Negredo and Torres. You have loyalty towards Torres because of what he's given to the side, Negredo is absolutely on fire and Llorente offers something different to those two, but you have to leave one out. Would you put Soldado in and leave on of those guys out? At the moment Vicente del Bosque is saying he still going with those players, but I agree that Soldado has got everything you need to be a top striker. Spain are in a privileged opposition to have so many to choose from.
MOVES FOR MUNIAIN
Guillem, love that Revista has finally realised that you should have more time and be the main man on the show. Anyway, I have been a big fan of Muniain from last season then the summer with Spain u21, but have any of the top teams in Europe been looking at him or any interest, even from England since the recent performances of Silva and Mata? Thanks. Darren Mccann (Barcelona fan)
GUILLEM SAYS: Thank you for your kind words. Of course Muniain has been watched, for at least two years. It's interesting that under Marcelo Bielsa we have seen Fernando Llorente trying to learn a different role as a striker; he isn't really a Bielsa striker and he would prefer a different type of forward but knows he's so talented he's got to use him. However, Muniain has been used wide and behind the striker and he thrives in that role. He's a short, mobile player who's happy to play between the lines and he is maturing.
He's still only 18 and he wants to be part of everything far too often, both good and bad. He's too theatrical and sometimes it feels like he wants to dribble, put the cross in and head it in himself. He's becoming more mature though and is learning to pause rather than going at full pace all the time. If someone took a chance on him, say Arsenal for instance, then I doubt he'd be the kind of player who would adapt to a new club and a new country straight away. I think he needs more time at Athletic Bilbao to settle down, both as a person and as a player.
Do you agree with Guillem's views? Have your say and send in your questions using the comments box below...